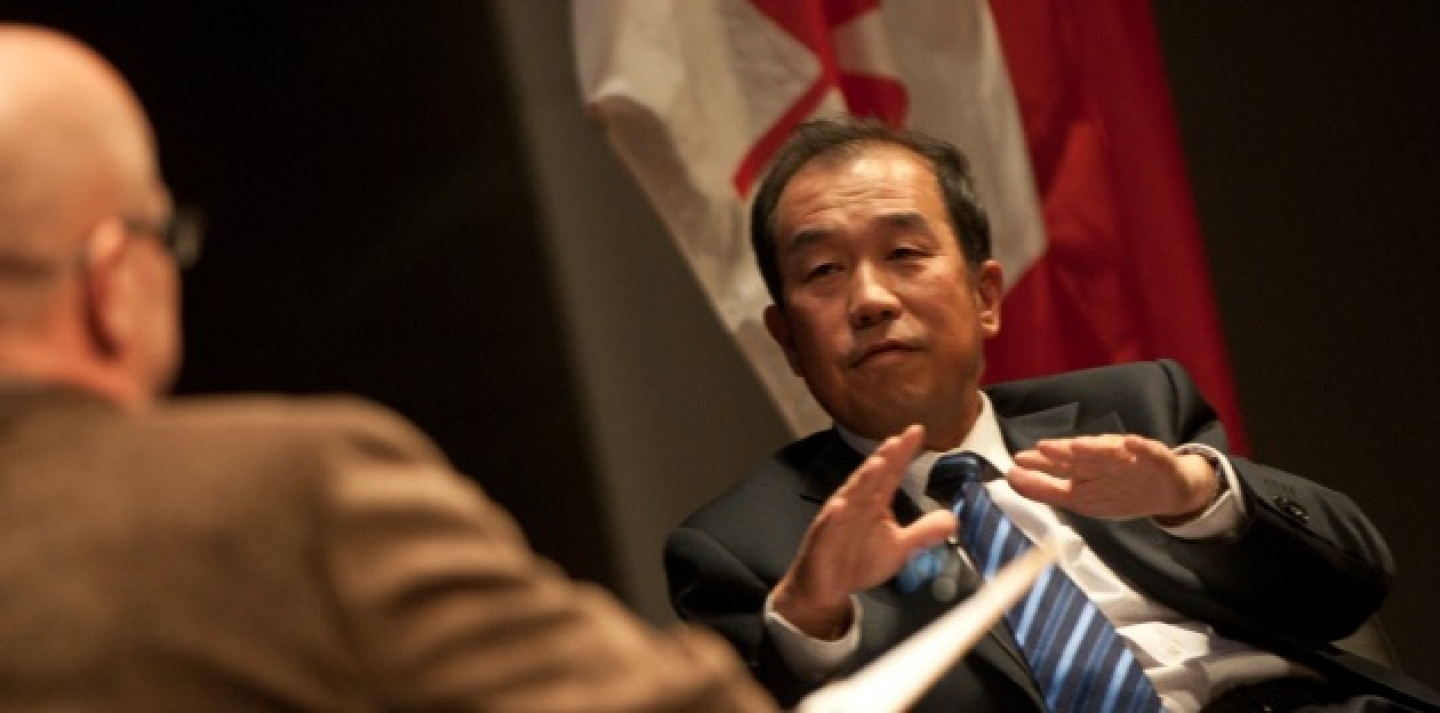 On Thursday, October 11, 2012, The Centre for International Governance Innovation (CIGI) hosted an exclusive address by His Excellency Zhang Junsai, ambassador of the People's Republic of China to Canada. The address came at an important time in Canada and China's cultural, economic and political relations, as noted in CIGI Vice President of Public Affairs J. Fred Kuntz's introductory remarks. China National Offshore Oil Company (CNOOC) Inc.'s attempt to purchase Nexen Ltd., concerns over Huawei Technologies Co. Ltd.'s (a Chinese multinational networking and telecommunications equipment and services company) operations in Canada and an island dispute between China and Japan have put the Asian country front and centre in the Canadian public discourse.
When the People's Republic of China was founded in 1949, the country was in a situation of extreme poverty. Now, said Ambassador Zhang, it is the second-largest economy in the world — a result of opening up and integrating into the world economy during the last three decades. It was during the 1960s that Canada began to demonstrate its strategic vision for a mutually beneficial relationship with China, the audience heard. Canada was among the first Western countries to establish diplomatic ties and did so, in spite of an embargo, by exporting wheat to China. Mutual respect, mutual benefits and mutual understanding are three key lessons, the ambassador said, that have been brought to light through the evolving Canada-China relationship.
In order to achieve future success, the ambassador said, the relation between Canada and China must be based on accepting change, growth and innovation and strengthening the quality of shared information. The Canadian government has recognized the potential by making Asia a trade priority, the ambassador pointed out. He also suggested areas for bilateral improvement, saying that an explosion in the way information is produced and shared has muddled understanding. Through direct interaction and more exchanges in second-track dialogue — in the shape of tourism, media exchange and forums — there will be deeper understanding and more opportunities for mutual benefits between Canada and China.
Fred Kuntz posed questions to the ambassador on behalf of the audience, covering topics ranging from the proposed CNOOC Inc. takeover of Nexen Ltd. to the change in China's leadership to the ongoing island dispute with Japan. The ambassador's final comments stressed the role that CIGI can play in global innovation, highlighting the think tank's impressive role in fostering dialogue through its conferences and leading research on the G20 and BRICS.
You can watch the full lecture by His Excellency Zhang Junsai, ambassador of the People's Republic of China to Canada, by visiting www.cigionline.org/video.