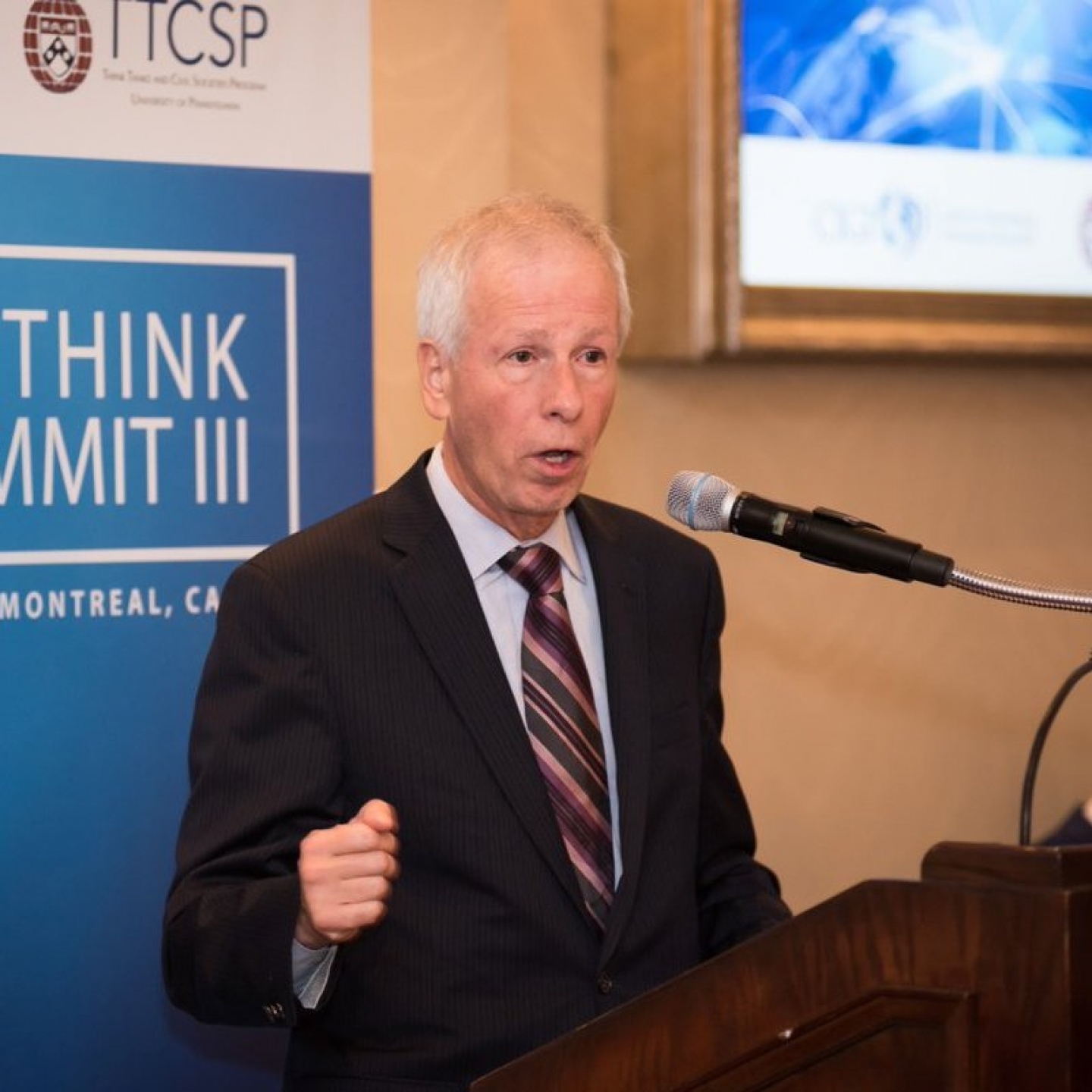 Bonjour. Bonsoir. Good evening. Buenas tardes. Buongiorno.
I cannot thank enough the Centre for International Governance Innovation and the Think Tanks and Civil Societies Program at the Lauder Institute, at the University of Pennsylvania, for this opportunity to speak to many of the best think tanks in the world. 
Some of you not being Canadian, I may describe a bit about who I am. There are certain things that I am particularly proud of: to be a teacher and to have taught political science at the universities of Moncton and Montreal, to have been the member of Parliament for a Montreal riding for the last twenty years, to have been a minister, and today minister of Foreign Affairs. But there is something I am particularly proud of, and I have never said so publicly: I have been the proud center fielder of the 1990-91 edition of the Brookings Institution's softball team, when I had the privilege to be guest scholar there!
I am particularly pleased that you invited me considering that many of your themes of discussion are at the heart of Justin Trudeau's preoccupations: protectionism, populism, mistrust, economic inequality, and, quite frankly, xenophobia.
Yes, these days, in too many places in the world, we see a resurgence of mistrust and fear of the other. Too many politicians want to gain popular support by exploiting these fears.
Justin Trudeau, the prime minister today, is the exact opposite. His extraordinary popularity, not only in Canada but around the world – he may be in fact the most popular politician on this planet as we speak – and this incredible popularly is not only the result of his charisma. It is also tied to his message of hope, trust, openness and inclusive growth. It would not have been possible for him to generate the same enthusiasm if he would just have been another one of these populist politicians.
During Canada's 2015 election, Justin Trudeau told Canadians that we were one of the most diverse countries in the world and that this is what made us strong. He said we should not accept fewer refugees, but more refugees.  He said that every wave of refugees has made us stronger as a country than before. 
Justin Trudeau campaigned for the middle class and the people who worked hard to join it. The Liberal platform's focus was about sustainable and inclusive growth.   
Justin Trudeau started the election campaign in third place. He finished in first. 
I believe that this victory is proof that with leadership, a message of inclusion can resonate. 
Diversity in Canada is a fact.  Canada is home to people of every race, religion, sexual orientation, shape and size.
Diversity is a fact, but inclusion is a choice.  This choice is guided by the many benefits that diversity can bring. 
I believe that diversity in our communities and countries can lead to higher rates of economic growth, better social cohesion, and tremendous cultural and civic benefits. 
Yes, inclusion is a choice.  Justin Trudeau chose to campaign for election on the basis that Canada`s diversity is its strength, and Canadians chose to support him. 
Justin Trudeau chose to have gender parity in his Cabinet. 
Our government chose to introduce new legislation to protect transgender Canadians. 
In fact, since we formed the government almost a year ago, in October 2015, inclusive growth has been our primary objective, the guiding principle for our agenda. In Canada as elsewhere, it would be a mistake to underestimate the real anxiety that many people feel when there is not enough inclusive growth. 
When the middle class feels stuck and does not see its standard of living increase, when people worry about being worse off than their parents, or when the poor see no hope in joining the middle class, it should not surprise us when populist politicians succeed in exploiting these fears. 
I believe there is a clear link between a politics of exclusion and a sense of economic insecurity. We must tackle this problem head on. 
This is why, since our government was elected, we have taken a number of steps to promote inclusive growth and restore people's trust that the economy works for everyone. Our strategy is clear: Expand the middle class and work to reduce inequality; expand fiscal justice by calling on those who are capable to contribute more; and help families with children. We know that a society with an expanding, rather than a shrinking, middle class has the best chance of achieving prosperity for all. And that a society cannot prepare for the future without investing in its children.
Restore trust in government, yes, trust in its government, and its capacity to support the economy by investing in green infrastructure, public transit, social housing and strategic infrastructure. This is investment for the long term, but it is now more relevant than ever for tackling the significant infrastructure deficit, both in qualitative and quantitative terms, and bringing our economy up to speed on new technologies and environmental challenges.  As Christine Lagarde, Director of the IMF, recently said when she came to Canada, "The Canadian government is right to use infrastructure spending to stimulate economic growth."
Invest in research and development, science, technology and high-tech industries. In today's knowledge economy, if you're not going forward you're going backwards.
Focus on Indigenous peoples to help them realize their full potential. This is a young population that has too much to offer to allow the tragic waste of talent to continue.
Reinvest in culture, an inexhaustible source of intellectual and spiritual enrichment and inspiration and an underused lever that can revitalize entire cities.
Strengthen our trade relations with the United States by facilitating the transborder movement of people and goods, ensuring that the border is both more secure and more fluid. Strengthen our ties with Mexico and reach agreement with our two NAFTA partners to better align our energy and climate change policies. And while we actively seek out other markets throughout the world, notably China, we never take the U.S. market for granted especially now: it is a market with unlimited potential.
Our government has rebuilt Canada's relationships with its three main trading partners: the United States, Mexico and China. If we had done only that in our first year, it would already be quite an achievement.
One of the greatest challenges of our time may be proving to our populations that global trade and inclusive growth can go hand in hand. Canada is a trading nation. We have a modest population that is wealthy by virtue of its commerce with the rest of the world. Our government is resolutely committed to an aggressive and progressive trade agenda.
To convince our fellow citizens that protectionism, turning inwards, is not the way, governments in Canada and everywhere, governments need to negotiate trade deals that give confidence. Governments need to convince people that these deals will be for everyone and not just for the biggest corporations and for the richest 1%. If we fail to convince our fellow citizens that good trade deals enlarge the middle class instead of shrinking it, they will follow the populist politicians, who promise them the moon by closing themselves off from the others. 
When we came into government, the negotiation of the Canada-EU free trade agreement – or CETA – was going nowhere. Too many people were concerned that the deal as negotiated would weaken the capacity of governments to enact progressive social or environmental policies.
With my colleague Chrystia Freeland, our excellent Minister of International Trade, we renegotiated the investment rules. Modifications have been made to clarify provisions on the right to regulate by all levels of government. Notably, the Tribunal for investment disputes will be appointed by Canada and the European Union and no more will the investors launching the dispute participate in the selection of arbitrators.
We successfully modified the investment chapter to make sure governments retain their capacity to regulate and parliaments to legislate for the sake of the environment, food safety, social programs, labour rights, and health policies.
In ratifying the improved CETA, Canada and the EU have a golden opportunity to show to the whole world that free trade and inclusive growth are not only compatible but mutually reinforcing. This is what our progressive trade agenda is all about. 
Europe is grappling with strong populism. After the vote on Brexit, Europe needs to show to itself and the world it is capable of moving forward. If Europe can't ratify with Canada, with whom will they if not at least with Canada?
What is at stake here is the direction the world will take: an open or a closed economy, inclusion or exclusion, trust or fear, progressive trade or protectionism, shared growth or rising inequality. 
I am proud to serve, with responsible conviction, a government under the leadership of Justin Trudeau who made the choice of inclusion. But for inclusion to be chosen everywhere by the people, it will be necessary that the best advisers, the best experts, involve themselves in the public debate.  We need to hear their voices loudly, injecting facts and sober opinion where too often prejudices and falsehoods prevail. 
It is in this space that the best think tanks can and must play a critical role. The aim is nothing less than the triumph of these simple truths:  Inclusion does work. Progressive global trade is possible.  
When I look at the program of events of your conference, I see that you will deeply debate these crucial issues. I regret that I can't stay with you. But I have my spies among you, and I look forward to their reports. Given the quality of the minds in this room, I don't doubt that there will be progress made in building the case for inclusion. 
And maybe you will be able to hit a home run...over centre field.  
Thank you.
One of the greatest challenges of our time may be proving to our populations that global trade and inclusive growth can go hand in hand. Canada is a trading nation. We have a modest population that is wealthy by virtue of its commerce with the rest of the