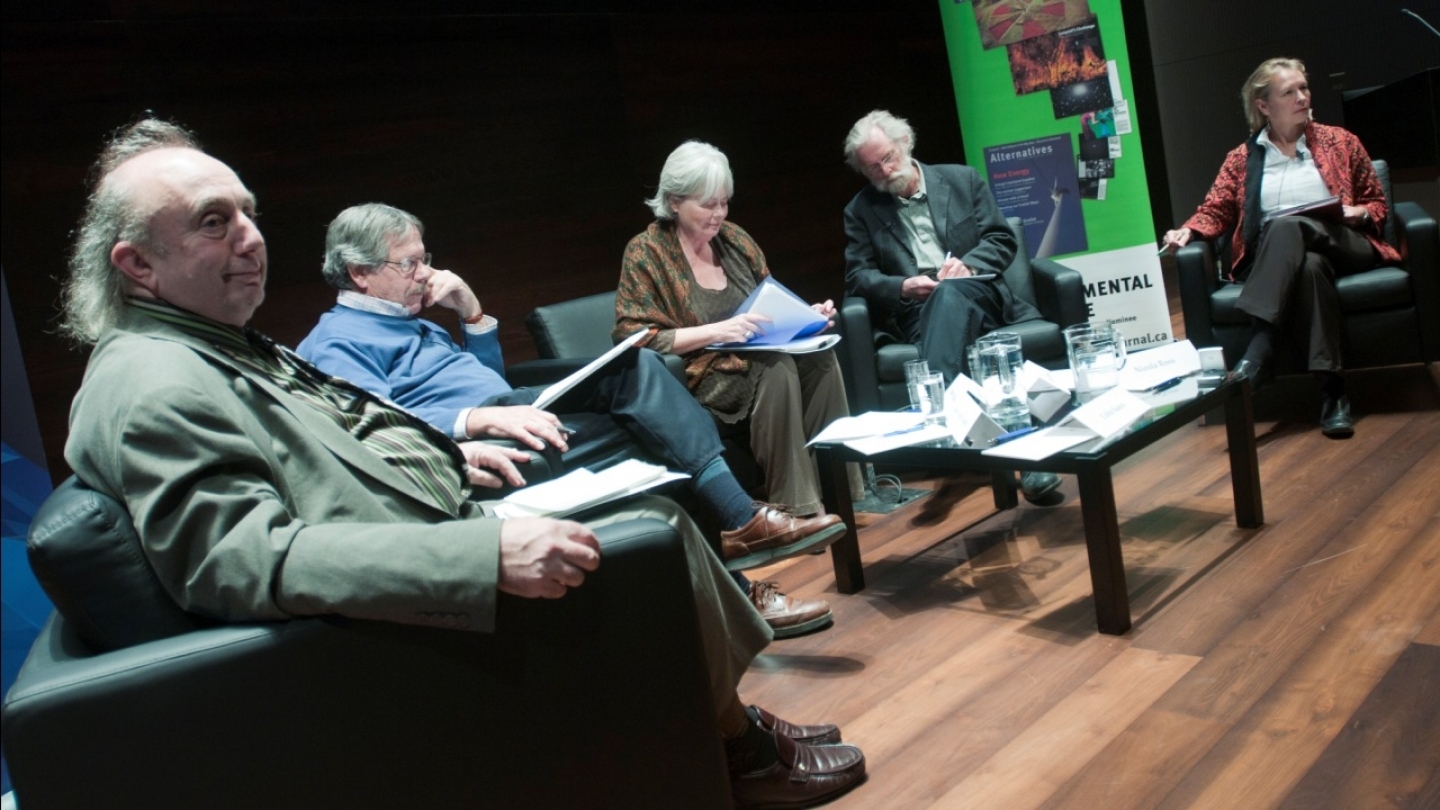 From the oracles of ancient Greece to the latest supercomputers, our desire to see into the future is as old as humanity itself. And yet with mounting global crises on the horizon — whether from climate change or food and energy scarcities — doing so accurately has never been more important.
That was the crux of a documentary that kicked off last night's Deep Roots, New Shoots public panel at the CIGI Auditorium, an event co-sponsored by CIGI and Alternatives Journal as part of the magazine's fortieth anniversary celebrations.
During the panel, it was the new shoots that won out over the deep roots. Or at least the hope of a multitude of new and innovative shoots taking root in short order. For as much as the event was a celebration of Alternatives' four decades of bringing leading environmental research and commentary into the public domain, it was also a discussion of the challenges for human survival and how best to overcome them.
Alternatives editor-in-chief Nicola Ross moderated the panel, and was joined onstage by two of her predecessors at the magazine: founding editor Robert Paehlke, professor emeritus of environmental and resource studies and political science at Trent University, and former editor Bob Gibson, professor and chair of graduate studies in environment and resource studies at the University of Waterloo. Colin Isaacs, executive director of Pollution Probe, and Karen Kraft Sloan, former member of Parliament and formerly Canada's ambassador for the environment, rounded out the panel.
Ross began by asking panellists the two key questions from the CBC documentary, Surviving the Future, which helped whet the appetite for the debate: Will we do it? Can we do it?
Isaacs pointed to a number of positive societal shifts in the past four decades to support his theory that "change for the better is indeed possible," but cautioned that such advancements "have not been good enough fast enough."
Paehlke continued on this theme, pointing out that switching to "greener" alternatives often yields greater net benefits than just a reduced environmental impact. He held up telecommunications as the industry sector that delivers the highest economic return for the energy input and challenged other sectors to strive for a similar model.
For Kraft Sloan, the biggest hurdle to implementing sound environmental policies at every level of government is an "access problem." She recalled how, during her time as an MP, the greatest success in this area came when politicians and non-governmental organizations worked in conjunction with the research community — something she feels is sorely lacking in the current policy environment in Ottawa.
Gibson, echoing a point from the documentary, highlighted government delays in acting on climate change in the continued belief that technology will soon advance sufficiently "to deal with the problems cheaply."
Questions from the audience — in person and watching the live webcast — ranged from perceived infringements on the public's right to protest to the "efficiency paradox," in which technologies are victims of their own success as usage and consumption increase the more efficient they become.
Gibson summarized the global challenges going forward with a glass-half-full view of humanity's troublesome record on environmental progress.
"We've been so completely stupid, it's not terribly hard to be incredibly brilliant," he said.
"We've been so completely stupid, it's not terribly hard to be incredibly brilliant," - Bob Gibson.