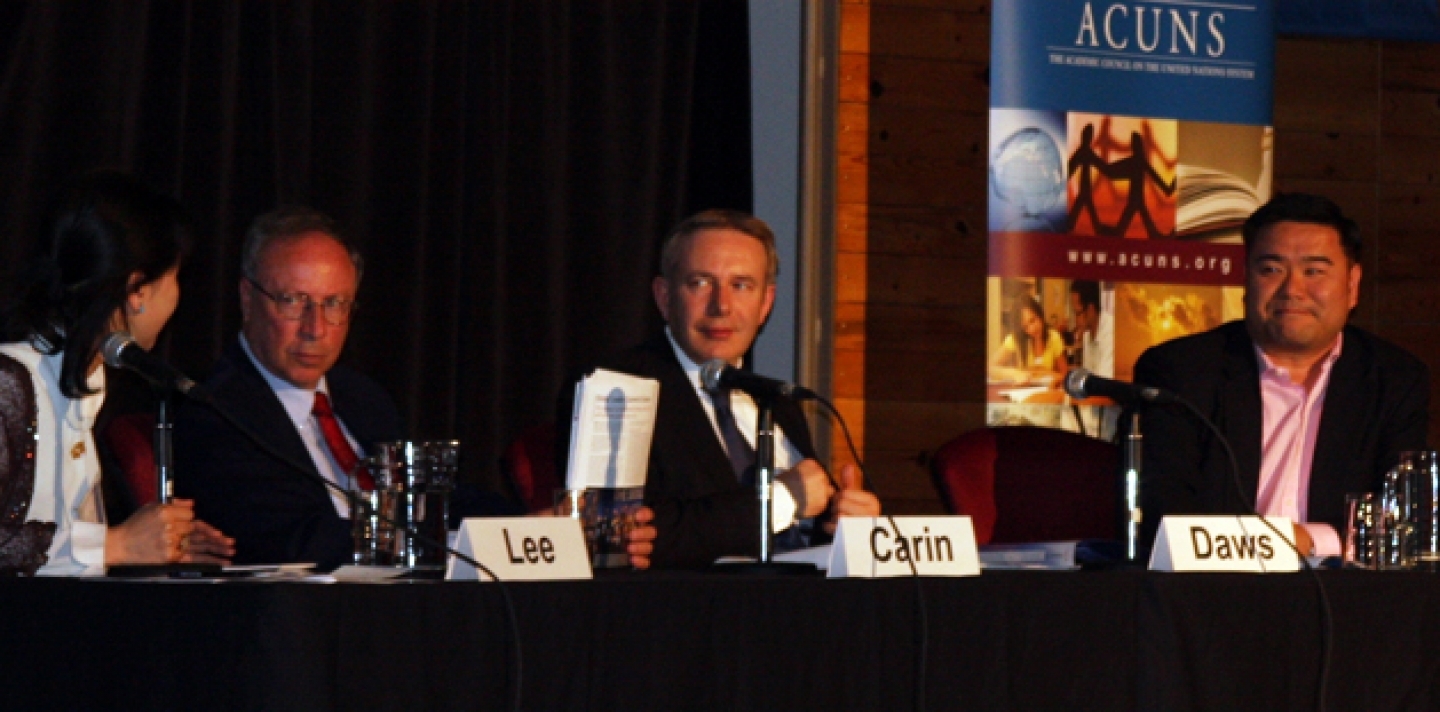 Fellows and researchers from The Centre for International Governance Innovation (CIGI) advanced the latest analyses of international governance, on topics ranging from the G20 and UN system to intellectual property, at the annual meeting of the Academic Council on the United Nations System (ACUNS) in Waterloo, Canada, on June 2–4.
CIGI was a sponsor of ACUNS' twenty-fourthannual meeting, with a theme of "multiple multilateralisms."
CIGI Distinguished Fellow and former UN Deputy Secretary-General Louise Fréchette welcomed conference participants to CIGI's home in uptown Waterloo for two plenary sessions on the last day of the conference.
The first panel, moderated by Shin-wha Lee, a professor at Korea University, was on "The New Geometry of Summitry: Universal versus Functional Issues Management." CIGI Senior Fellow Barry Carin discussed the G20's evolving institutional role in global governance, noting that while international mechanisms, such as disarmament treaties (landmines), have been successful, a number of issues continue to persist, arise and demand our attention, such as climate change, trade rules, nuclear proliferation and poverty.
Examining the process and preparation behind a successful G20 summit and the constraints that can "bog down" the organization's work, Carin touched on whether or not the G20 will be "the committee to save the world."  Reiterating the points made by ACUNS keynote speaker Bruce Jentleson, Carin suggested that the convergence of state interests, priorities and strategy will be necessary to move forward on major global issues, but such convergence alone does not guarantee progress.
During the same panel, Sam Daws, a senior researcher at the Centre for International Studies at the University of Oxford, discussed the issue of representation and legitimacy within the G8/G20 and the UN Security Council (UNSC).  Commenting on the stalled reform negotiations at the UNSC versus the proactive evolution of the G20, he concluded that both bodies struggle with the fact that there is no ideal blueprint to create and sustain legitimate, international institutional bodies with limited membership. That said, both bodies have important roles to play at the expert and leadership level.
CIGI Senior Fellow Gregory Chin, who is also the acting director of CIGI's Global Development Program, elaborated on the impact and implications of rising states within the architecture of international affairs. His presentation discussed the reciprocal relationship between traditional powers and emerging powers/rising states, such as Brazil, China and India: countries that have been able to simultaneously self-identify their role and position in the world economy as emerging powers.
On June 3, CIGI Distinguished Fellow Andrew Cooper participated in a workshop panel entitled "Middle Powers and the G20: Leadership and Legitimacy." Cooper, who discussed middle power leadership and the evolution of the G20, argued that the concept of middle powers has evolved dramatically since the term was first coined. Canadian Prime Minister Stephen Harper's use of the term is much different than that of former Foreign Affairs Minister Lloyd Axworthy. More generally, Cooper noted that the middle power "project" is an unfinished one that continues to be refined and redefined as international institutions evolve in their priorities and composition.
On the same day, CIGI research staff led an engaging workshop entitled, "Frontier Governance: Upgrading Institutions and Policy Tools for Tomorrow's Global Challenges." Moderated by Deanne Leifso, CIGI's G20 project officer, the session provided an overview of CIGI research strength. Geoff Burt, a research officer for CIGI's Global Security Program and project coordinator for the Security Sector Reform Monitor, presented his findings on current challenges to state building. He noted that there are two major factors that contribute to state fragility when attempting to build a modern state in ungoverned spaces: limited capacity and limited legitimacy.
Meagan Kay, a research officer for CIGI's Global Development Program, focused on the topic of maternal health. Discussing the policy challenges to improved maternal health, she noted that the issue has been on the periphery of international institutional agendas for some time, but came to prominence with goal number five of the Millennium Development Goals — an initiative that strives to reduce by three quarters the maternal mortality ratio and to achieve universal access to reproductive health.
With significant implications for global governance, the challenges surrounding energy and intellectual property were discussed, respectively, by Andrew Schrumm, who is CIGI's partnerships manager, and Joseph Turcotte, a CIGI researcher and Ph.D. student at York University.  Schrumm explained that world population growth, disagreements over alternative energy strategies, conflict over resources and risks in fossil fuel exploration are factors that contribute to the global energy conundrum. Stating that energy is the lifeblood of all economic activity, he noted that while nations have an interest in overcoming energy crises, no single organization can address all the players (state and non-state), nor is there an overarching organization in place to mitigate all the elements contributing to such a crisis.
Joseph Turcotte's discussion on the international intellectual property regime stressed that the world is moving toward a more knowledge-based economy with new premiums on control and access to information. With a lack of international consensus and shifting forums of multilateralism, a number of elements, such as competing domestic concerns among net importers and exporters, are stalling progress on this critical issue and contributing to the enormous loses in the global economy due to counterfeiting and piracy.
The ACUNS 2011 Annual Meeting offered participants and panellists with opportunities to discuss, debate and learn about the evolving multilateral system. To watch the plenary sessions that occurred at CIGI, please visit: www.cigionline.org/video. The video of the morning session at CIGI also includes a plenary round table sponsored by The Stanley Foundation. Featuring David Shorr, a program officer with The Stanley Foundation, Tedd Piccone, who is the deputy director foreign policy at The Brookings Institution, and Maria Rost Rublee, a senior lecturer at the University of Auckland, this session discussed "Adaptive Leadership and Values for Global Citizenship."
The Centre for International Governance Innovation (CIGI) is an independent, nonpartisan think tank on international governance. Led by experienced practitioners and distinguished academics, CIGI supports research, forms networks, advances policy debate and generates ideas for multilateral governance improvements. Conducting an active agenda of research, events and publications, CIGI's interdisciplinary work includes collaboration with policy, business and academic communities around the world. CIGI was founded in 2001 by Jim Balsillie, co-CEO of RIM (Research In Motion), and collaborates with and gratefully acknowledges support from a number of strategic partners, in particular the Government of Canada and the Government of Ontario. For more information, please visit www.cigionline.org.