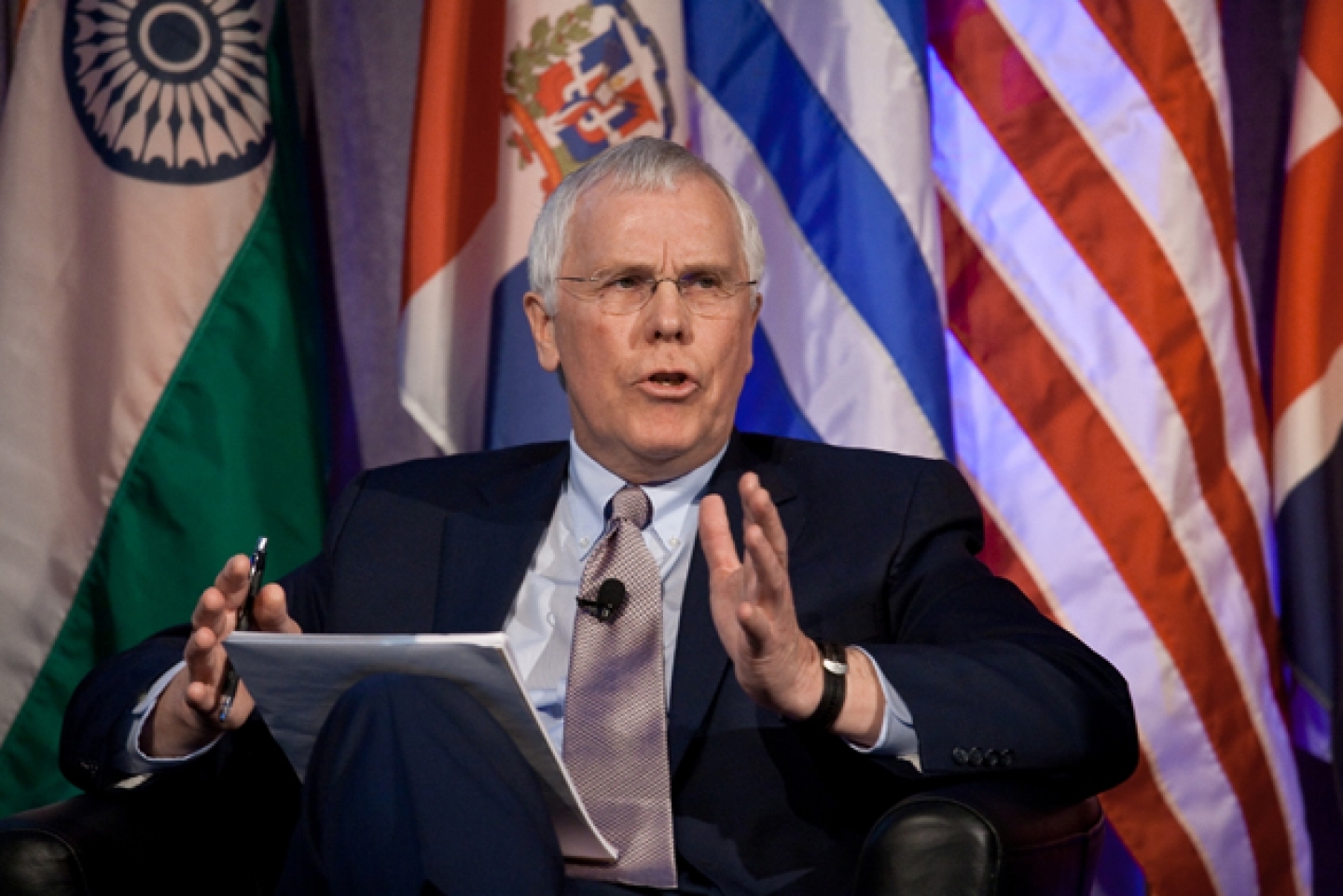 Bretton Woods, N.H. — "However much we've achieved in a year, it still feels like we're falling behind." With these simple but reflective words, INET Executive Director Dr. Robert Johnson officially opened the 2011 Crisis and Renewal Conference. The Centre for International Governance Innovation (CIGI) was a co-sponsor of the event, which featured some of the biggest names in global economics, including Gordon Brown, Jean-Paul Fitoussi, Kenneth Rogoff, Joseph Stiglitz, Larry Summers, Adair Lord Turner and Paul Volcker.
The conference was held April 8 to 11, 2011, at the storied Mt. Washington Hotel, site of the famous 1944 Bretton Woods Conference. With the original conference leading to the creation of a global financial system and the establishment of the International Monetary Fund (IMF) and the International Bank for Reconstruction and Development (IBRD, now the World Bank), the choice of venue gave added significance to a meeting of today's eminent thinkers.
In laying out his challenge to delegates to help rethink major aspects of economics, Johnson's words were as much a tip of the hat to legendary economist John Maynard Keynes – a central figure at the 1944 conference – as they were a summary of the current state of the global economy. At the opening dinner, official IMF historian James Boughton told of how Lord Keynes had opened the original Bretton Woods conference by musing "How much better that our projects should begin in disillusion than that they should end in it."
Over the course of the weekend, delegates were treated to 10 sessions on the more pressing issues facing the global economy today, all aimed at alleviating a similar crisis to that of 2008 in the years and even decades ahead. Session topics included The Emerging Economic and Political Order, What Can We Learn from the Past in Designing the Future?, and Sovereignty and International Supervision, while keynote addresses covered lessons learned from the 2008 crisis, matters of financial stability and key questions on regulation.
CIGI had strong representation at the Crisis and Renewal Conference. Distinguished Fellow Paul Jenkins moderated a session entitled Getting Back on Track: Macroeconomic Management After a Financial Crisis, featuring panellists Duncan Foley (New School for Social Research) Richard Koo (Chief Economist, Nomura Research Institute) Mario Seccareccia (University of Ottawa), and  Alan Taylor (University of California and Morgan Stanley).
CIGI Chair of Global Systems Thomas Homer-Dixon was a panellist in the session titled Exploring Complexity in Economic Theory, which was moderated by Eric Beinhocker (McKinsey and Company) and also featured Brian Arthur (Santa Fe Institute) and Ian Goldin (Oxford University).
CIGI Executive Director Thomas A. Bernes moderated a session on Sustainable Economics, with CIGI Chair and founder  Jim Balsillie providing introductory remarks. Panellists included Alex Evans (New York University), William Rees (University of British Columbia), and Camilla Toulmin (International Institute for Environmental Development).
Senior Visiting Fellow Paul Blustein moderated a session entitled The Architecture of Asia: Financial Structure and An Emerging Economic System, which featured panellists Charles Dallara (Institute of International Finance), Yasheng Huang (MIT Sloan School of Management), Y.V. Reddy (former governor, of the Reserve Bank of India) and Joseph Stiglitz (Columbia University).
Professor Stiglitz was also a welcome last-minute addition to another CIGI event, as the Nobel laureate addressed the joint CIGI-INET student breakfast session. The two organizations and Daniel Goroff of the Alfred P. Sloan Foundation had sponsored 26 students from American and Canadian colleges and universities to attend the conference. Professor Stiglitz joined Johnson and Bernes in addressing student concerns on policy development, the continued gender imbalance in economics and sustainability shortcomings in the current curriculum offering.
In commending the students for raising such thorny issues, Bernes took a note from his own conference session on the point of sustainability.
"Unlike the financial crisis, which can and might be repeated – though we all hope not – we can't get this one wrong," he said.