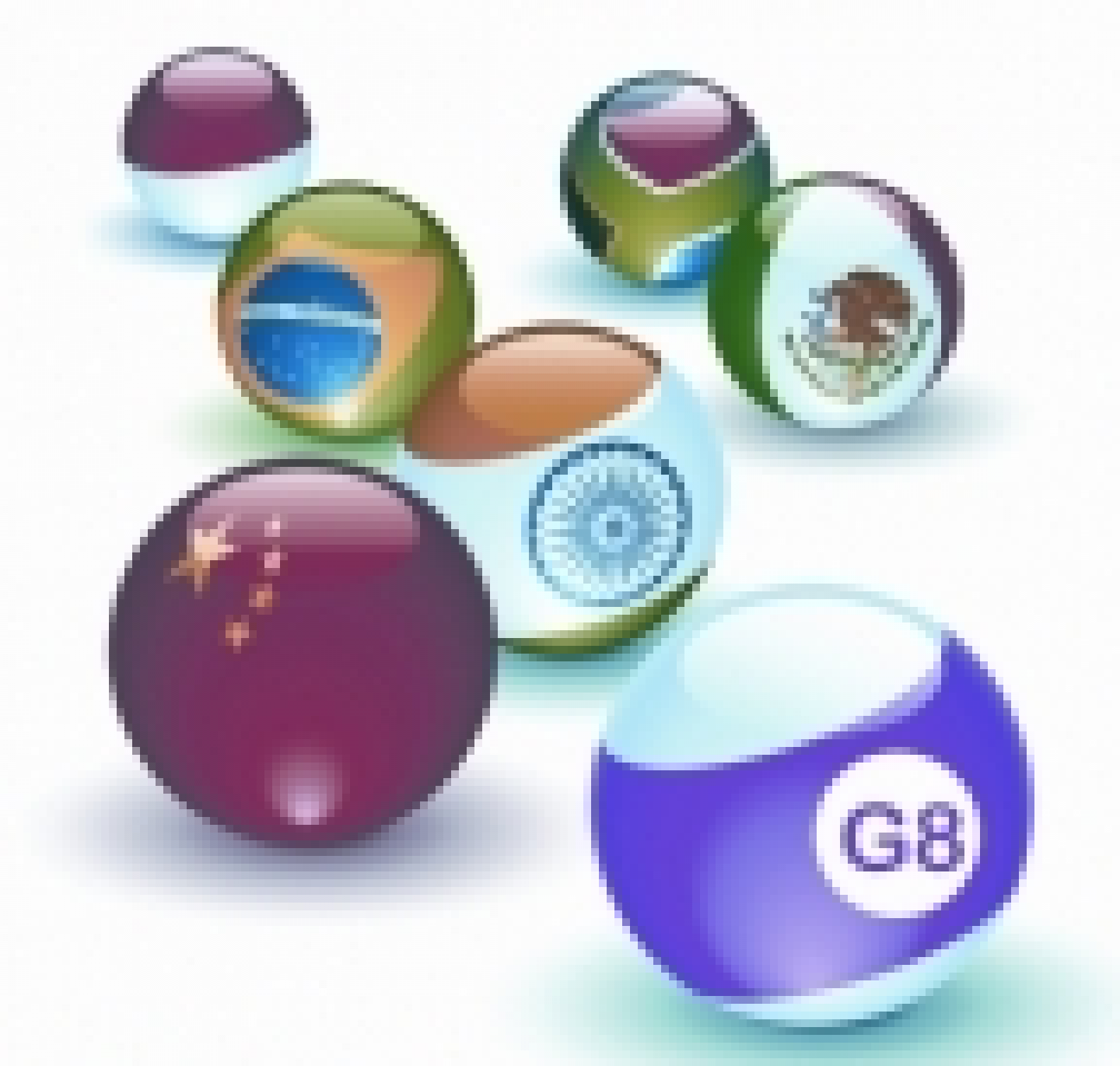 On August 13, 2009, researchers, journalists and publishing people gathered at the School for International Affairs and Diplomacy (SIDA) at the Shanghai International Studies University (SISU) to celebrate the first CIGI book to be translated into Chinese — the Chinese version of Emerging Powers in Global Governance: Lessons from the Heiligendamm Process, edited by CIGI Distinguished Fellow Andrew F. Cooper and Senior Researcher Agata Antkiewicz.
The English edition, published by CIGI and Wilfrid Laurier University Press, was launched less than a year ago at CIGI's annual conference (CIGI'08) last October. Over the following months, a team of professors and graduate students led by Dr. Su Changhe, professor and dean of SIDA, translated the 360-page volume into Chinese. The project has had the strong support of SISU's Vice-President for Research and Academic Affairs, Dr. Zhang Shuguang.
The Emerging Powers translation is the debut volume in a new series of scholarly works, the "China and International Organization" series, published by SIDA in association with the Shanghai People's Publishing House (SPPH). Publication by SPPH will ensure a wide distribution of the book to leading scholars and political elites in China. Established in 1951, SPPH is one of the largest publishers of social science books in China and the leading publisher in the international relations area. Its policy-relevant publications are routinely circulated to high-level policy-making circles and distributed to educational institutions and libraries. SPPH's vice-president and deputy editor-in-chief Fan Weiwen attended the launch event.
Given China's increasing economic and political influence in world affairs, its crucial contribution to solving the international financial crisis and the importance of its position on other issues such as global health and climate change, there is rising interest in policy circles in China's international stance and its engagement with other powers in global governance. Perhaps nowhere is this interest keener than in China itself, where the country's role in  world  bodies such as the G20, and the extent of China's involvement in addressing issues of global concern, are receiving ongoing attention from the country's political and economic decision makers. These are new questions and challenges for China's leaders, who have traditionally resisted a greater role for China on the world stage than is justified by the country's level of development, which is still relatively low by industrialized world standards. Yet China must balance its domestic concerns with a degree of international engagement commensurate with its growing economic and political significance and its capacity to improve global affairs.
The Cooper-Antkiewicz edited book deals with an important example of China's engagement in global governance — its membership in the "G5," the group of key emerging economies (the others are Brazil, India, Mexico and South Africa) that are part of the "Heiligendamm Process," the "structured dialogue" with the G8 industrialized countries aimed at making progress and building understanding between the global North and South on selected issues such as economic innovation, investment, development and energy efficiency. Proposed as a novel form of outreach at the 2007 G8 Summit at Heiligendamm, Germany, the dialogue process has met with sufficient success that its mandate was extended at the recent L'Aquila Summit for another two years, to 2011.
In the coming decades it is expected that China will deepen its engagement with global society — through commitments to international bodies, cultural activities, the increasing "going out" of China's fast-growing civil society sector into the international arena, for example. This phenomenon will run parallel to China's substantial integration into the global economy. As its international role grows, China will be able to contribute more to the solution of new and emergent global problems, the solution to which requires China's cooperation. Government and society will also project outward information about China's growth model, economic transformation and social changes.   
This "internationalization" is the focus of study and research at SIDA. The school's core research interests are Chinese foreign relations, China and international organizations, and the maintenance and protection of China's overseas interests. For example, researchers at SIDA are developing a detailed database on international organizations and conducting studies on international norms, regimes and international relations broadly. Primarily a graduate and post-graduate research institution — a mini-think tank — SIDA is located within one of China's key multidisciplinary universities with a particular reputation for its international studies, foreign language programs and training of teachers of Chinese as a second language.   
SIDA is building a new generation of young scholars, and is currently the only Chinese academic centre dedicated to global governance research.  In addition to the China and International Organization book series, which plans to publish six or more titles a year, including several by foreign authors, SIDA publishes the peer-reviewed International Review, an academic journal, six times a year. CIGI Senior Fellow Greg Chin is on the journal's advisory board. 
New research on current issues was presented on August 14 when Dean Su assembled a workshop on "The Emerging Powers in Global Governance Reform: The Gs and Beyond." The workshop brought together leading researchers from SIDA and other institutions in the Shanghai area along with visiting researchers from CIGI. Opened by Vice-President Zhang, the workshop featured presentations by Andy Cooper on the G20/G8; Dean Su on China's emerging global governance network; CIGI Senior Fellow Greg Chin on Sino-US currency rivalry within the context of global economic architecture reform; SIDA Associate Dean Wei Zongyou on the "G2" concept and its implications for global governance; Zhu Jiejio of SIDA on the "G8 plus" model in China's global governance; Zhang Haibing  of the Shanghai Institute of International Studies (a government think tank) on China's evolving views on global economic governance reform since the financial crisis; Tang Bei of Fudan University on China's involvement in global public health governance; Zhang Jiadong of Fudan University on China's antiterrorism initiatives as an aspect of global governance; and CIGI researcher Andrew Schrumm on energy cooperation and competition issues related to global governance. Qian Hao, director of the Canadian Studies Program at SIDA, chaired one of the sessions.
Media coverage of the Emerging Powers book launch resulted in a feature-length interview with Andrew Cooper in the Oriental Morning Post , a newspaper with a circulation of 500,000 in Shanghai and the surrounding three provinces. The article reviewed the challenges facing China as it accepts new responsibilities in global affairs, seeking to balance domestic and international responsibilities. Echoing a dominant theme in official and media discourse, the article was entitled "China on the Balance Beam in the World."
With the successful book launch and workshop behind them, CIGI and SIDA are now exploring possibilities for further cooperation around the themes of soft power and diplomacy to coincide with Shanghai's hosting of the world-ranking Expo 2010, and considering further publishing cooperation opportunities.  
Important Links
Max Brem is CIGI's Senior Director of Communications.