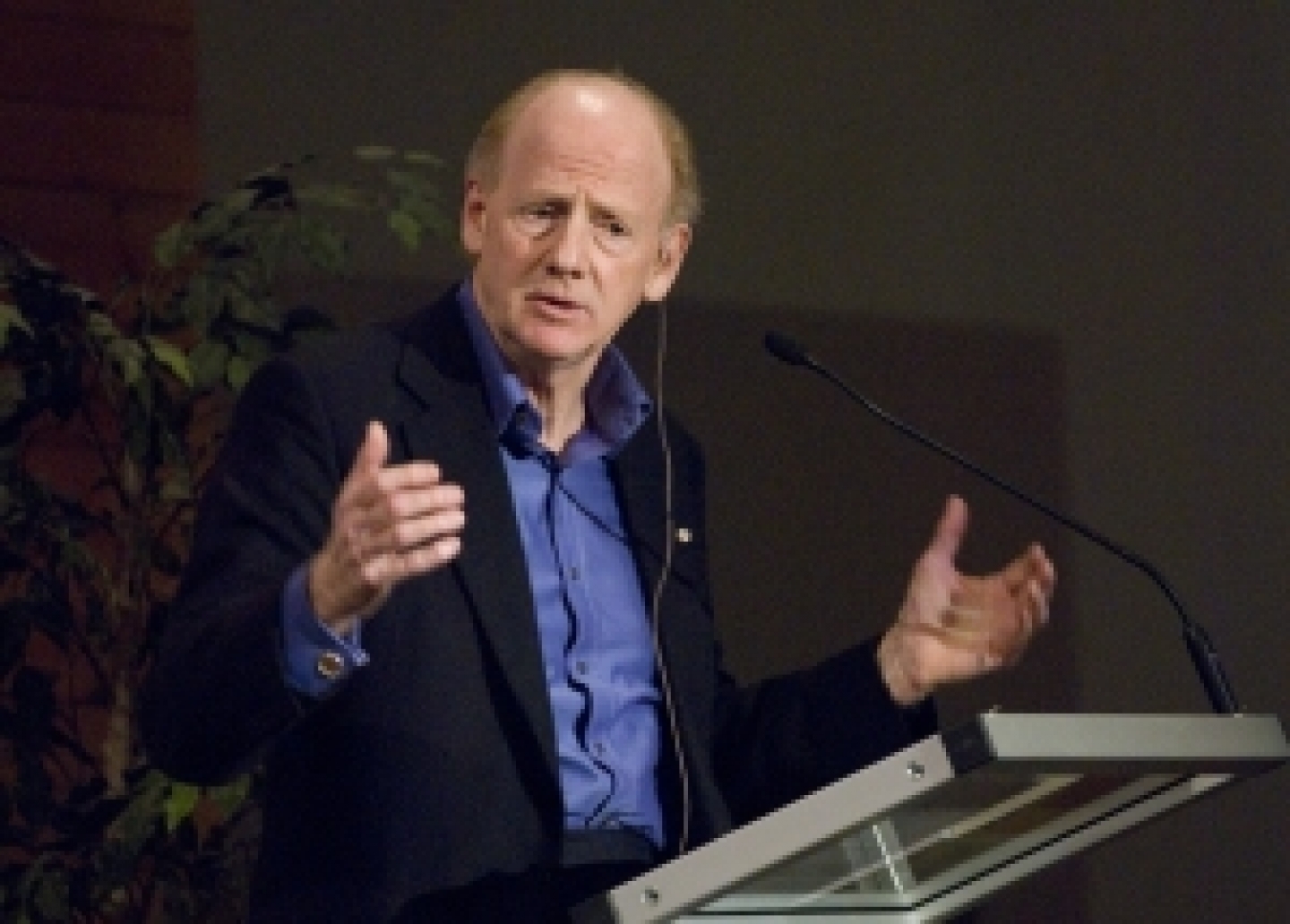 Waterloo, ON — Globalization is a 1980s concept with negative implications for modernity, economic and environmental sustainability, and human security, in the view of panelists who participated in a public event at The Centre for International Governance Innovation (CIGI) on March 9.
The panel discussion, titled "The Dark Side of Globalization" featured CIGI Distinguished Fellow Jorge Heine, William Coleman, CIGI Chair in Globalization and Public Policy at the Balsillie School of International Affairs and award-winning essayist and novelist John Ralston Saul. It was attended by over 200 people and webcast to a live global audience.
Heine opened the discussion by introducing concepts from his new co-edited book The Dark Side of Globalization, noting that there are two major schools of thought with regard to globalization: one arguing that "it is the greatest thing since sliced bread" and an opposing view that  manifested itself in the Battle of Seattle protest of 1999 and in Toronto during the last year's G20 summit. Undoubtedly, he noted, since the 1980s, globalization has increased the flow of information, ideas, culture, music and goods. But with this, opportunities for serious crimes, such as money laundering and the illegal trade in weapons, drugs and sex workers, have increased.
John Ralston Saul, who recently reissued his 2005 book The Collapse of Globalism with a new chapter on the 2008 financial crisis, provided the audience with a philosophical approach to globalization, arguing that it is not merely a process or phenomenon, but a paradigm for understanding the world, often wrongly.  It is a prism that has, since the latter half of the 21st century, led university faculties and other elites to view the world chiefly in economic, linear, and utilitarian terms.
Saul said that globalization, a non-holistic amalgamation of dated economic theories, is not only limited in providing an understanding of the need, purpose, and consequences of wealth and expansion, but also that it has failed to deliver on what it promised.  The political upheaval in Egypt and North Africa is a manifestation of this failure, he said.
At the root of the issue, Saul said, is a fundamental chasm in education; economic departments fail to debate economic models beyond traditional concepts of growth and reject other economic theories with alternative values.  As such, this intellectual "cleansing" and the propagation of management rather than leadership capacity, has led to a refusal of modernity, he said.
Coleman began his remarks by noting that globalization is a relative term that differs greatly within various contexts – the media versus social science and academic analysis, for example. A contributor to The Dark Side of Globalization, and also the founding director of McMaster University's Institute on Globalization and the Human Condition, Coleman argued that use of the concept as an analytical tool is an attempt to discover what is changing in the world in which we live.
Defining globalization as the growth of trans-planetary connections between two people anywhere in the world, Coleman cited the case of political upheaval in Tunisia, where the mobilization of the Tunisian diaspora was made possible due to new communication technologies. The same process and phenomenon that is allowing for increased communications, however, is also allowing for the dark side of globalization to flourish. Moreover, Coleman noted, globalization is fundamentally changing the human condition and challenging people in their identification of "self" within a highly connected globe – an immigrant is much more likely to remain in contact, and identify, with family and friends in her or his homeland.
Toward the end of the discussion, Heine returned to one of his main inquiries: how can the global community, and more specifically the "global south", caught with the urge to drop its barriers and fully embrace globalization and all the positives promised with it, deal with the accompanying negative consequences?
At the end of the evening, the three participants answered questions from the local as well as global audience who watched via webcast. CIGI is continuing to air its public events live via webcast, as a means to reach a global audience on pressing international issues.
The Centre for International Governance Innovation (CIGI) is an independent, nonpartisan think tank on international governance. Led by experienced practitioners and distinguished academics, CIGI supports research, forms networks, advances policy debate and generates ideas for multilateral governance improvements. Conducting an active agenda of research, events and publications, CIGI's interdisciplinary work includes collaboration with policy, business and academic communities around the world. CIGI was founded in 2001 by Jim Balsillie, co-CEO of RIM (Research In Motion), and collaborates with and gratefully acknowledges support from a number of strategic partners, in particular the Government of Canada and the Government of Ontario. For more information, please visit www.cigionline.org.