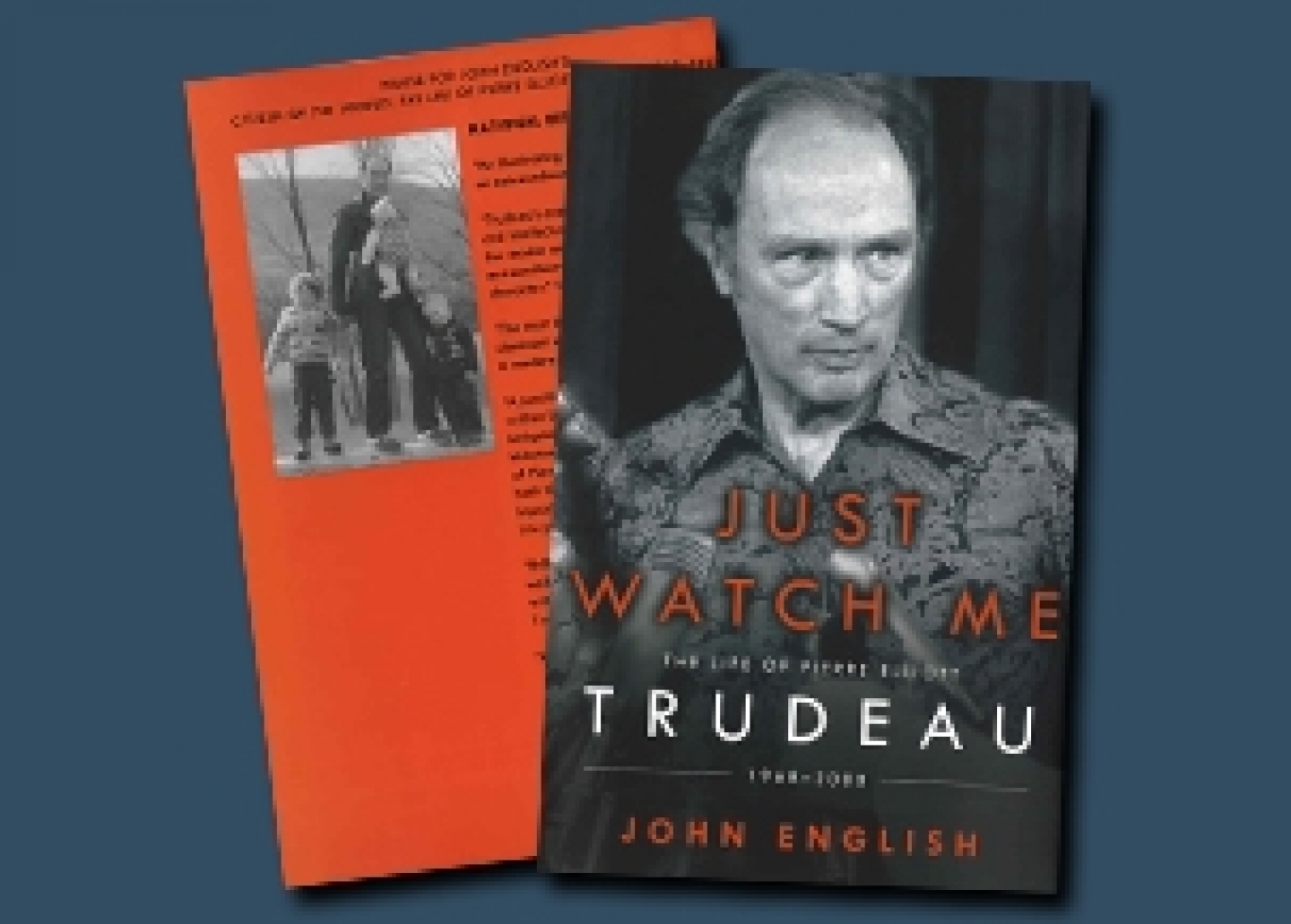 Just Watch Me, the second volume of John English's two-part biography of Pierre Elliot Trudeau, completes the most comprehensive account of the life of Canada's fifteenth prime minister yet written.  Volume One, Citizen of the World, left Trudeau as he assumed the mantle of prime minister in 1968; the second volume follows him until his death in 2000.  English was invited by the Trudeau family to write the biography and was given unprecedented access to Trudeau's private papers, family members, close friends and associates.  The result is a thoughtful, balanced account of personal and political intrigue, a menagerie of personalities, and a loving, though sometimes difficult family life.
Published by Knopf Canada, the title of this volume hints at the adept telling of the political side of Trudeau, and it suggests a man keenly aware that the attention of the nation was fixed on him in a way unlike any of his predecessors.  English's telling of the tale describes a man who acted sometimes in embrace of the public eye, and sometimes in spite of it. Just Watch Me sheds light on parts of Trudeau's life we thought we knew, and offers new insight on decisions and events long debated by biographers, pundits and ordinary Canadians.  English is able to penetrate the often murky political landscape of Ottawa to detail decisive, albeit little known, milestones in Canada's history, and reveal the man behind the politician.
Just Watch Me captures the essence of the man and his times, and the read is as much about Canada in the late twentieth century as it is about the man who led the nation through the 1970 FLQ crisis, the 1980 referendum, and the patriation of the Canadian constitution in 1982.  The biography follows this "citizen of the world" as he plied the turbulent waters of international affairs, notably making his own mark on North-South relations, securing Canada a place in the G7, and embarking on a personal peace initiative in 1983-84.  English recalls the enthusiasm for Trudeau, including comments from the media that with his election as prime minister "Canada had come of age," though the phenomenon known as "Trudeaumania" would eventually ebb as his leadership of Canada yielded successes and failures.  The biography follows Trudeau through the period after he left office and into his final years, leaving Canadians to ponder anew the legacy of one of the twentieth century's most important personalities.
Volume one of the biography received wide acclaim and a host of literary awards; volume two maintains the high standard set by the first.  Together, they will stand as the definitive account of the life of Pierre Elliot Trudeau.