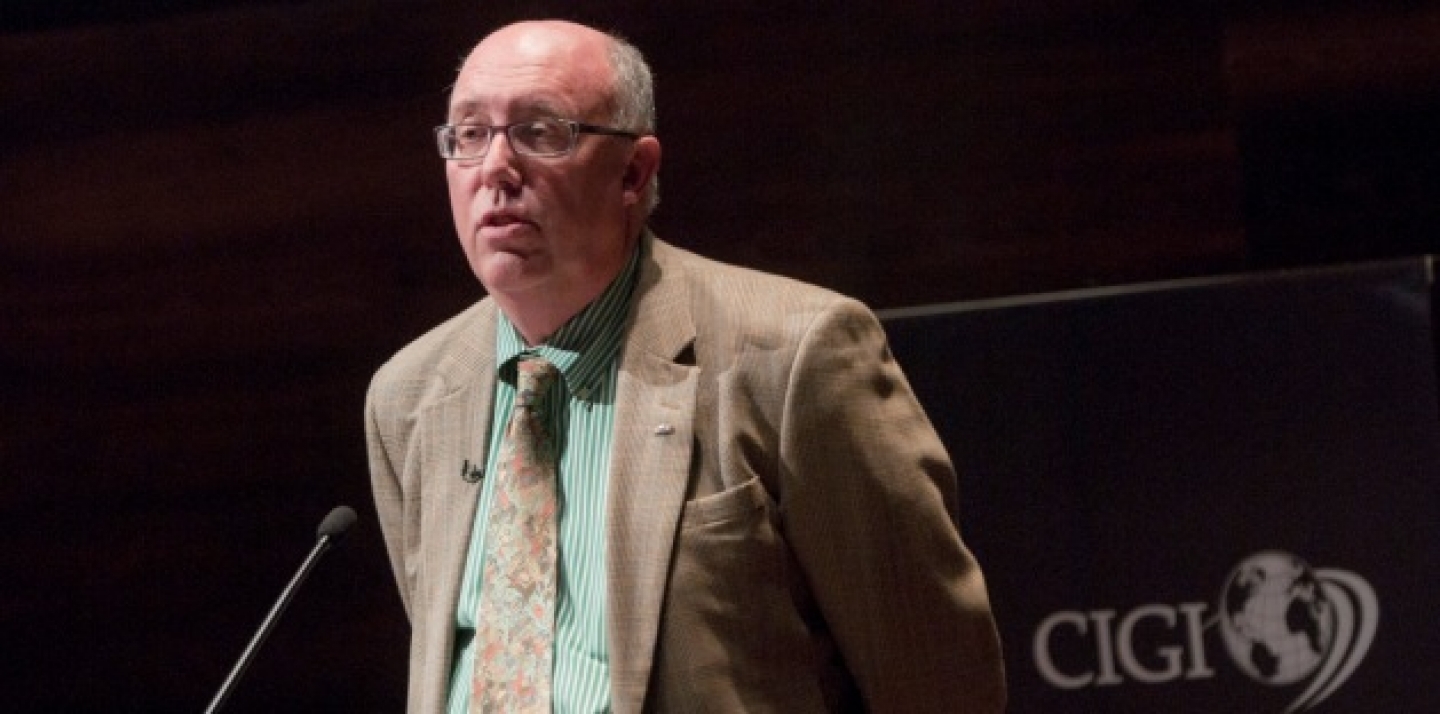 According to ex-CIA analyst Bruce Riedel, history does not repeat itself, but some might say it rhymes.
Speaking on the topic of "Obama, Romney and Iran," he was alluding to lessons the upcoming winner of the fifty-seventh quadrennial US presidential election can take from the 1979—1988 Iran-Iraq War.
Riedel, a global security and Middle East expert, four-time presidential adviser, and now senior fellow at The Brookings Institution, was the keynote speaker at the opening of The Centre for International Governance Innovation's 2012-2013 signature lecture series. He spoke to a packed auditorium, and participated in a question and answer session moderated by janet Lang, a research professor at the Balsillie School of International Affairs.
Riedel explained that until this week, when US embassies in Benghazi and other parts of the Middle East and North Africa were attacked, the presidential election has not addressed foreign policy at large. Yet both presidential candidates have given attention to Iran and the threat it poses to national security.
While both President Barack Obama and Republican presidential candidate Mitt Romney have expressed an "all options on the table" approach to Iran, there are explicit and nuanced differences between the two men. The former has left diplomacy on the table, while pursuing sanctions and unconfirmed reports of cyber warfare, while the latter has suggested a crippling, hardline approach to dealing with a country suspected of developing a nuclear weapons capability, Riedel suggested .
Describing Romney and Israeli Prime Minister Benjamin Netanyahu's approach to Iran, Riedel spoke of the risk of becoming beholden to comments that disregard diplomacy. There are four main lessons one can take from Iran-Iraq War and they all, in part, stress that diplomacy should be considered. First, in spite of its use of martyrdom, Iran is not a suicidal state. Its government wants to see the perpetuation of the 1979 Islamic Revolution. Second, when it comes to military threats, Iran is not easily intimidated. Third, Iran has a global reach of intelligence and actors. And fourth, US allies in the Middle East have not been a good source of advice when it comes to military interventions and aid.
Riedel painted an insightful picture of the historic origins of modern geopolitics in the Middle East, and the framework through which Iran approaches its own regional threats — to the east is nuclear China, India and Pakistan, to the west is nuclear Israel and to the north is nuclear Russia. "The West will have to live with Iran, and they won't stop being Muslims," Riedel said. "We need more than sound bites from our political leaders," he noted, stressing the need — particularly in America — for honest, healthy conversations about Iran that consider all possible strategies to resolve perceived threats.
Visit www.cigionline.org/videos for the full lecture, available soon.