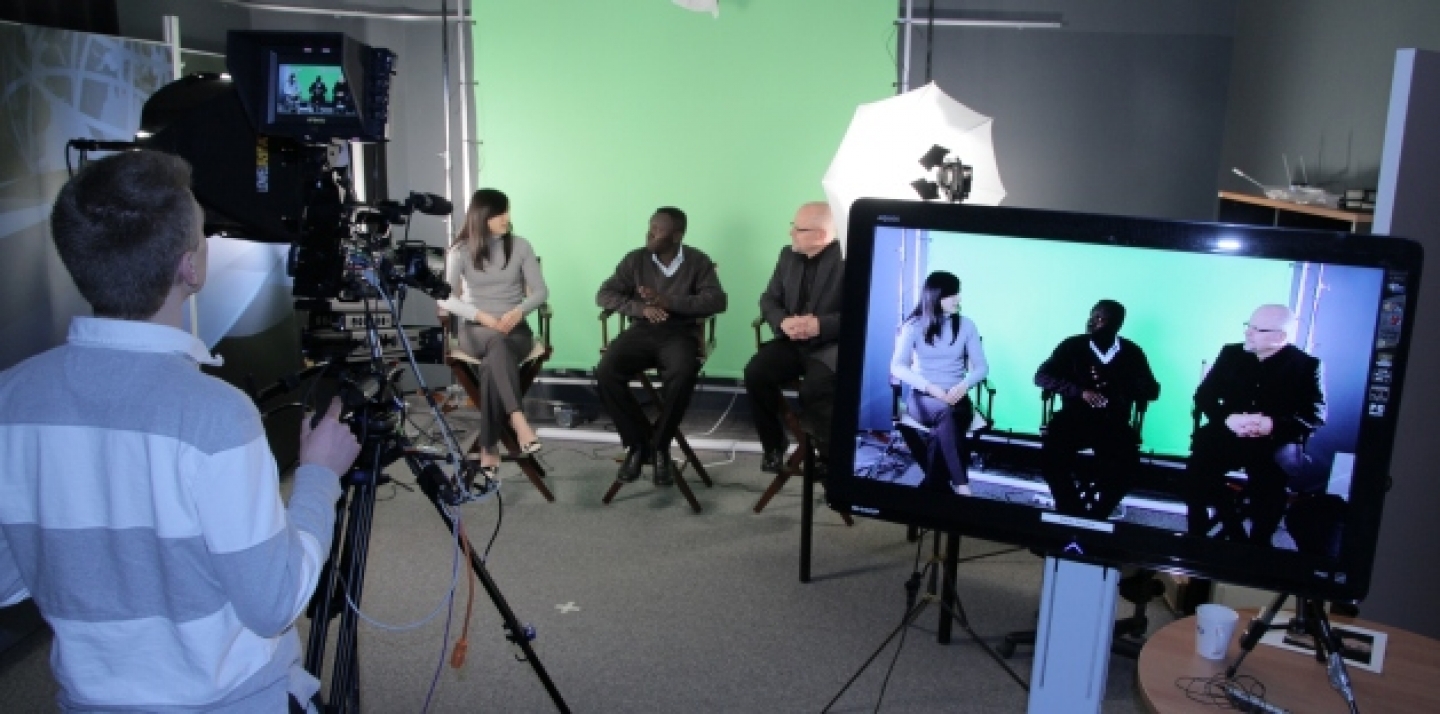 Waterloo, Canada — June 15 — News broadcasters can now more easily stage live double-ended interviews with experts on world issues, thanks to the opening of a new state-of-the-art studio at The Centre for International Governance Innovation (CIGI).
Using its new fibre optic uplink and IFB capabilities, the CIGI studio in Waterloo can be hooked up to studios anywhere in the world.
The CIGI studio has hosted three live television interviews to date — with Bloomberg Asia, Bloomberg London and CBC Ottawa — and has been deployed steadily for CIGI's in-house video production, including the first season of the Inside the Issues podcast series.
"Your producers can line up our experts on international stories on short notice, without requiring that the experts drive to Toronto or other studio locations," said Fred Kuntz, vice-president of public affairs at CIGI. "We understand your deadline pressures, and the need to have top experts available quickly when news is breaking.  All it takes is a phone call or email to our Communications Specialists – we'll work with you."
CIGI's experts can comment on a wide range of world news, from governance of the global economy, to climate change, global security and global development issues. For a complete list of CIGI experts and their areas of expertise, see www.cigionline.org/experts
In addition to media interviews, the CIGI Broadcast Studio will be available for external groups looking to rent its facilities and services for recording and post-production work. The fully functional studio offers the following features:
Control room plus a 24 ft x 18 ft studio space (professional lighting, green screen, interview set)

fibre optic TX/RX (transmission/receive)

ISDN-equipped for CD-quality audio over an ISDN telephone line

two JVC GY-HM700 high-definition cameras with camera control units

high-definition video switcher (six inputs)

16 channel onyx audio board

Final Cut Pro 7 editing system with Aja Kona LHi Card (real-time HD video editing)

four-channel intercom (two cameras, two interruptible feedback units)
For details on rental arrangements or to reserve the CIGI Broadcast Studio, please contact CIGI Communications Coordinator Kelly Lorimer at 519-885-2444, ext. 265, or [email protected].
MEDIA CONTACTS:         
Declan Kelly, Communications Specialist, CIGI
Tel: 519.885.2444, ext. 356, Email: [email protected]
Kevin Dias, Communications Specialist, CIGI
Tel: 519.885.2444, ext. 238, Email: [email protected]
The Centre for International Governance Innovation (CIGI) is an independent, nonpartisan think tank on international governance. Led by experienced practitioners and distinguished academics, CIGI supports research, forms networks, advances policy debate and generates ideas for multilateral governance improvements. Conducting an active agenda of research, events and publications, CIGI's interdisciplinary work includes collaboration with policy, business and academic communities around the world. CIGI was founded in 2001 by Jim Balsillie, co-CEO of RIM (Research In Motion), and collaborates with and gratefully acknowledges support from a number of strategic partners, in particular the Government of Canada and the Government of Ontario. For more information, please visit www.cigionline.org