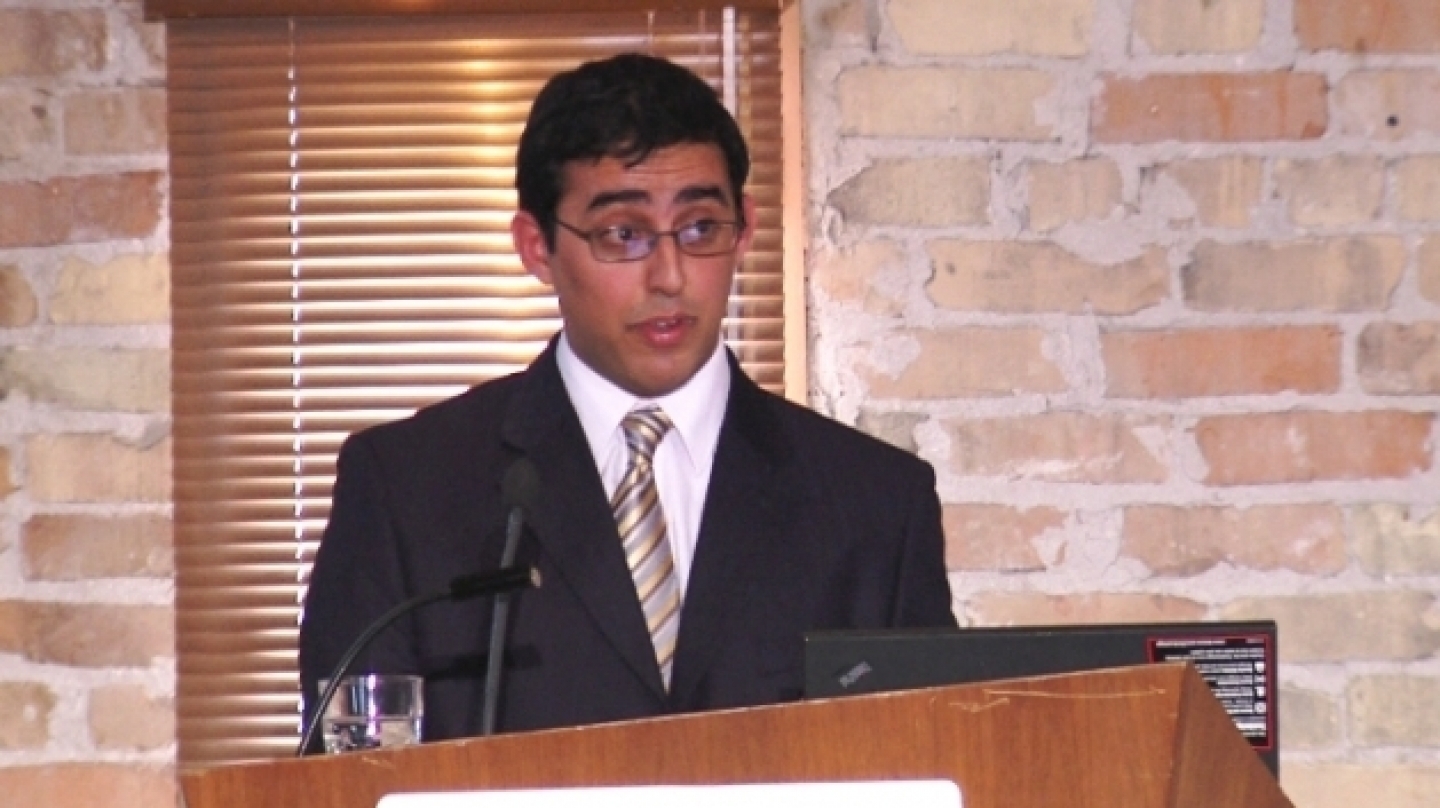 Though humanitarian grounds will never be the sole justification for violating the principle of state sovereignty, historical legacy is emerging as an important consideration for states weighing the costs of intervention, an audience heard as Aly Verjee spoke at The Centre for International Governance Innovation (CIGI).
Verjee, a senior researcher at the Rift Valley Institute and contributing author for CIGI's Security Sector Reform (SSR) Resource Centre, spoke on the topic of "When Do We Intervene? International Response in Arab and African Conflicts."
Looking at the most recent cases of humanitarian intervention, in Côte d'Ivoire and Libya, Verjee argued that credibility and consistency should go hand in hand when states consider intervention. Detailing the roots of conflict in Côte d'Ivoire, from the first civil war in 2002the tense period during the election runoff in late 2010, and the subsequent stalemate between Laurent Gbagbo and Alassane Ouattara, he juxtaposed the international community's delay in responding to crisis in West Africa and the comparatively quick response in Libya, stating that the confluence of factors considered in these cases, and the narrative emerging from them, have set new norms for intervention.
To elaborate, Verjee outlined three situations that categorize conflict: backwater conflicts that occur in non-strategic states; multilayered emergencies, in strategic locations, with complex and sometimes unknown solutions; and, sensational, new crises that capture global attention and demand a response.
Associated with these, Verjee explained, is a further classification of how such situations are perceived. For example, they tend to be viewed as (a) stable in their authoritarian state but grossly neglected by the international community – countries such as Gabon and Niger, (b) protracted, ongoing, and large scale  – such as those in Chad and Sudan, or (c) threatening to stability due to long-term authoritarianism – such as those in Syria and Yemen.
Moving beyond a realist understanding of international relations, Verjee's argued that in addition to considerations of stability, finite resources, the consequences of violating state sovereignty, and the Responsibility to Protect (R2P) doctrine's tenet that success in intervention must be possible, states now take history into account in determining their strategic interest. That is, fear of being on the wrong side of history – by doing nothing to halt gross injustices – has emerged as a counterweight to the fear of instability caused by intervention.
As such, Verjee noted that R2P is evolving into the responsibility to prevent, whereby action is required to stop situations from "getting out of hand." He added that even though the circumstances in Libya and Côte d'Ivoire are not exactly alike—Laurent Gbagbo won over 45 percent of the vote in 2010, and had himself struggled to oust an incumbent who did not accept an electoral loss in the 2000 election—a narrative developed that linked intervention in both cases as resistance to a tyrant ignoring the will of his people. The catastrophes of non-intervention resonate in the minds of many, and as such the topic of Aly Verjee's discussion came at an appropriate moment in international affairs, given the continued lack of guidelines and benchmarks for intervention, even nearly a decade after R2P was developed. To watch the Aly Verjee's lecture at CIGI, please visit http://www.cigionline.org/videos/when-do-we-intervene-international-response-arab-and-african-conflicts.  
The Centre for International Governance Innovation (CIGI) is an independent, nonpartisan think tank on international governance. Led by experienced practitioners and distinguished academics, CIGI supports research, forms networks, advances policy debate and generates ideas for multilateral governance improvements. Conducting an active agenda of research, events and publications, CIGI's interdisciplinary work includes collaboration with policy, business and academic communities around the world. CIGI was founded in 2001 by Jim Balsillie, co-CEO of RIM (Research In Motion), and collaborates with and gratefully acknowledges support from a number of strategic partners, in particular the Government of Canada and the Government of Ontario. For more information, please visit www.cigionline.org.