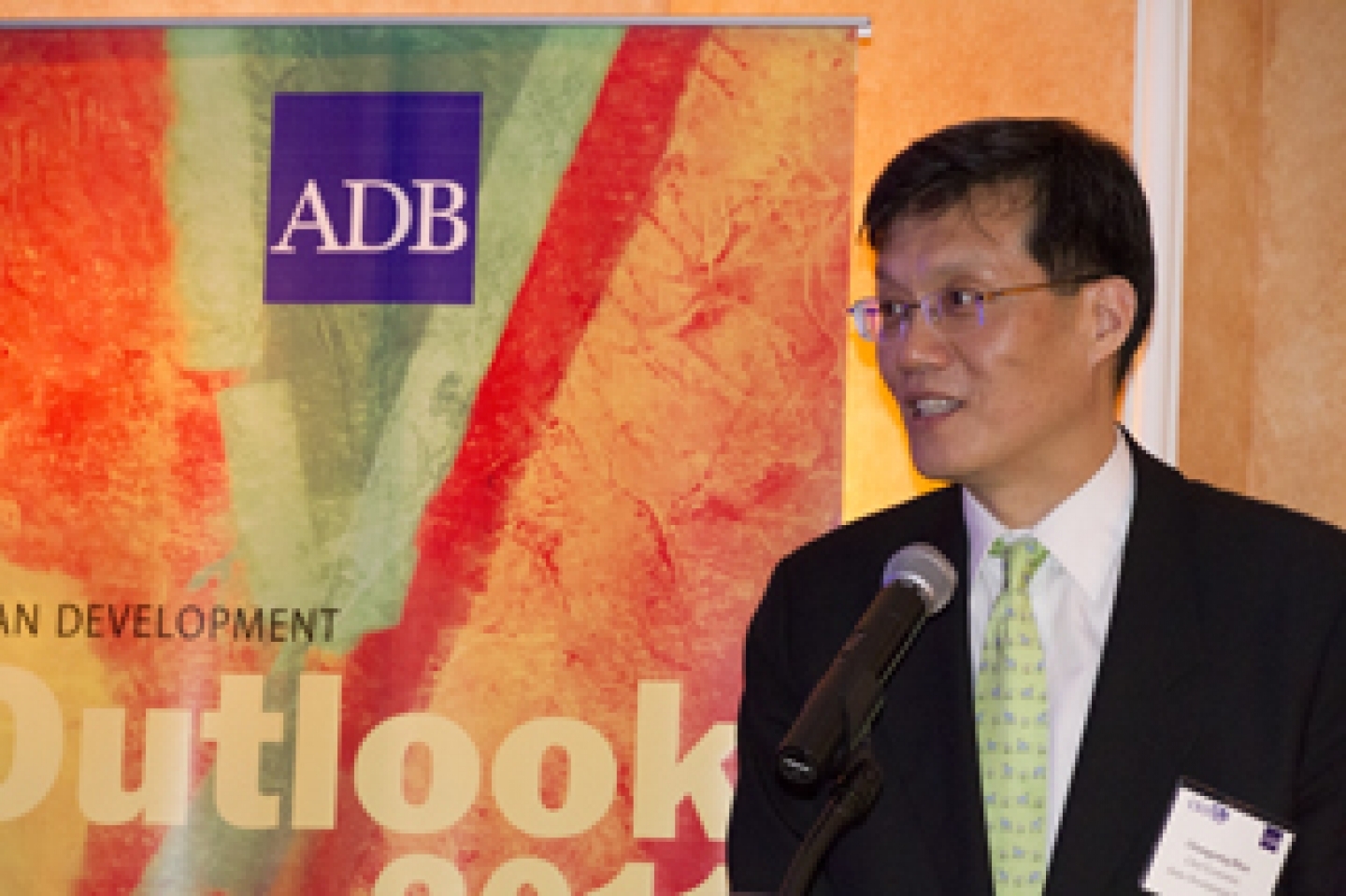 Global economic challenges and the outlook for Asia's growth were the focus of Dr. Changyong Rhee's keynote address, heard by a live global audience via webcast and a gathering of foreign dignitaries, public finance and development experts in Ottawa, Canada.
Hosted by The Centre for International Governance Innovation (CIGI) at the Rideau Club, the Asian Development Bank's (ADB) chief economist noted that despite concern over rising oil and food prices, as well as inflation rates, Asia's economic performance has been steady and should continue leading the global recovery. The ADB, based in Manila, is dedicated to reducing poverty in Asia and the Pacific through inclusive economic growth, environmentally sustainable growth, and regional integration.  Established in 1966, it is owned by 67 members – 48 from the region.
Dr. Rhee elaborated on the key findings of the ADB's flagship annual publication, Asian Development Outlook 2011, stating that regional growth is expected to be at GDP 7.8 percent in 2011 and 7.7 percent in 2012.
According to Dr. Rhee, this growth, resulting from robust domestic demand through the rise of "factory Asia" as well as the success of major industrialized and resource rich nations, is positive for the region as a whole. But it also presents critical challenges that need to be addressed.  First, the problem of rising inflation requires coherent policy coordination as growing demand pressures can significantly impact the labour market and influence a wage-inflation spiral. Second, new sources of global growth must be found, as problems in the North, such as the slow recovery of the U.S. economy and sovereign debt problems in the "Eurozone periphery," have prompted concern.
At the end of his lecture, Dr. Rhee answered questions from the audience on topics including the G20's role in coordinating international responses to large economic challenges, as well as what affect South-South economic interactions could have on poverty reduction and income inequality within Asia.  Dr. Rhee said Asia has seen rising income disparities amid its dramatic growth of the past three decades; however, Asia has at the same time seen major gains in poverty reduction due to high growth rates.  He emphasized that despite the gains,  more attention needs to be given to ensuring equity in the future given that two-thirds of the world's poor still live in developing Asia.  The ADB's report also states, while the potential for stronger South-South economic links is strong and positive, as witnessed by Asia's ties with Latin America and Africa, such activity does not equate immediately to greater economic independence from the North.
CIGI, together with the ADB, co-sponsored this event because of its research interest and policy work on global development, and on the growing role of Asia in the global economy. For more information on CIGI's research programs, please visit www.cigionline.org.  To access more information on the ADB, includes its report, Asian Development Outlook 2011, please visit www.adb.org.
The Centre for International Governance Innovation (CIGI) is an independent, nonpartisan think tank on international governance. Led by experienced practitioners and distinguished academics, CIGI supports research, forms networks, advances policy debate and generates ideas for multilateral governance improvements. Conducting an active agenda of research, events and publications, CIGI's interdisciplinary work includes collaboration with policy, business and academic communities around the world. CIGI was founded in 2001 by Jim Balsillie, co-CEO of RIM (Research In Motion), and collaborates with and gratefully acknowledges support from a number of strategic partners, in particular the Government of Canada and the Government of Ontario. For more information, please visit www.cigionline.org.