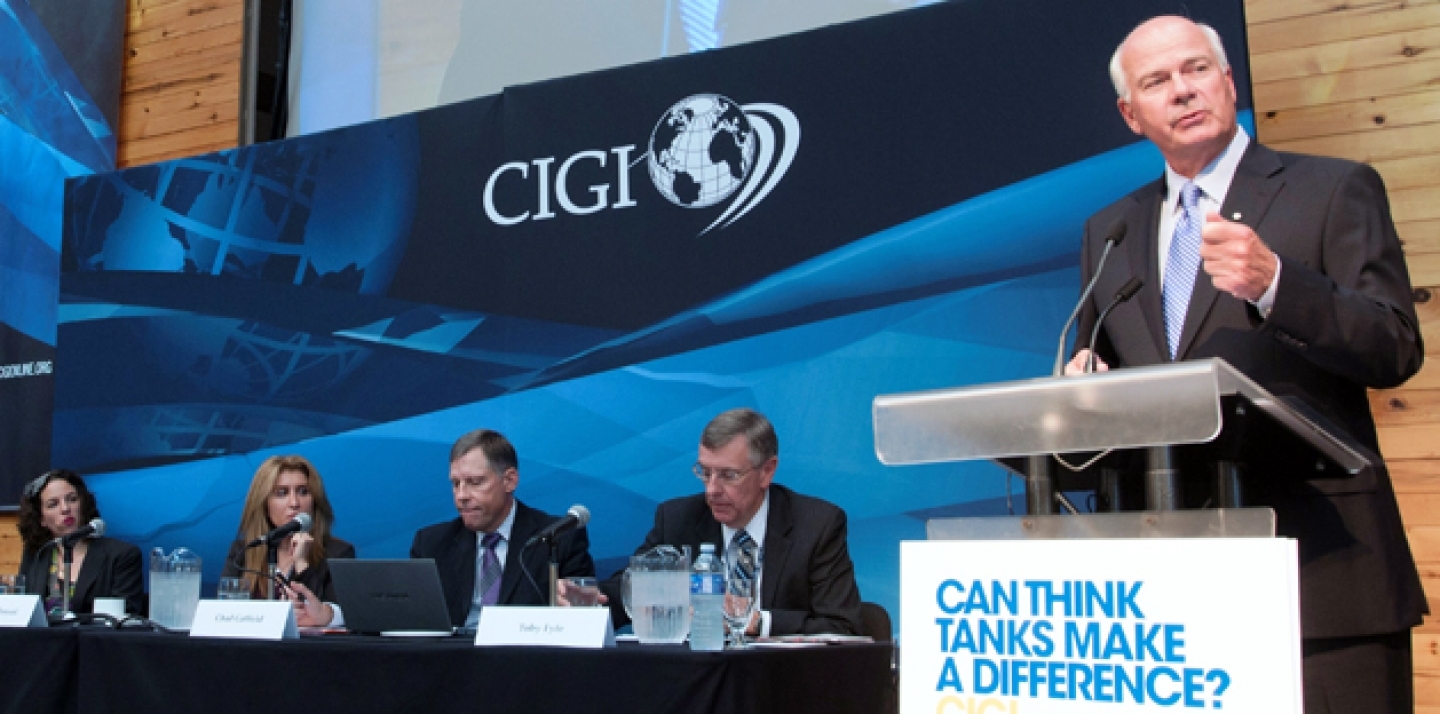 At a conference celebrating the 10th anniversary of The Centre for International Governance Innovation (CIGI), 16 experts across three panels answered affirmatively, by and large, to the question, "Can think tanks make a difference?" 
Opening remarks at the September 20 event were given by CIGI founder and chair Jim Balsillie, who noted that in a world of political division and global inequality, humanity needs to re-examine how it thinks about difficult and pressing issues.
Roger Martin, dean of the Rotman School of Management, joined the audience via a live link from Thomson Reuters in London, England. His keynote address was titled "The Paradox of Think Tank Innovation." Citing the ideas of Aristotle and their misapplication to a world of complex interrelationships, Martin stated that the analysis of past data and evidence can only get you so far. Ideas are being held hostage to scientific and analytical-based logic, and while deductive reasoning can be useful, think tanks must also engage in abductive reasoning, as described by Charles Sanders Peirce, and make intuitive leaps in order to propose innovations. The worth of policy ideas that emerge from such brainstorming cannot be proven in advance — it can only be determined in the future through implementation. Chrystia Freeland, editor of Thomson Reuters Digital, moderated a Q & A session with Martin.
A panel on "Policy Innovation in the Age of Social Media" was moderated by CBC News Chief Correspondent Peter Mansbridge. He cited examples of journalists and experts using a Twitter following to uncover facts and verify or disprove media reports, rumours or news tips. Panellist Toby Fyfe, editor-in-chief of Canadian Government Executive magazine, commented that while social media is an empowering medium, the management of social media is the important issue. Think tanks can use social media responsibly, he said, by being strategic and organizing a 2.0 culture, but success will be absent unless there is mutual trust between those who monitor and use the technology.
Freeland was also the moderator of the conference's second panel, entitled "Do Governments Care More about Politics than Policy?" Former Canadian Prime Minister Kim Campbell noted that governments should care about both, because without politics, policy will have no democratic support. The University of Toronto's Mel Cappe argued that, in part, think tanks should focus on influencing the elite, including policy makers, decision makers and academia, because they will have more impact on policy than if they focused on the public.
Bessma Momani, a CIGI senior fellow and associate professor at the Balsillie School of International Affairs, commented on social media's influence during the Arab Spring. Arguing that social media fills an important gap in people's lives, particularly by providing a unique and safe public space in authoritarian societies, she also noted that it has limits. Specifically, it is not conducive to the important discussions needed after movements have mobilized. Alexandra Samuel, director of the Social + Interactive Media Centre at Emily Carr University, argued that while most exciting social media activities are spontaneous, online developments are also making certain policies —such as copyright and election reporting laws — less relevant.
The final panel, moderated by Rohinton Medhora of the International Development Research Centre, discussed "Policy Influence — Who Has It and How to Get It." Antonia Mutoro, executive director of the Institute of Policy Analysis and Research in Rwanda, said that while think tanks exist to influence policy, they need to work with media, academia, civil society, donors and development partners. Moreover, think tanks must understand the political context and process — both formal and informal — in which they operate and work to influence.
Lawrence MacDonald of the Center for Global Development noted during a video interview that the most important question of the day was not, "can think tanks make a difference?" but "how can and how do think tanks make a difference?"
A full report from this conference will be released shortly, and will be made available for download on CIGI's publications page at: www.cigionline.org/publications. A video of the conference will be available soon at: www.cigionline.org/video.
The Centre for International Governance Innovation (CIGI) is an independent, non-partisan think tank on international governance. Led by experienced practitioners and distinguished academics, CIGI supports research, forms networks, advances policy debate and generates ideas for multilateral governance improvements. Conducting an active agenda of research, events and publications, CIGI's interdisciplinary work includes collaboration with policy, business and academic communities around the world. CIGI was founded in 2001 by Jim Balsillie, co-CEO of RIM (Research In Motion), and collaborates with and gratefully acknowledges support from a number of strategic partners, in particular the Government of Canada and the Government of Ontario. For more information, please visit www.cigionline.org.
Click here to read a story on this conference, by Luisa D'Amato of The Waterloo Region Record.
Click here to read an op-ed by CIGI Research Officer Geoff Burt on the role and importance of think tanks.
Lawrence MacDonald of the Center for Global Development noted during a video interview that the most important question of the day was not, "can think tanks make a difference?" but "how can and how do think tanks make a difference?"