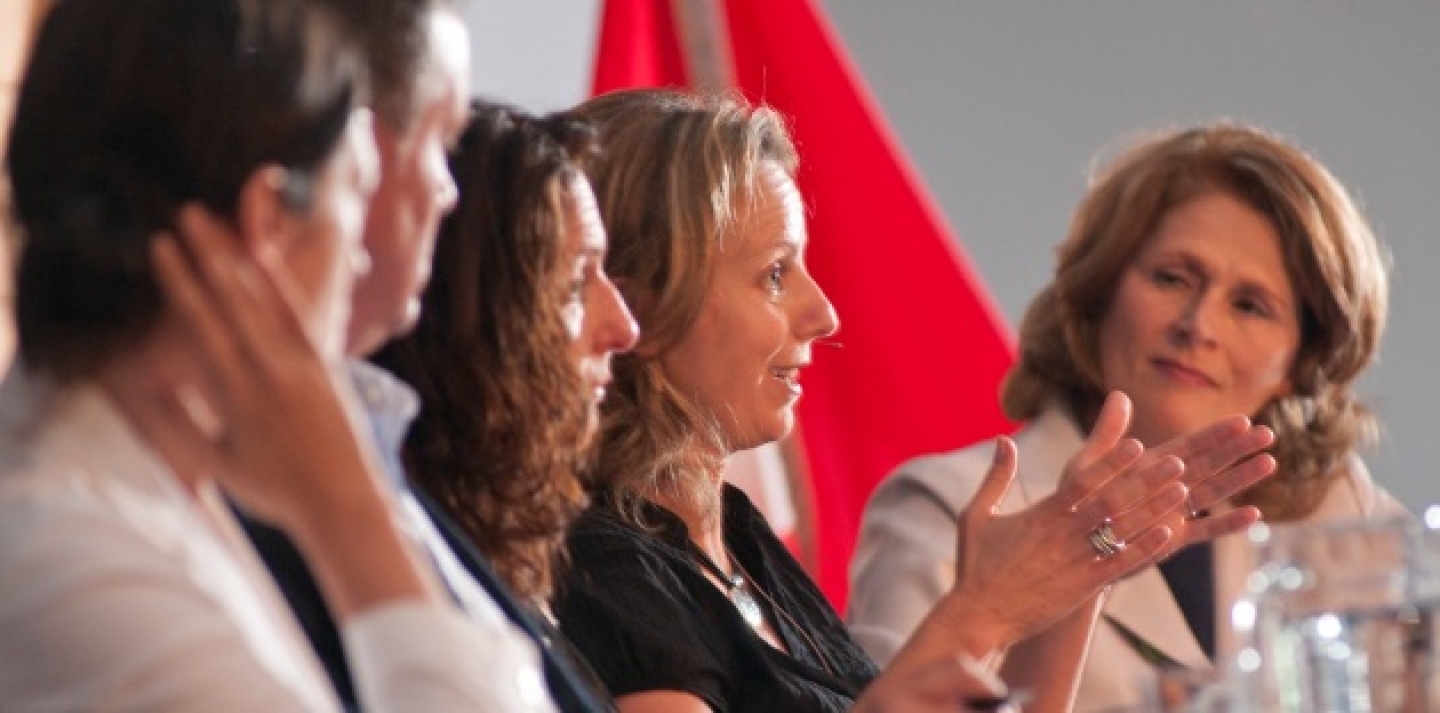 Michelle Shephard has vivid memories of standing at Ground Zero in the days after 9/11, staring up at the remains of the World Trade Center and asking, "How did this happen?"
It's the question that propelled The Toronto Star's national security reporter around the world for the next decade, covering conflict zones, trials in Guantanamo Bay and other terrorism-related stories. One of five top Canadian journalists taking part in CIGI's annual media panel, Shephard related the risks and rewards of her job.
Titled "Muzzled Media — The Global Challenge," the event was co-sponsored by the Canadian International Council, with The Waterloo Region Record's Editor-in-Chief Lynn Haddrall moderating the panel.
Joining Haddrall and Shephard on the panel were: Anna Maria Tremonti, host of CBC Radio One's The Current; Allan Thompson, associate professor at Carleton University's School of Journalism and Communications, and former Toronto Star reporter; and Sonia Verma, foreign and national affairs correspondent for The Globe and Mail.
Tremonti began with anecdotes of reporting from Sarajevo in the summer of 1992 – via a cumbersome two-suitcase satellite phone – noting the extent to which new technology is changing the media's role.
"The one thing that hasn't changed is that you still have to find people and tell their story," Tremonti said.
She concluded her opening remarks by reading an excerpt of a report on the treatment of media covering the Toronto G20 Summit in June 2010, which referred to journalists being "caged" and "kettled."
"We need to be diligent at home as well," Tremonti warned, urging the capacity crowd of more than 300 to consider society's role in ensuring freedom of expression.
Thompson pointed to the Rwandan genocide as a "textbook example" of what can go wrong "on both sides of media" – those used to spread information versus those used to spread hatred – in reporting from a conflict zone. He added that much of the initial media coverage actually contributed to the genocide.
Thompson shared his experiences training young reporters in Rwanda to practise journalism in countries all around Africa where freedom of expression is constrained or repressed. He urged Western media companies to divert spending from expensive foreign bureaus or from parachuting their staff correspondents into distant countries with emerging economies, toward employing the journalists already based in those countries as freelancers. This would do more to grow journalistic capacity and freedom of expression around the world, while also being more economically efficient.
Verma related being mobbed and arrested while covering the recent uprising in Egypt, and paid tribute to citizen journalists for being "incredibly brave and incredibly effective in their own countries." By way of example, she noted that 69 of 145 journalists imprisoned in the uprising were bloggers.
Shephard also praised local journalists in countries and conflict zones that she has covered, saying she was often humbled by their work, especially when serving as her "fixer" to land important interviews and guarantee her safe passage.
Responding to  Haddrall's question "Is the story worth it?" Verma admitted to asking herself that question "10 times a day" in some situations, before clarifying that she's "not an adrenalin junkie." Most importantly, Verma said, no story is worth dying for – but many stories are "really important" and worth some degree of risk to ensure the truth is told.
Haddrall also asked the panel to offer advice to aspiring journalists looking to cover foreign wars, which was similarly broad in its scope. Thompson cited the "catapult approach" he often takes with his students, whereby he tells them to "Buy a plane ticket and go." He also emphasized that not all reporting from abroad involves war zones, and one of the most under-reported aspects of African life is its music and culture.
Some panellists, including moderator Haddrall, noted that threats to freedom of expression can also occur at home. While not comparable to the travails of those facing jail or murder in other countries, journalists in Canada face government stonewalling and bureaucratic obstacles to reporting on matters of vital public interest. Haddrall cited a seven-year battle by The Record to get the City of Waterloo to reveal its spending of taxpayer money on legal bills in the wake of the MFP financial scandal – the city is still withholding information, despite four rulings including a recent court decision in The Record's favour.
A recurring topic in both the panel discussion and the question-and-answer session that followed was the decline of mainstream media in the West, and its implications for society. Tremonti contrasted the desire of those living under repressive regimes to tell their stories and express their democratic rights, with Westerners' seeming indifference to the media's diminishing ability to hold politicians accountable. 
In praising the engaged citizenry of the Arab Spring nations, who continue to risk their lives to rise up and demand a better society for all, Tremonti had a clear message for those taking such freedoms for granted in the West.
"If they can do that, we could at least vote," Tremonti said, to a burst of audience applause.
"We need to be diligent at home as well," Tremonti warned, urging the capacity crowd of more than 300 to consider society's role in ensuring freedom of expression.