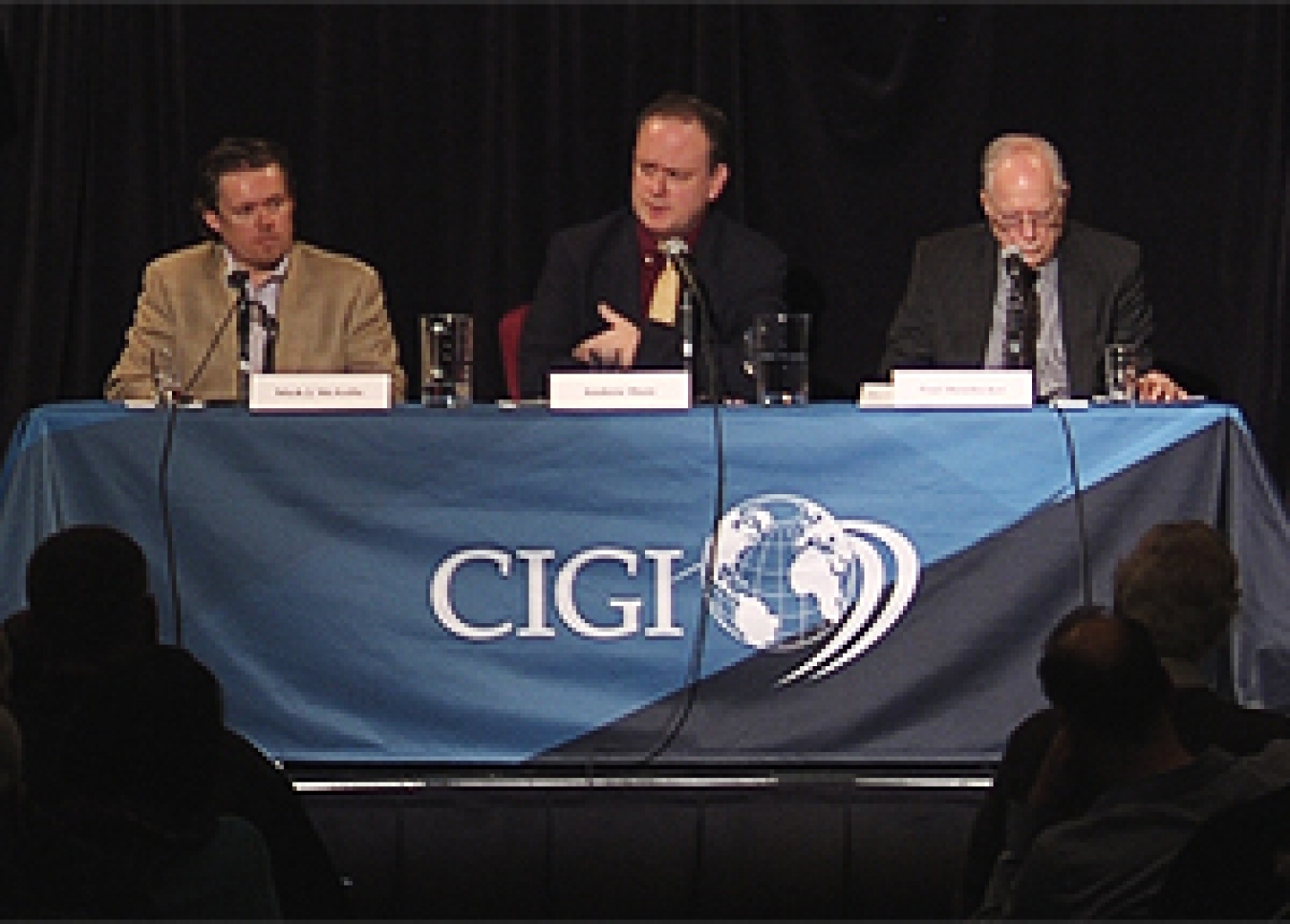 Whistle-blowers are vital to the democratic process, but the wholesale and indiscriminate leak of government secrets is a danger to democracy, a public panel discussion on the WikiLeaks controversy has concluded.
WikiLeaks, a not-for-profit group created in 2006, is an intermediary for whistleblowers to divulge secret documents; and last year, it posted thousands of secret U.S. diplomatic cables to its website. Meanwhile, its founder, Julian Assange, is currently fighting unrelated sex assault charges involving relationships he had in Sweden.
The impact of the leaked diplomatic memos was discussed by a panel of experts at The Centre for International Governance Innovation (CIGI), in Waterloo on January 12, 2011 – a public event attended by 270 people and also webcast live to a global audience.
Participants were: Paul Heinbecker, a CIGI Distinguished Fellow, former ambassador and permanent representative of Canada to the United Nations; Andrew Hunt, an associate professor of history at the University of Waterloo; Mark McArdle, a Waterloo-based technology executive and CEO of tinyHippos; and moderator Geoffrey Stevens, an author, teacher and journalist.
"Process" and "substance", Heinbecker explained in his opening remarks, will be the diplomatic consequences of WikiLeaks. "The net result of this effort to open up the system will be to close it," he added as he expressed concern that diplomats worldwide may in future put fewer thoughts into writing, possibly expressing their confidential opinions to their governments through secure satellite-links or in person. "What you'll end up with is not an access to information regime that works for everybody … What you'll end up with is people stopping to put things down in records."  This could, in the longer-term, deprive citizens and historians of significant diplomatic records.
Heinbecker also warned that tighter internal controls within governments on who has access to documents might lead to more silos among departments and agencies, and inhibit the increased information-sharing that occurred to help combat terrorism after the 9/11 attacks.
As he referenced the case of former Timor-Leste diplomat Scott Gilmore, Heinbecker also warned of the danger which WikiLeaks could have on sources of information. "[Gilmore] was meeting with human rights advocates at a time when it was extremely dangerous [and] they were giving him evidence of crimes that had been committed against human rights activists. How could he continue to do that if … his interlocutor thought that the next day this could be revealed in a cable that might end up on the front page of a news paper? It's a bit like being a journalist – the source is going to dry up." 
Hunt took a historical view, comparing WikiLeaks to the case of Daniel Ellsberg, who in the early 1970s famously leaked the Pentagon Papers that revealed U.S. government lies about the Vietnam War.  The two episodes have both similarities and striking differences, Hunt noted.  Ellsberg was a patriot, motivated by his belief to reveal what he saw as an un-American activity being committed by the powerful; and his efforts to disclose a single-issue leak required two years of laborious low-tech photocopying with the engagement of mass media to deliver the news. In contrast, Assange has general discontent aimed at the U.S. government, uses high-technology that does not require mass media involvement, and takes a scattergun approach that leaks information on a vast range of issues. "This will take quite some time – to make sense of these documents," Hunt said of the WikiLeak cables.
Both men were publicly vilified in their time, and yet time has come to vindicate Ellsberg, now seen as having helped improve American government in his day. "We still have to verify [their] veracity" and "it remains to be seen what history's verdict on some many of these [Wikileak] documents will be," Hunt explained.
Contemplating the validity of WikiLeaks as an important and valuable whistleblower, McArdle pointed out that while it raises serious issues for international relations and diplomacy, the same publication model and technology approach deployed by Assange are privacy concerns for every business, every family, and every individual. Given the scale of enterprise data that was released, "I think it sheds a light on how technology comes to bear on how we manage assets," McArdle said. "Technology has made everyone in this room potentially a publisher and anyone who finds something they think is intriguing is just minutes away from publishing it to the world."
The important lesson of WikiLeaks for governments, brought up by McArdle, include the necessity to manage, through technology, how information is accessed, searched and distributed. If a single individual was able to download 260,000 secret documents – as may have happened in the transmission of U.S. diplomatic cables from a former American soldier to WikiLeaks – perhaps that should have set off certain internal alarms.
Serving as moderator, Stevens declared his journalistic bias at the outset of the discussion in favour of government transparency.  "I believe that government which gathers information at the taxpayers' expense should make that information available to the public … unless there is some compelling reason why it should not be," he said.  He recounted his experiences as a journalist with anecdotes about the federal sponsorship scandal and the need for open access to government information.
Stevens concluded the evening event by summarizing the views of the panellists, who all acknowledged that a discriminating leak of information, by well-intentioned people, to reveal wrong doing may be justifiable and even highly desirable – the Pentagon Papers were such a case.  At the same time, all panellists saw great risk in leaking vast amounts of secret information with no apparent or coherent cause, other than the desire to embarrass government officials. Such risks include new controls that might further inhibit access to information, damage international relations, and even cause injury or death to innocent individuals involved in important secret missions.  Technology makes this possible, but the impact on global governance – and on ordinary lives – has yet to be fully evaluated.
During a question-and-answer session, panel participants took questions not only from the audience present in the CIGI Atrium in Waterloo, but also questions posted by email from the global webcast audience, which included viewers in Mexico, Florida and also various communities in Canada.  As part of its strategy for global outreach, CIGI intends to webcast most or all of its public events in future.
The Centre for International Governance Innovation (CIGI) is an independent, nonpartisan think tank on international governance. Led by experienced practitioners and distinguished academics, CIGI supports research, forms networks, advances policy debate and generates ideas for multilateral governance improvements. Conducting an active agenda of research, events and publications, CIGI's interdisciplinary work includes collaboration with policy, business and academic communities around the world. CIGI was founded in 2001 by Jim Balsillie, co-CEO of RIM (Research In Motion), and collaborates with and gratefully acknowledges support from a number of strategic partners, in particular the Government of Canada and the Government of Ontario. For more information, please visit www.cigionline.org.