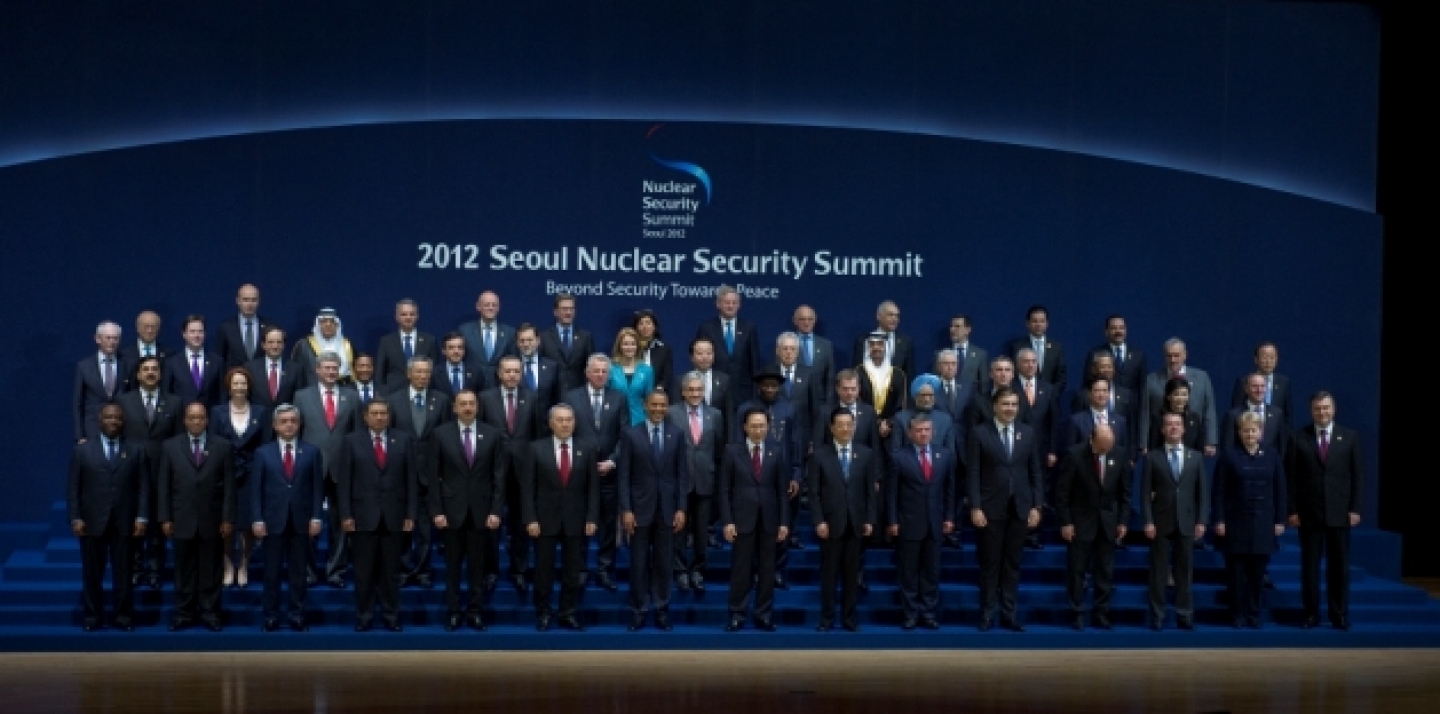 Last week, more than 50 world leaders convened in South Korea to attend the 2012 Seoul Nuclear Security Summit — a forum for discussing nuclear security. At the end of the conference, South Korean President Lee Myung-bak stated "we have now set a new milestone for creating a safer and more peaceful world free from nuclear terrorism." To understand more about the summit's implications, we speak to the author of a forthcoming major report on the International Atomic Energy Agency (IAEA), CIGI Senior Fellow Trevor Findlay.
CIGI: In a closing statement, President Myung-bak said the summit in Seoul "yielded practical outcomes to reduce the threat of nuclear terrorism and also delivered commitments for their implementation." Would you describe this summit, along with its accomplishments and agreements, as an achievement?
Trevor Findlay: Well, this whole summit was an achievement to the extent that it was held at all — we weren't quite sure these summits were going to continue. It involved high-level representation by most states on an issue — nuclear security — that doesn't traditionally get much attention at that very high level. It's normally handled by bureaucrats at lower levels. So, to that extent, it has been useful. It also carries forward the plan from the 2010 summit in Washington, which set out a whole series of goals for states in the area of nuclear security, and it recalibrates some of those goals that haven't necessarily been achieved. Several states at the Seoul meeting did actually declare that they met their promises — Ukraine, for instance, got rid of all its fissionable material by sending it back to Russia; the last train containing the final amounts left this week — so that's quite useful. Other countries have taken similar action and met their goals. Now there's pressure on the remaining countries to fulfil their promises. So in that respect, pressure is good.
CIGI: What did this summit not achieve?
Findlay: The summit issued a communiqué, which is purely voluntary in terms of states agreeing to it and following through. It is a political document so it doesn't have the force of law — it's not a treaty. Any pledges made at the summit, either individually or through this communiqué, are just pledges. It remains to be seen whether states fulfil them. One pledge was that the amendment to the Convention on the Physical Protection of Nuclear Material, the main treaty on nuclear security, would be brought into force by 2014. We'll see whether that happens. It depends on a lot of states ratifying the amendment. In the area of nuclear materials themselves, by the end of 2013, states are supposed to announce specific, voluntary actions to minimize the use of highly enriched uranium for peaceful purposes. Now this involves Canada, because it imports highly enriched uranium, which is a material used to make nuclear weapons, from the United States to produce radionuclides for medical purposes at Chalk River. So Canada needs to make up its mind on what it's doing about this issue. It is currently one of the states that has an exemption from US export laws, and it needs to move quickly to find alternative means of producing radionuclides. So there's something for Canada to think about.
CIGI: Media has reported that world leaders used the summit as an opportunity to discuss other pressing issues — US President Barack Obama had his own agenda to resolve diplomatic tension with Pakistan, while Canadian Prime Minister Stephen Harper's bilateral meetings reportedly focused on the economy. Does this change the legitimacy of the gathering or is it to be expected?
Findlay: It's totally typical. Every summit will have side meetings in which non-summit issues are discussed, because it's rare that you get all these heads of state together in one place. If you have some pressing issue you want to talk to another head of state or another head of government about, you don't want to miss the opportunity to discuss it ― without having a very expensive state visit. These summits are used for that purpose — it's legitimate and useful for international diplomacy as long as you keep the focus on the issue at hand in the main conference event and in the communiqué and don't allow that to be diverted. There was some concern awhile ago that Fukushima would dominate this summit or that somehow there would be an attempt to link nuclear safety — which is what Fukushima is about — to nuclear security, that is, preventing terrorists from acquiring nuclear materials and using them to make a bomb. The whole point of the summit was to focus on nuclear security, and that was achieved, although there was some reference to nuclear safety and the need for them to be synergistic. The big issue in the background was, of course, North Korea. Discussions couldn't help but cover that issue given that the summit was held in South Korea and North Korea had just agreed to open its uranium enrichment facilities up to inspections and, at the same time, was threatening to conduct a space launch, allegedly to put a satellite in orbit. This overshadowed the summit and it was probably deliberate on North Korea's part, to gain attention. But again, it didn't overwhelm the summit. It proceeded as these things do — the communiqué was agreed before the leaders arrived, there were some general exchanges of views and reports by states on what they'd done and these issues and others were talked about in the corridors.
CIGI: Attendance at the first Nuclear Security Summitry in Washington in 2010 included representatives from the United Nations, European Union and IAEA, as well as states not party to the Non-Proliferation Treaty. What does the IAEA get out of this summit? Does it lose its place or does it gain a stronger role in nuclear security and safety?
Findlay: The IAEA is not a key player, in the sense that these summits are for heads of state and governments. The IAEA attends as an observer and it can speak in meetings and present its achievements and what it might do in the security field to assist states. But essentially, the show is run by states. There's no international organization behind such summits:  the host country, in this case South Korea, is the organizer. The Agency, in theory, has a role to play in nuclear security, but these summits have seized the high ground on the issue. It's hard for the Agency to compete against this array of heads of state — they're clearly senior and clearly make their own minds up about nuclear security. That said, the summit did describe the Agency as having a central role in nuclear security (even though it doesn't) and they praised its programs, guidelines and principles on nuclear security, and the assistance it gives to states in making sure their own nuclear security plans are in place. So all of that was an endorsement of the Agency, and there were even calls for increases in the Nuclear Security Fund, which is what funds the Agency's activities in these areas. But unlike in the area of nuclear safeguards, for instance, the Agency is not central to nuclear security. It may or may not want to be central, but many members states of the Agency think it's got enough to do already in terms of safety and safeguards and that security should not be a major part of its work, in part because they regard nuclear security as a very delicate issue. It is, after all, about terrorists trying to seize nuclear materials and states feel that transparency in this field is a dangerous thing and that it's simply their state prerogative to worry about nuclear security. So there is a real issue of principle at stake and the Agency, in some ways, struggles to find its role. But it's also increasing its level of activities and its funding is going up, so there is a slow march by the Agency toward further involvement. Now what happens after the next summit, which is supposedly the last, to be held in the Netherlands in 2014? That's an open question. It could be that the IAEA then oversees more of this issue, particularly if it were to convene high-level conferences in Vienna, as proposed by IAEA Director General Amano. Rather than having ad hoc nuclear security summits around the world, the IAEA could convene them regularly in Vienna. But its member states would have to approve of that and there are some countries that would oppose it — Iran being one of them. So it remains to be seen if the agency can seize this issue and become really the central player in nuclear security at some point in the future.
The Agency, in theory, has a role to play in nuclear security, but these summits have seized the high ground on the issue. It's hard for the Agency to compete against this array of heads of state — they're clearly senior and clearly make their own minds u