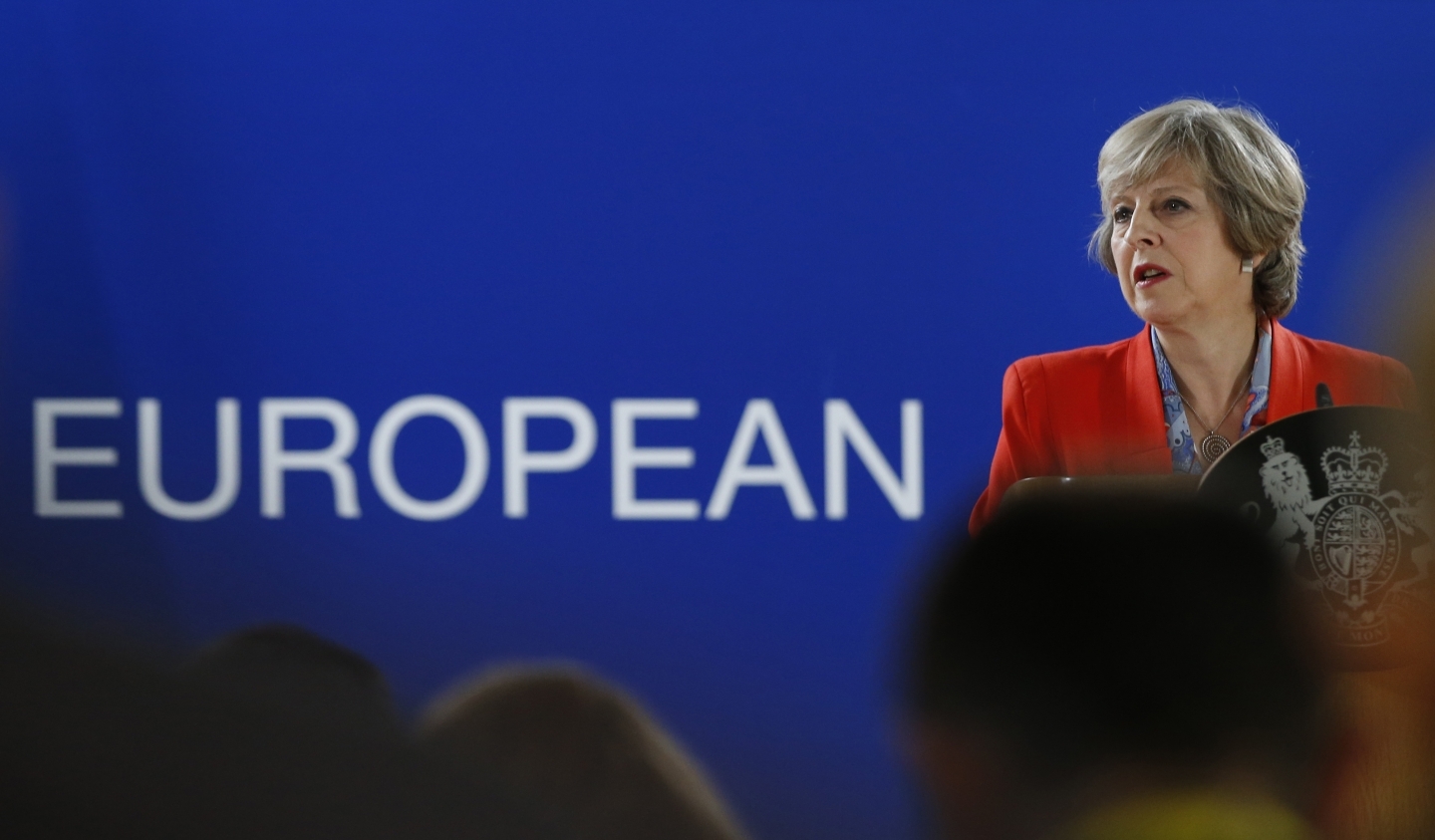 Another whirlwind of international economic diplomacy is winding down, following the G20 summit in China, some now-familiar financial firefighting, and the recent annual meetings of the IMF and World Bank, which bring together the world's top economic officials and a host of policy wonks, think tanks, private sector participants, civil society and other hangers-on – with about 10,000 people estimated to be involved in some way.
If you found yourself on this season's circuit of workshops and cocktail receptions, the chatter ranged across topics like sustainable development goals, the environment, infrastructure and investment, jobs, the monetary system, and bitblock (with most googling to find out just what this meant).
But there were a few standout subjects that seemed to shape the larger conversation – Brexit, trade and slow growth.
Here are 5 big takeaways (plus a couple of fresh faces to watch):
1. There is deep concern over slow growth
The state of the global economy overshadowed everything else. There is a deep concern with current slow growth. The underlying causes are little understood and widely debated, although many agree that the causes predate the Great Recession of 2008. Increasing downside risks (both economic and political) are being identified. The IMF is becoming increasingly vocal in expressing its concern.
As the IMF Managing Director Christine Lagarde said, "The social and political consequences are becoming all too apparent. Inequality remains too high in too many countries. Conflict and migration exert a terrible toll. Trade has become a political football. And supporters of economic integration—and cooperation—are on the defensive."1 
In a welcome development, the IMF has become much more pointed in its language – both in identifying problems and in making recommendations for policy action.
2. The response of major economies has been disappointing
The response by the major economies – read the G20 - has been disappointing. It is as if they are paralyzed. After the G20 dinner, the Chinese/German co-hosts simply stated: "Advance economies are growing moderately and emerging market economies are turning around, which has boosted world economic growth. Meanwhile uncertainties facing the world economy have increased." 
The failure of the G20 to meet their commitments in the Brisbane Action Plan (as pointed out by the IMF) simply ignored. Continuing economic slowdown ignored. IMF policy advice welcomed in words but ignored in actions.
The lack of leadership amongst the G20 was palpable. Perhaps it was because the US President is in his final months, Germany and France face elections shortly, UK is totally consumed by Brexit, and on and on. But the bottom line is that no new commitments emerged and the situation continues to become riskier. Germany signaled that it did not contemplate any significant change in its economic direction before their election and during their chairmanship of the G20.  No leadership! No renewed confidence!
3. With rise in protectionist rhetoric and slow growth – global trade dominated a lot of the conversations  
Global trade was a major topic across the board because of the slowdown in growth, because of the protectionist rhetoric in the US and Europe today and because of the increase in protectionist measures – despite the commitment by the G20 to avoid such measures.
The IMF, WTO and World Bank worked together to deliver a message that trade was an important driver of world growth and that urgent attention was needed not only to resist protectionism but to achieve greater liberalization. The world is unquestionably better off because of trade liberalization over previous decades and trade liberalization has been instrumental in lifting hundreds of millions of people out of poverty.
Yes, the distributional impacts of trade liberalization have not always been adequately dealt with, but this is not the failure of trade liberalization per se. This is a failure of politics – of politicians who failed to deliver the policies that would have distributed the gains more broadly through redistribution, thereby assisting those who were negatively affected.
4. Brexit is creating a lot of uncertainty for the global economy
Brexit was on the minds of most participants as the largely international crowd grabbled with trying to understand what could have led the British population to support an outcome that was totally beyond belief to this group. Beyond this incredulity, the increasing likelihood that the UK may be heading to a "hard Brexit" – prioritizing border controls over trade -was a major source of uncertainty for the global economy going forward. And it leaves the EU weaker as it attempts to come to grips with its financial sector weaknesses and slow growth.
5. Uncertainty still looms over the role and mandate of international development institutions.
The development and attainment of the recently agreed Sustainable Development Goals was the subject of a number of workshops. A central question - strongly elevated by a report by the Center for Global Development -was to ask what role the international development institutions should play going forward. Should their mandates and focus be clarified? This is a huge and important question which merits attention.
It is not easy given the different memberships and voting arrangements in the various organizations. But the focus on this issue brought into relief the recent unseemly and premature reappointment of its President Jim Yong Kim. While the World Bank needs change, it is largely accepted that Kim failed in implementing a change agenda and staff morale is now at an historical low. But no comment on this from the Executive Board who simply followed their political orders following hard lobbying by the USA. Kim is now seeking a major capital increase for the institution and expanding its role. This may, or may not, be appropriate. But would a debate on respective roles first, not have been a more appropriate way to proceed? And would a decision on direction not have been desirable before any presidential appointment to ensure the skills matched to the job? This is another failure of the G20, which despite their pledges to reform of the IFIs, continue to let politics as usual determine their decisions.
Fresh faces to watch
Finally, on a more positive note, and from a Canadian perspective, it was noticeable and a pleasure to see two fresh faces effectively engaged in these rounds of economic diplomacy. Canadian Finance Minister Bill Morneau, sworn-in less than a year ago, and Chrystia Freeland, familiar to some but wearing a new hat as Ottawa's International Trade Minister, played a constructive and recognized role in proceedings. The minister also earned praise for her role in dragging the EU-Canada trade deal over its first ratification hurdle.
In short, Canada is back and is being noticed and heard. For Canadians working on the international stage, this is a welcome position to be in after the last 10 years. Not since the time of Paul Martin as Finance Minister, has Canada enjoyed the profile and respect that it is earning today. It will be interesting to watch how effective these two can be over time on the world stage.
1 Address by Christine Lagarde to Board of Governors, Oct 7, 2016