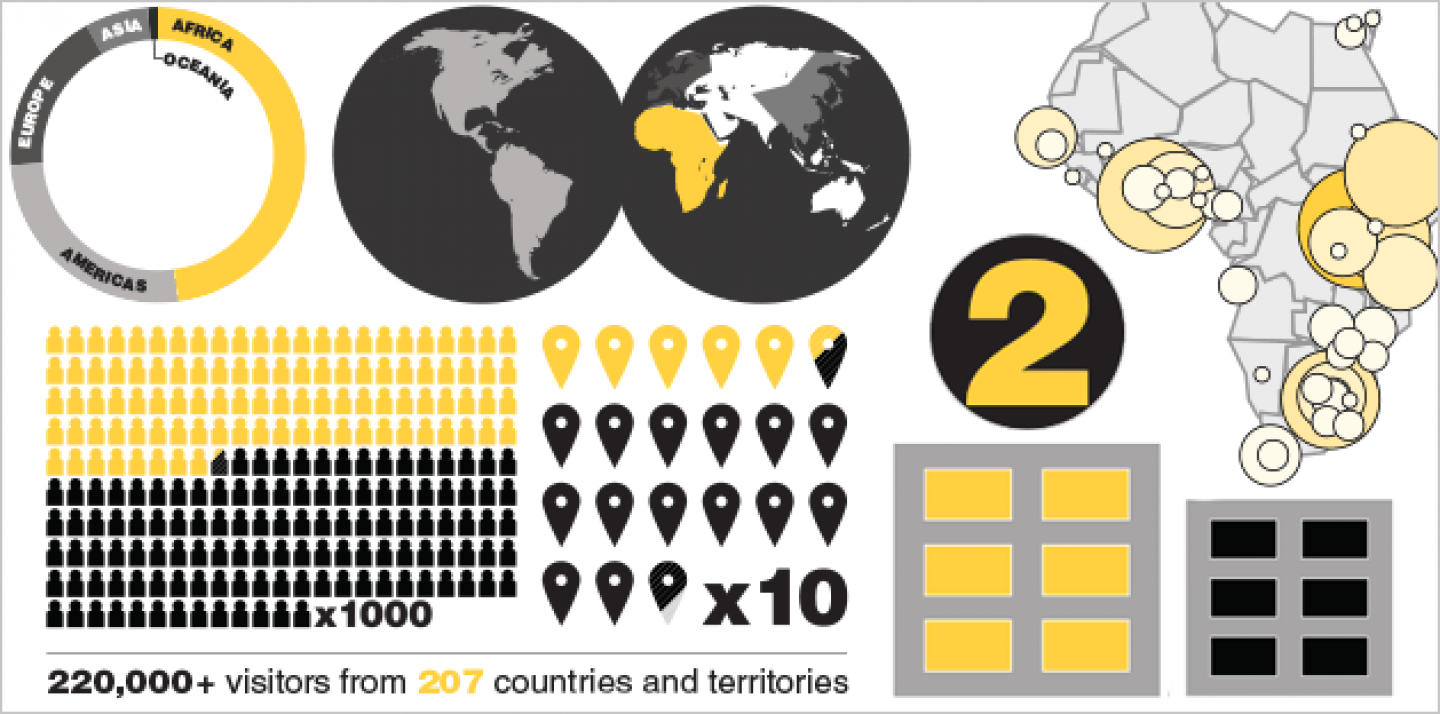 Celebrating its anniversary, the Africa Portal continues to achieve great success as the leading open-access resource for policy research on Africa.
View a special infographic highlighting the Africa Portal's two years of achievements, by visiting: http://www.africaportal.org/2nd-anniversary.
Launched in November 2010, The Africa Portal is an online resource offering fresh and authoritative insight on Africa's policy challenges — from climate change and energy issues to food security, conflict resolution, health and migration. In addition to equipping users with research and information, it provides a platform to publish work related to Africa on areas of concern to policy makers and the public.
"As we enter our third year of activity, we're seeing sharp growth in both content and in users—especially in Africa but also in policy centres across the globe," says Erica Shaw, program manager of the Africa Initiative. "In a short amount of time the Africa Portal has established itself as the world-leading policy and research resource on Africa, and we're committed to making sure it's accessible to all users, including those in low-bandwidth situations."  
The infographic celebrating the Africa Portal's first two years includes statistics on how many visitors and projects the online resource has supported:    
92 projects supported in collaboration with the Africa Initiative's exchange and research programs;
220,000+ visitors from 207 countries and territories;
102,000+ visitors from all 54 states in Africa;
8,000+ users accessing the digital library on a monthly basis; and
13,000+ library articles viewed per month.
The Africa Portal now has 26 content partnerships with internationally renowned research organizations in 15 different countries — including the African Economic Research Consortium, the Brookings Institution, the International Crisis Group, and the Electoral Institute for Sustainable Democracy in Africa, among many others. The Africa Portal is also a partner of The Guardian's Africa Network, which sources content from the Africa Portal's blog, "Community of Practice," launched in July 2012.
The Africa Portal, which is a component of the Africa Initiative, is a project of The Centre for International Governance Innovation and South African Institute of International Affairs. The online hub includes a suite of features including a free online library collection; a resource for opinion and analysis; an experts directory; an international events calendar; and a mobile technology component — all aimed to equip users with research and information on Africa's current policy issues. For more information, please contact Brandon Currie, project and publications editor with the Africa Portal, at [email protected].  
MEDIA CONTACT:
Kevin Dias, Communications Specialist, CIGI
Tel: 519.885.2444, ext. 7238, Email: [email protected]
The Centre for International Governance Innovation (CIGI) is an independent, non-partisan think tank on international governance. Led by experienced practitioners and distinguished academics, CIGI supports research, forms networks, advances policy debate and generates ideas for multilateral governance improvements. Conducting an active agenda of research, events and publications, CIGI's interdisciplinary work includes collaboration with policy, business and academic communities around the world. CIGI was founded in 2001 by Jim Balsillie, then co-CEO of Research In Motion, and collaborates with and gratefully acknowledges support from a number of strategic partners, in particular the Government of Canada and the Government of Ontario. For more information, please visit www.cigionline.org.
-30-