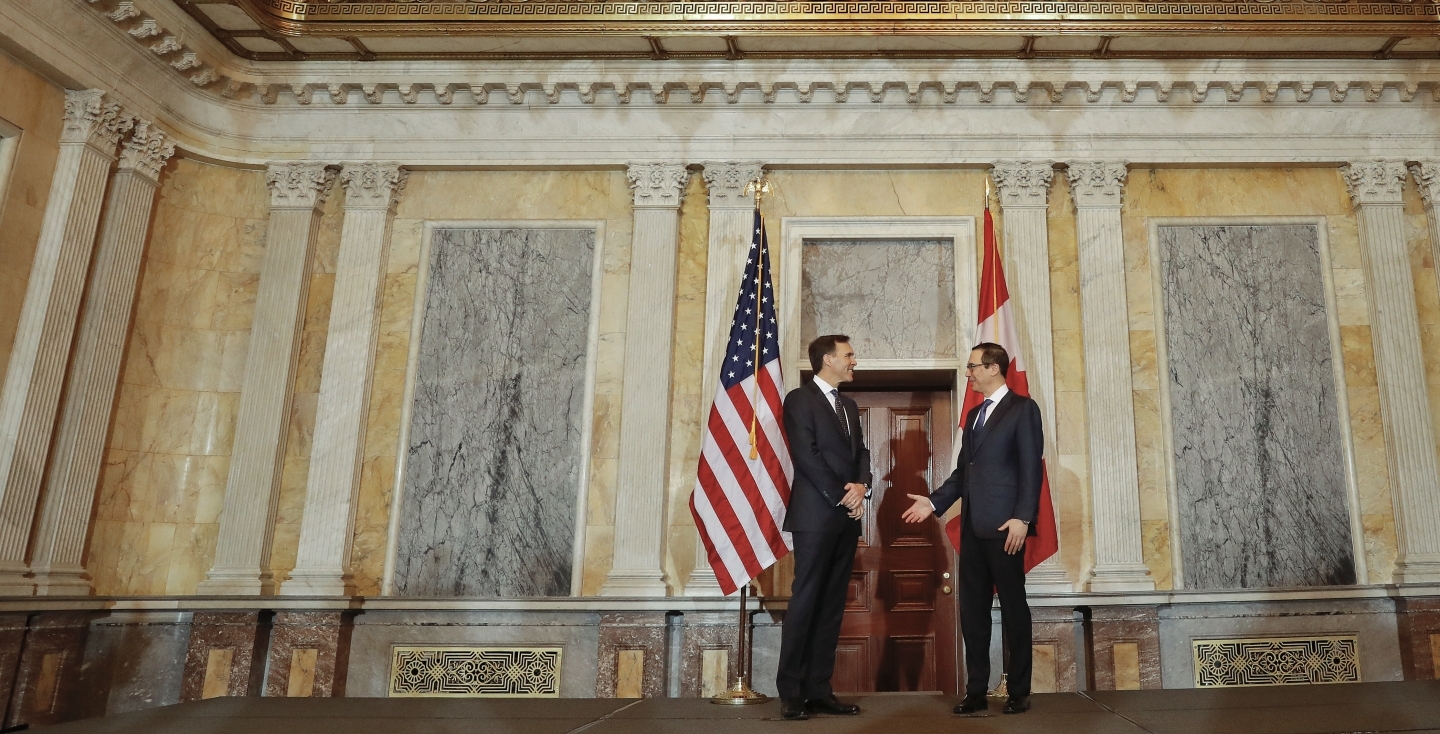 Canadian Finance Minister Bill Morneau anticipated what critics would identify as his new budget's biggest weakness.
"We know businesses are concerned about the outcome of North American Free Trade Agreement [NAFTA] talks, and tax changes in the United States," Morneau told the House of Commons after tabling his financial plan for 2018. "We will be vigilant in making sure Canada remains the best place to invest, create jobs and do business — and we will do this in a responsible and careful way, letting evidence, and not emotion, guide our decisions."
Morneau's promise of "vigilance" was all Prime Minister Justin Trudeau's government offered to those who had called for a response to US President Donald Trump's aggressive use of trade and tax policy to bully and cajole companies into creating jobs in the United States.
Arguably, there is no greater short-term threat to Canada's economy than Donald Trump. His policies could divert foreign investment that might have otherwise ended up in Canada. The Bank of Canada flagged weak business investment as an issue earlier this year, citing a combination of US tax cuts and uncertainty over the future of NAFTA as the likely cause.
But Morneau opted to focus on longer term concerns. The budget proposes about $12 billion in new "investments" this year and next, but none of that spending will have an immediate effect on the economy. The highlight was a pledge to increase spending on basic research by about $3.2 billion over the next five years. The government also announced a series of measures meant to draw more women into the labour force, including additional money for a dedicated fund for startups led by women. Anything that narrows the gender gap would boost economic growth over the longer term, but not quickly.
That's a problem, because Trump is spreading chaos in real time.
On March 1, the US president said that he would impose a 25 percent import tariff on steel and a 10 percent tariff on aluminum, ostensibly for security reasons. China is the target, but Trump said nothing about whether others would be spared. Canada, the European Union and others reacted angrily. Stock markets tumbled in anticipation of a trade war.
Steel tariffs would be the latest example of Trump's capriciousness when it comes to Canada, a country to which the United States has been tied for nearly three decades of free trade.
Trump earlier applied punitive tariffs on Canadian lumber and airplanes, although the latter were eventually reversed. And he triggered a renegotiation of NAFTA, insisting that its terms unfairly favoured Canada and Mexico. There is no deadline to complete a new agreement, and Trump has created the impression that he could walk away at any moment.
The Bank of Canada said in its latest quarterly economic report that uncertainty over the future of NAFTA is probably hurting investment, which is lower than it should be, considering that Canada led the Group of Seven in economic growth in 2017.
Trump's tax cuts could be another factor. He and the Republican majority in Congress slashed the US statutory rate on corporate income to 21 percent from 35 percent and opened a window during which companies can deduct purchases of machinery and equipment. The combined effect of uncertainty over future trade rules and the allure of lower US tax rates will likely divert some investment that otherwise would have occurred in Canada, the central bank said on January 17.
It's been more than a month since the Bank of Canada expressed its concern, but Morneau said in his budget speech and in subsequent interviews and public statements that he won't make a "knee-jerk" response to Trump's policies.
At an event in Toronto on March 1, Morneau drew comparisons between his "managed" approach to fiscal policy and the US decision to run up its deficit and expand its debt to about 100 percent of GDP.
"That's what they're doing for their economy," Morneau said. "We're not taking that approach."
Sounder finances should keep downward pressure on interest rates because investors will accept lower risk premiums on Canadian bonds.
But that might not be enough to offset the impulse of international companies to go directly to the United States, which would allow executives to take advantage of Trump's tax cuts while avoiding his wrath. Lower borrowing costs might have cushioned the blow from lower oil prices, but they did little to encourage new business spending. Statistics Canada reported March 1 that foreign direct investment dropped to about $34 billion in 2017, the lowest since 2010.
All of the $8.3 billion that non-Canadians invested in the fourth quarter was generated from existing operations, Statistics Canada said. That's extraordinary. Canada's economy grew about three percent in 2017, and yet the country attracted no new foreign investment over the final three months of the year.
Those numbers suggest that Canada's government needs to think seriously about the country's attractiveness as an investment destination, regardless of what Trump might have in store. For a decade or so, Canada benefited from elevated oil prices, lower corporate taxes and preferential access to the US market. Two of those advantages are gone and the third is in jeopardy.
Morneau's budget does propose $191 million to support the softwood lumber industry, including litigation under NAFTA and at the World Trade Organization, and $75 million to put more trade diplomats on the ground in Asia to help diversify Canada's export markets.
These are tokens. Countering Trump will require much, much more.