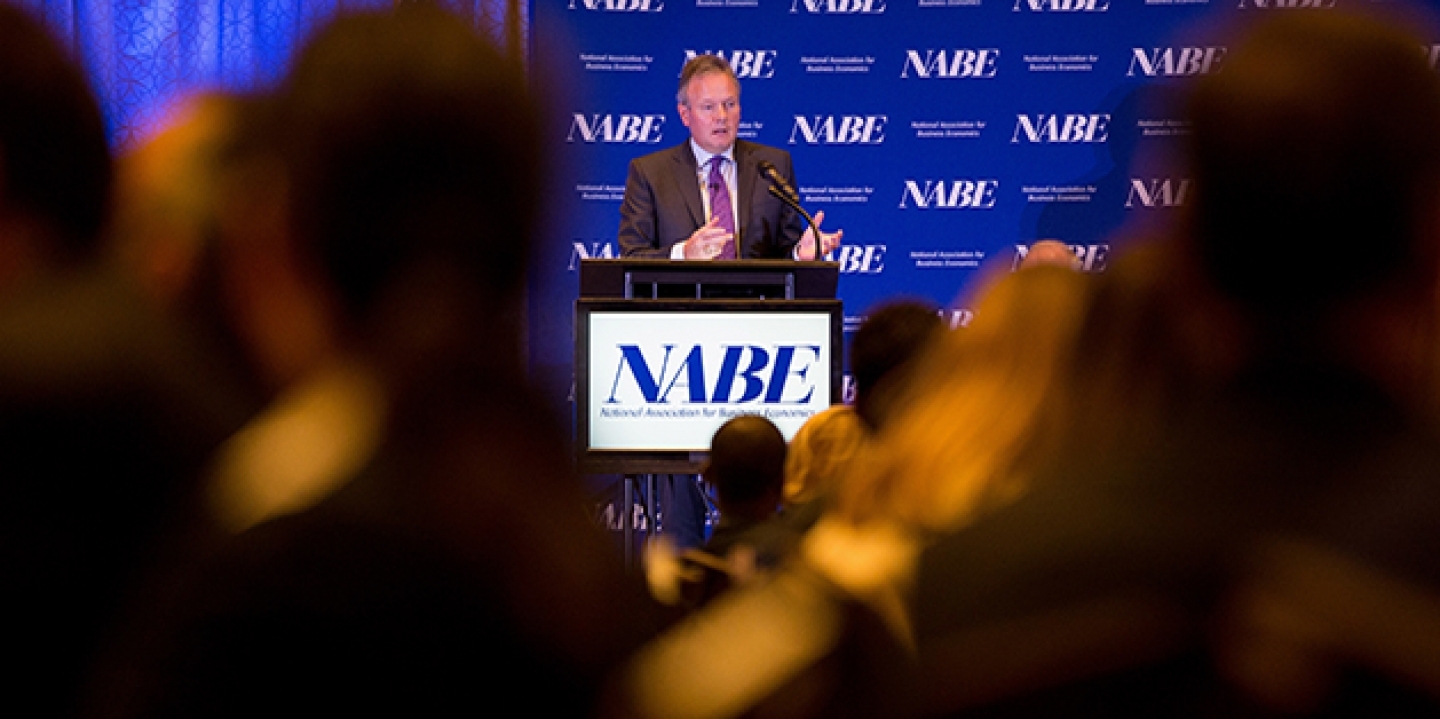 Bank of Canada Governor Stephen Poloz started 2015 with a surprise interest-rate cut. He followed with a second quarter-point reduction six months later. For some, that might have been enough noise-making for one year. Not Poloz. He used his final speech of the year to take a shot at Harvard University's Lawrence Summers, one the world's most prominent thought leaders.
In unusually aggressive fashion, Poloz attacked Summers's pet theory that structural changes in the global economy have triggered a period of "secular stagnation" that exhausted central banks will struggle to reverse. He noted that the economist, Alvin Hansen, who coined the phrase, turned out to be spectacularly wrong. Hansen, another Harvard professor, introduced the idea in 1938, during the Great Depression. "Soon after Hansen published his views, US growth took off amid a burst of spending and demand related to the Second World War," Poloz said at an event hosted by the Empire Club of Canada in Toronto this week. "And stagnation did not return after the war ended; instead, the United States experienced one of the strongest and longest-lasting expansions on record." Poloz stated explicitly that he disagreed with Summers's assessment of the current state of developed economies. He said he thinks sluggish global economic growth is "cyclical," and that demand and investment will improve as soon as consumer and business confidence recovers from the blow of the Great Recession. "I take issue with the word 'stagnation,'" Poloz said. "Growth has been slow, but it hasn't been non-existent."
The speech ranks as one of the most significant of Poloz's first 30 months as Bank of Canada governor. Calling out a figure as prominent as Lawrence Summers is something no sitting policy maker would do lightly, indicating that Poloz is worried that ongoing chatter about stagnation could be spooking the animal spirits that ultralow interest rates are meant to revive. It's unlikely he won any converts from the secular stagnation camp with his speech. However, it was useful to learn that none of them will be welcome at the table when the Bank of Canada's leaders sit down to make policy. Poloz apparently remains confident in the ability of monetary policy to influence the economy, even when the benchmark rate is within a quarter-point of his record low.    
Poloz also caused a stir on Decembcer 8 by putting the Bank of Canada's weight behind negative interest rates as a valid emergency stimulus measure. He used his speech to unveil the central bank's updated armory of unconventional policy measures, which now includes negative rates, an unorthodox measure currently being tried by the European Central Bank, the Swiss National Bank and the central banks of Sweden and Denmark. Poloz insisted that the unveiling was an academic exercise and that he had no plans to intervene in the economy. "The lower Canadian dollar and the interest rate actions taken earlier this year are working and it will be some time before we see their full impact," he said. Rather, he said he simply felt it was time to rethink how the central bank could confront another crisis. Policy makers have learned a lot since they last did so — somewhat on the fly — in the aftermath of the financial crisis seven years ago.
In 2009, the Bank of Canada reckoned the lowest it could put its benchmark lending rate was 0.25 percent, a quarter-point below the current setting. Now, the central bank thinks it could drop the target for overnight lending between banks to negative 0.5 percent. 
Another addition to its arsenal is "funding for credit," an innovation of the Bank of England and the British treasury that ties cheap funding for banks to a promise to lend to specific pockets of the economy, such as smaller businesses. The Bank of Canada also would consider creating money to buy financial assets, commonly referred to as quantitative easing, and explicit forward guidance. The latter is the only unconventional policy the Bank of Canada adopted during the financial crisis, pledging to keep the benchmark lending rate at 0.25 percent for a year as long as inflation remained stable.
Less academic, although still plenty erudite,  is the debate over secular stagnation — the idea that a chronic mismatch between savings (too much) and investment (too little) is grinding the global economy to a halt. The discussion has greater relevance for Canada because secular stagnation could explain Canada's inability since the financial crisis to muster significant economic growth outside the housing market. Poloz contends policy makers underestimated the degree to which business confidence was crushed by the Great Recession. But as demand picks up, commerce and investment will follow. He argued that the evidence is already there in non-energy exports. Now that the US economy is back on track, Canada's shipments to its largest trading partner are picking up. According to Poloz, all that is needed now is patience.
Summers, who served at senior levels in the administrations of two US presidents, Bill Clinton and Barack Obama, revived what had been a lost theory during a discussion at the International Monetary Fund two years ago. Summers wondered whether the disappointing recovery from the Great Recession was simply a continuation of the pattern of steadily weaker growth that preceded the financial crisis. "This may all be madness, and I may not have this right at all," he said. But if he was right, Summers said, global policy makers and their advisers, "may well need in the years ahead to think about how we manage an economy in which the zero nominal interest rate is a chronic and systemic inhibitor of economy activity holding our economies back below their potential."
Summers kept thinking about the issue and decided he wasn't mad at all. While he's tweaked his thinking with the passage of time, he only has become more confident in his explanation for the global economy's problems. "It is my judgment that for the relevant medium-term policy horizon … the challenge of absorbing savings in productive investment will be the overriding challenge for macroeconomic policy," he said during a return engagement at the IMF earlier this year. Summers argues that there is little left for monetary policy makers to do at this stage, other than resist the urge to raise interest rates too quickly. Rather, the onus is on governments to reverse the trend by spending aggressively on productivity-enhancing investments, he says.
Poloz's issues with secular stagnation could put him at odds with his new political masters in Ottawa. Summers's thinking helped form the intellectual foundation of Prime Minister Justin Trudeau's decision to break with Canada's modern political consensus of balanced budgets. Trudeau's decision to run deficits in order to boost spending on infrastructure was the turning point of the campaign and helped his Liberal Party win an unexpected majority government.
The prime minister surely will be pleased with his central bank governor's assessment that the Canadian economy's pulse is quickening by the day. But Trudeau's landslide victory showed that the Canadian public is impatient for Poloz's animal spirits to show themselves. It elected a government that has more time for the ideas of Lawrence Summers than does the leader of its central bank. Ironic, don't you think?
Poloz's issues with secular stagnation could put him at odds with his new political masters in Ottawa.