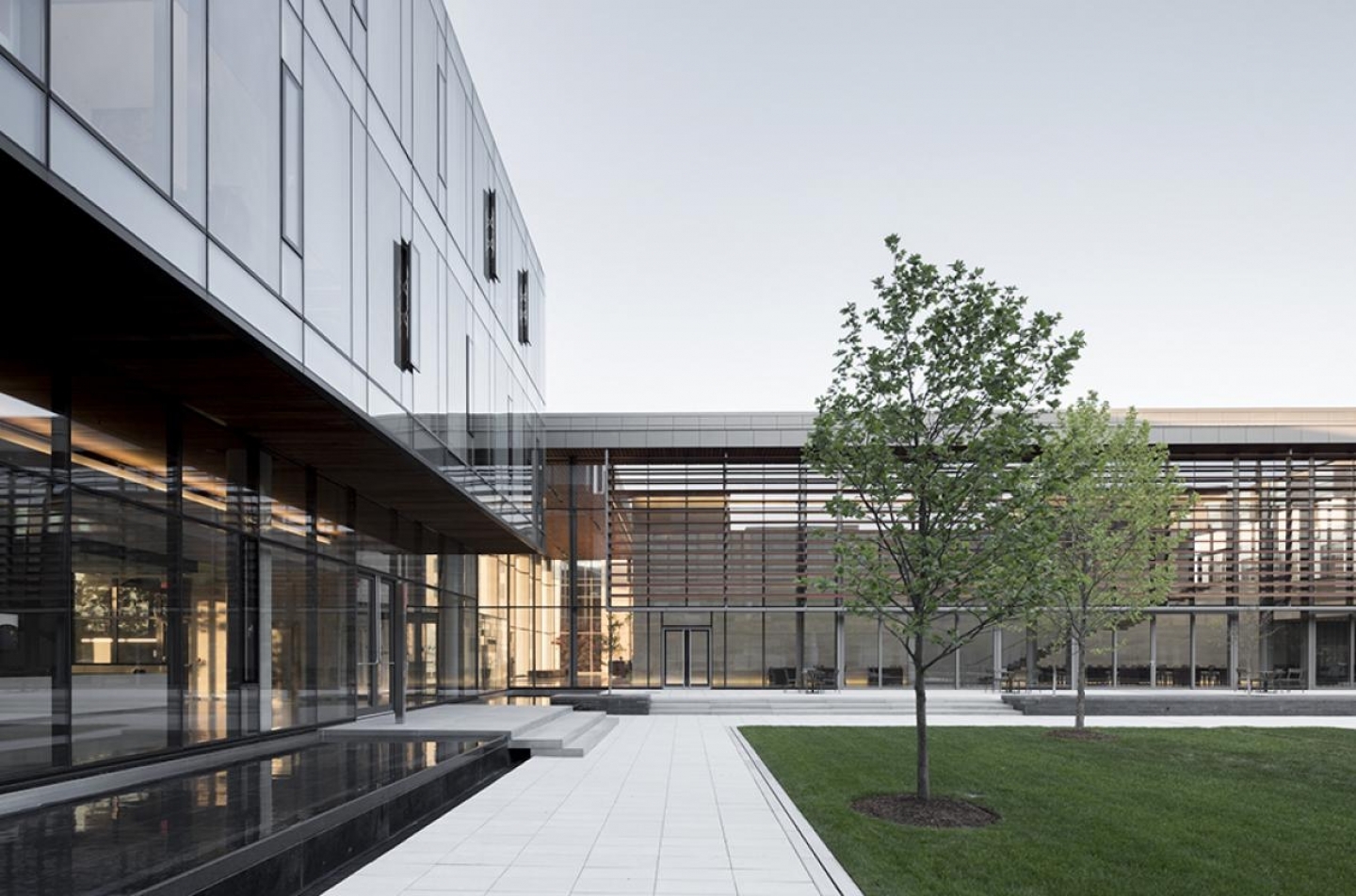 14 October 2016 (Waterloo, Canada) – The Centre for International Governance Innovation (CIGI) and The Balsillie School of International Affairs (BSIA) are pleased to announce that the CIGI Campus building shared by both organizations won the American Architecture Prize (Bronze Award) in the category of "educational buildings."
The international award was extended to Toronto-based KPMB Architects for their work on the building opened in September 2011. Housed on the site of the former Seagram Distillery at 67 Erb Street West, the 114,000 square foot facility features a signature bell tower and a wood-clad, 250-seat auditorium for academic and public events.
"I'm honored that the American Architecture Prize chose the CIGI campus for this award, which recognizes this space for what we conceived it to be: a building for education," said Jim Balsillie, founder of both CIGI and the BSIA and Chair of the CIGI Board of Directors. "Since we opened in 2011, the CIGI campus has become a sanctuary for thoughtful policy innovation, teaching and learning."
The first annual American Architecture Prize evaluates building design based on characteristics of form, function, and innovation. The award citation reads:
The client's vision for a 'vibrant sanctuary' and a design that is 'functional but not fancy' led to a contemporary reinterpretation of a traditional academic quad building based on the Oxford model....The scale, proportions and materials are calibrated to simultaneously respond to the historic context of masonry industrial buildings that characterize the region uptown Waterloo neighbourhood and to create a symbolic identity for CIGI…. The design strategically organizes the program of classroom, auditorium, offices off a spacious, continuous corridor/cloister furnished with seating and fireplaces to invite people to cross paths and share ideas and viewpoints. It also recognizes the necessity of private space for thinking through solutions with a series of private offices. The floor-to-ceiling glazed 'cloister' facing the courtyard also promotes visibility between departments and groups and reinforces the patron's idea that 'a school is like a large family – there should be no place to hide.'
The CIGI Campus is also the recipient of the prestigious 2014 Governor General's Medal in Architecture, 2014 AIA Institute Honor Awards for Architecture, 2012 International Award from the Royal Institute of British Architects and several other awards.
- 30 -
For more information, please contact:
Jeff Stoub, Communications Manager at CIGI, [email protected] or +1 519 885 2444 ext. 7356
The Centre for International Governance Innovation (CIGI) is an independent, non-partisan think tank on international governance. Led by experienced practitioners and distinguished academics, CIGI supports research, forms networks, advances policy debate and generates ideas for multilateral governance improvements. Conducting an active agenda of research, events and publications, CIGI's interdisciplinary work includes collaboration with policy, business and academic communities around the world.