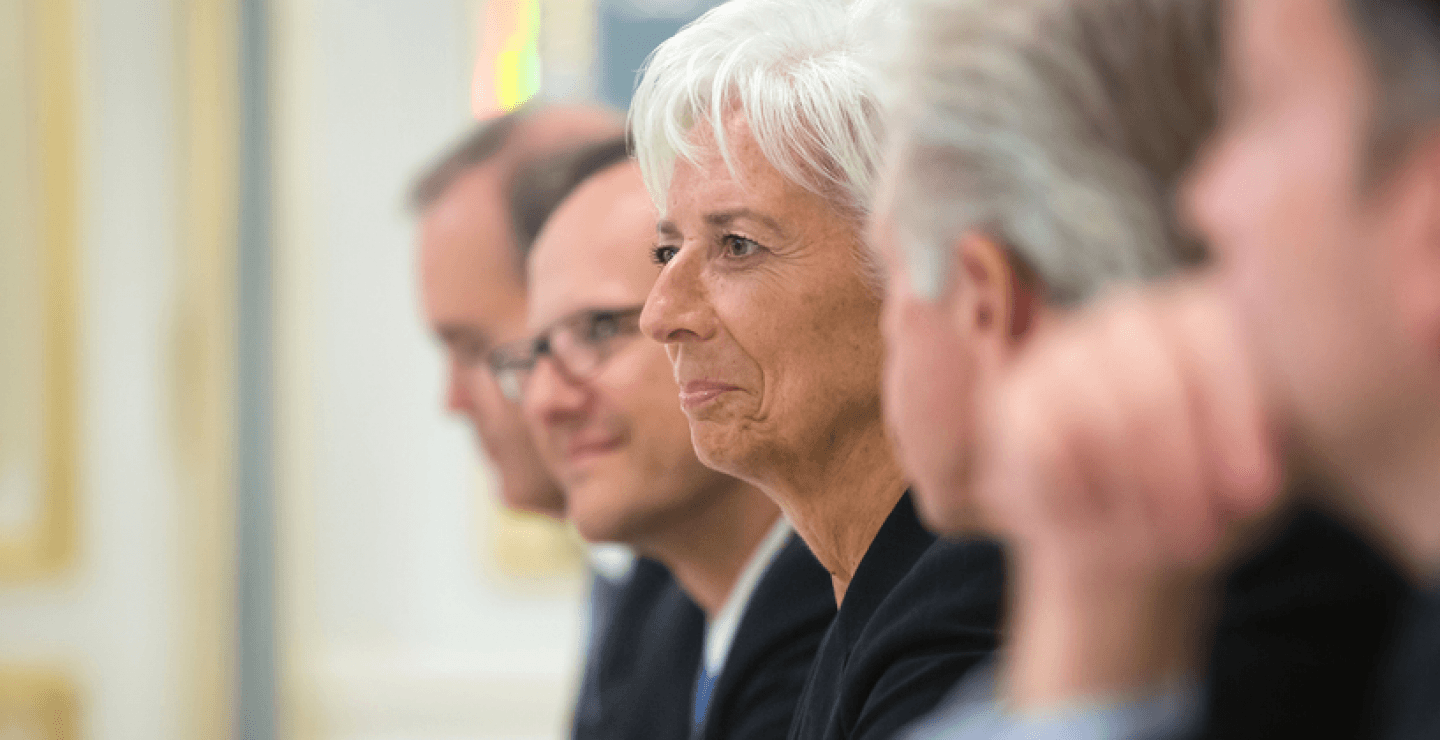 For years now, the release of a new IMF economic forecast has been a cause for embarrassment for the fund's highly trained staff  — and despair for the rest of us. The World Economic Outlook (WEO), published twice yearly, would inevitably show a revised prediction for global economic growth that was weaker than the previous estimate. Bank of Canada Governor Stephen Poloz talked of "serial disappointment" over all the false starts. In the defense of the IMF, who could have predicted that zero interest rates would correspond with a broad decline in business investment? Or foresee acts of economic sabotage by politicians in big economies such as the US (government shutdown and chronic gridlock), China (mismanagement of financial regulation) and the UK (Brexit). The post-crisis era defies prediction; unfortunately, it has yet to deliver a positive surprise.
So perhaps we should quietly celebrate a year in which the global economy didn't get materially worse? The new WEO, released on Oct. 4 ahead of the institution's annual meeting in Washington this week, predicts the world's gross domestic product will expand 3.1 percent in 2016 and 3.4 percent in 2017, little changed from outlook in April.
Growth is too slow, but at least it no longer is slowing. "We are not so sure we are in such a terrible environment," Ludger Schuknecht, chief economist at the German finance ministry, said on a panel discussion at the IMF meetings on Oct. 6.
Schuknecht cited low unemployment rates in countries such as the US and Japan as evidence that the global economy could be stronger than many perceive. His assessment will be controversial; earlier, Christine Lagarde, managing director of the IMF, called on Germany to use its "fiscal space" to spend heavily on infrastructure to help the global economy break out of what she calls the "new mediocre." Still, the German position highlights a dilemma for those of who seek to frame the debate about the state of the global economy. Growth could be much better, so there is an incentive to focus on the negative to keep pressure on politicians to act. The risk is that a constant stream of negativity has caused a permanent malaise that discourages risk-taking.
The IMF acknowledges in the WEO that "feedback mechanisms" could be contributing to the drop in investment. Constant forecasts of weak productivity growth and diminished demand from aging populations offer little reason to spend big on state-of-the-art gear or a new factory. "Expectations of weak future demand growth that hinder investment can take a toll on future potential output both directly (through lower installed productive capacity) and indirectly (through weaker total factor productivity growth, to the extent that new technologies are embodied in capital)," the report says.
Economists at Credit Suisse predict the global GDP will expand 2.8% in 2017, less than the IMF foresees. Yet the bank's updated assessment of the world economy was more upbeat. A weaker US dollar, higher commodity prices and the European economies' ability to withstand the effects of Brexit are reasons to feel better about things, the bank's economists say: "a shift from subpar to adequate." China's financial markets have stabilized and India is poised to post outsized growth rates again in 2017. Brazil and Russia are close to climbing out of deep recessions. These developments mean emerging markets will offset weakness in advanced economies. Credit Suisse characterized the global economy as a well diversified portfolio: returns aren't great, but at least they are stable.
The IMF noted all of these things in the WEO. Yet it chose a negative slant; it says the risks to its forecast are "titled to the downside." The fund worries about what the future holds in Europe after Brexit and the pernicious effects of slow productivity growth mixed with shrinking working populations. Things could go terribly wrong in China, where officials still appear to favour credit-fueled growth despite dangerous levels of credit. The IMF also noted that trade is growing even slower than GDP, a new phenomenon that economists are struggling to explain.
So how can roughly the same outlook be "adequate" for one group of economists, and disappointing to another? Consider their motives: Credit Suisse has an incentive to encourage its clients to invest, while the IMF wants its clients to try harder. Lagarde on Oct. 6 said she wanted every finance minister to leave the meetings motivated to do at least one thing that would help the global economy. It will help if those finance ministers also go home just a little bit scared of what will happen if they fail to act.
Lagarde said she wanted every finance minister to leave the meetings motivated to do at least one thing that would help the global economy. It will help if those finance ministers also go home just a little bit scared of what will happen if they fail to a