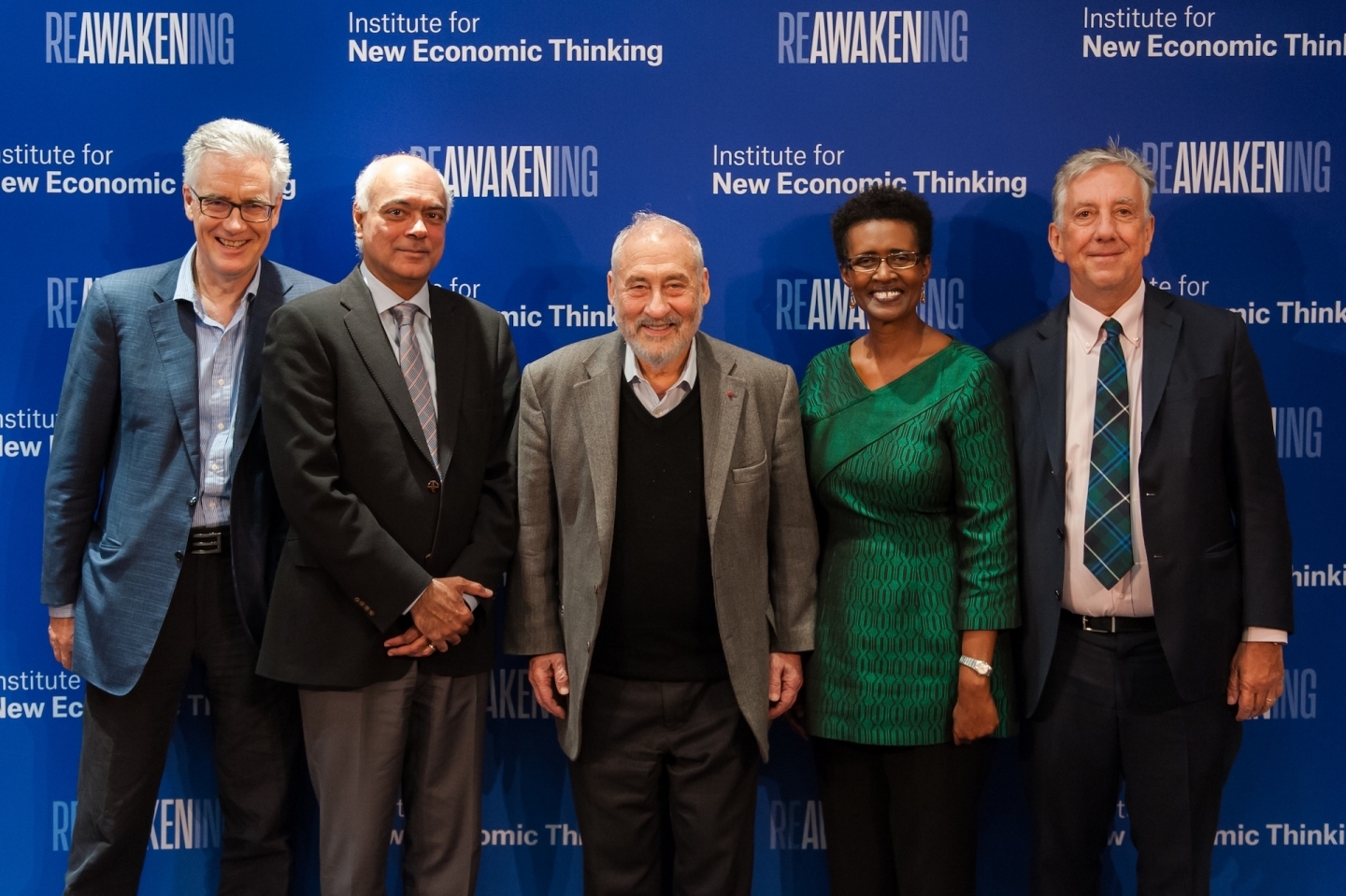 Rohinton P. Medhora, President of the Centre for International Governance Innovation (CIGI) will sit as a commissioner for the newly-launched Commission on Global Economic Transformation (CGET), which will be co-chaired by Nobel Prize-winning economists Joseph Stiglitz and Michael Spence.
The CGET, developed by the Institute for New Economic Thinking (INET) with support from CIGI, launched on October 21 at INET's conference in Edinburgh. In the wake of dramatic political shocks in the industrialized world and inadequate responses to the financial crisis, the CGET is a response to the challenges that continue to plague the world's economy.
"The economic issues this Commission will take on are central to the course of human welfare," says Medhora. "These complex topics are exactly what INET and CIGI were created to tackle, and I look forward to working alongside this powerful group of commissioners."
"We hope the Commission's research and findings will help guide governments, international institutions, businesses and CSO's in coming together to address these challenges," says CGET Co-Chair and Canadian economist Michael Spence.
The Commission is the first of its kind and will address a number of issues at the core of the global economy:
Slow and stagnant growth in advanced economies;
Continuing inadequacies in the international financial system;
Disruptions to employment, especially from new technology;
Widening income and wealth inequality in the face of globalization and technological disruption;
Political and social polarization resulting from economic and governmental failures to deliver inclusive prosperity;
Trade and the ineffectiveness of traditional development strategies for emerging economies given the changes in technology and global supply chains;
Climate change;
Increased migration, often caused by despair driven by economic and political disruption in developing countries, unresponsive governments, slow job growth and climate change.
"Whether it comes to reckoning with widening inequality, climate change or stagnating growth, it's clear that our international governance frameworks are outdated and need to be reconceived in a globally interdependent world," says CGET Co-Chair Joseph Stiglitz.
The CGET's work—commissioning papers, synthesizing existing research and convening international working sessions in China, India, and other locations—will result in a final report in 2019 summarizing its findings and recommendations. Reflecting the consensus view of the commissioners, the report will include an examination of problems in the global economy, and will apply the conclusions reached at CGET meetings to concrete policy challenges in specific countries and regions of the world. 
CGET's Commissioners are some of the world's leading economists and policy experts. They include:
Joseph Stiglitz, Commission Co-Chair, Nobel Prize-winning economist, a lead author of the 1995 IPCC report, which shared the 2007 Nobel Peace Prize, and Professor at Columbia University;
Michael Spence, Commission Co-Chair, Nobel Prize-winning economist, Professor of Economics at the Stern School at NYU, Professor Emeritus of Management and former Dean in the Graduate School of Business at Stanford University;
Robert Johnson, President of INET and Former Chief Economist of the U.S. Senate Banking Committee;
Lord Adair Turner, Chairman of INET and former chairman of the UK Financial Services Authority;
Rohinton P. Medhora, President of the Centre for International Governance Innovation (CIGI);
Nelson Barbosa, Professor of Economics at the São Paulo School of Economics of the Getulio Vargas Foundation, Adjunct Professor at the Federal University of Rio de Janeiro, and former Brazilian Minister of Finance;
Kaushik Basu, Professor of Economics at Cornell University and former Senior Vice-President and Chief Economist of the World Bank;
Peter Bofinger, Professor of Monetary and International Economics at Würzburg University and a member of the German Council of Economic Experts;
Winnie Byanyima, Oxfam International executive director; former member of the Ugandan Parliament, African Commission and Director of Gender and Development at the United Nations Development Program;
Mohamed A. El-Erian, Chief Economic Advisor, Allianz, and former chair of U.S. President Obama's Global Development Council;
Gaël Giraud, Economist and senior researcher at C.N.R.S. (French national center for scientific research); 
James Manyika, Director of the McKinsey Global Institute;
Danny Quah, Professor of Economics at the Lee Kuan Yew School of Public Policy, National University of Singapore;
Dani Rodrik, Professor of International Political Economy at Harvard's John F. Kennedy School of Government, and President-Elect of the International Economic Association;
Eisuke Sakakibara, Professor of Economics at Keio University and former Japanese Vice Minister of Finance for International Affairs;
Beatrice Weder di Mauro, Professor of Economics, Chair of Economic Policy and International Macroeconomics at the University of Mainz, Senior Fellow at the Centre for International Governance Innovation and former member of the German Council of Economic Experts;
Yu Yongding, former president of the China Society of World Economics and director of the Institute of World Economics and Politics at the Chinese Academy of Social Sciences; former member of the Monetary Policy Committee of the People's Bank of China.
Media contact:
Allison Leonard, CIGI Communications Advisor
[email protected]
+1 519 885 2444 ext 7205
+1 519 722 6537
About the Centre for International Governance Innovation
CIGI is an independent, non-partisan think tank with an objective and uniquely global perspective. Our research, opinions and public voice make a difference in today's world by bringing clarity and innovative thinking to global policy making. By working across disciplines and in partnership with the best peers and experts, we are the benchmark for influential research and trusted analysis.