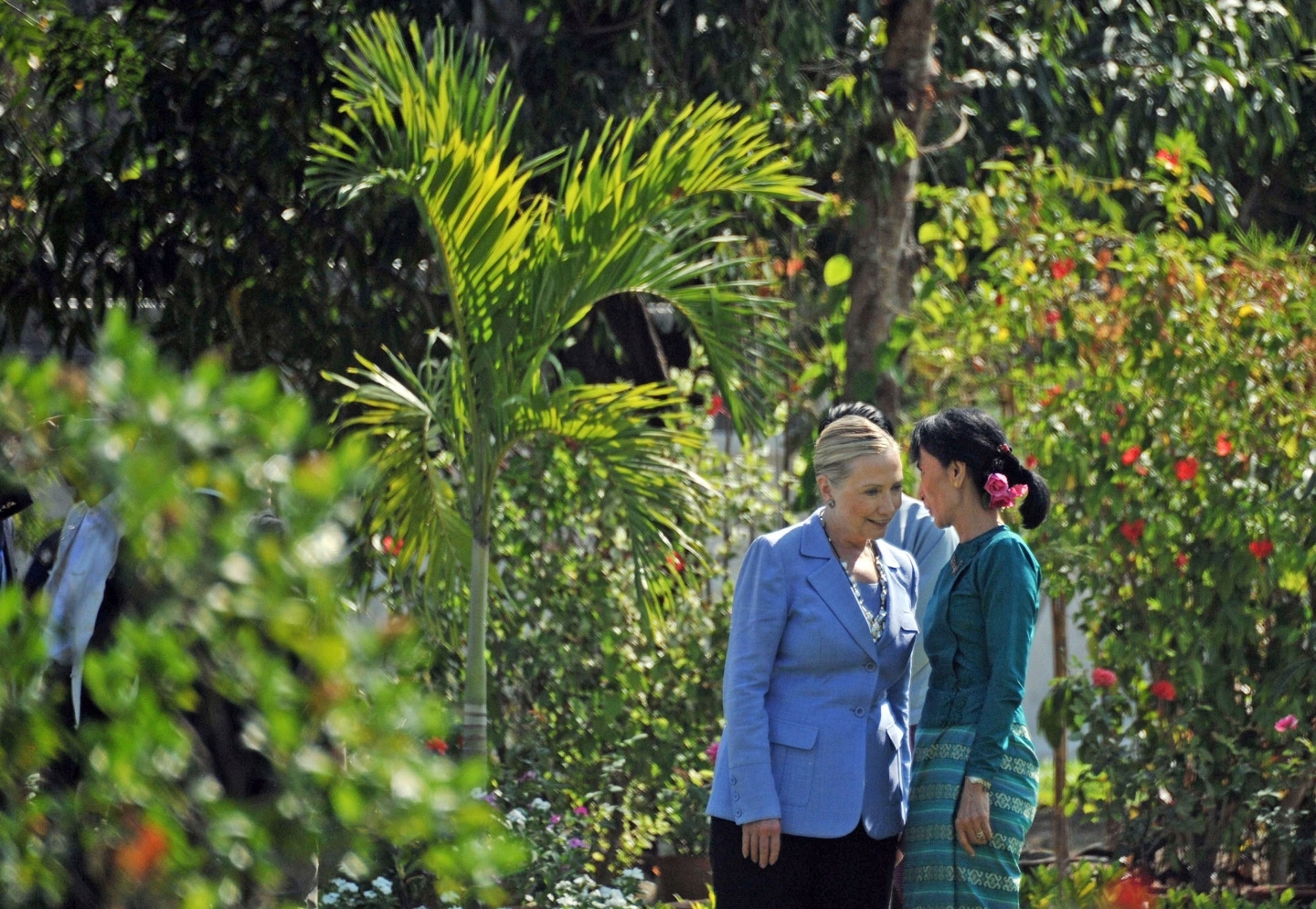 The very same day as Americans vote in their presidential election, Myanmar marks the first anniversary of its ground-breaking polls when Aung Sang Suu Kyi and her National League for Democracy resoundingly defeated the military-backed ruling party. Even as doubts lingered then over whether the generals would gracefully recognise the result, Hillary Clinton was quick to congratulate Myanmar's democracy icon and exploit the moment to take credit for what she ranked as one of her major foreign policy successes.
"When I was Secretary of State, President Obama and I worked with Aung San Suu Kyi and others on the ground in Burma to nurture flickers of progress into a real opening," she said at the time, praising the will of the Burmese people. "As President, I will ensure that the United States continues to stand with them and with everyone around the world who seeks liberty and dignity."
To be fair to Clinton, she did not ignore the challenges that would face Myanmar's first democratically elected government in over half a century as it prepared to share power with a military that would retain considerable clout. The elections, Clinton said, were "an important, though imperfect, step forward in the country's long journey towards democracy".
One year later and that journey is facing severely testing times as the Tatmadaw, as Myanmar's military is known, wages a brutal campaign of repression against the Muslim minority in the northwest border state of Rakhine.
Myanmar's troubles leave the outgoing administration exposed to accusations of easing pressure on the military too quickly, while raising questions over Clinton's legacy. The longer-term dangers presented by the conflict are also a serious worry to neighbouring Bangladesh, as well as China, which has built a twin oil and gas pipeline from Yunnan province through Myanmar to a coastal terminal in Rakhine.
The crisis has been festering for years, driven by the former military regime's refusal to recognise Muslims who call themselves Rohingya as Myanmar citizens, with accompanying rights.
Since renewed violence erupted in 2012, when over 200 Rohingya were killed, more than 120,000 Muslims have been confined to what amount to internment camps in squalid conditions. Others among the one million or so Rohingya community face severe restrictions of movement and livelihood, with even the size of their families regulated by local authorities.
Add the rise of Buddhist nationalism among the ethnic Rakhine majority in the state – fuelled at times by monks outside -- and the complex mix was becoming clearly combustible.
On October 9, gunmen launched coordinated attacks against border posts. The government says nine police were killed, while five soldiers and at least 33 attackers died in the ensuing military offensive, with troops pouring into the state. Some officials blamed Islamist militants from outside Myanmar for instigating the attacks, but since then a hitherto unknown Rohingya group calling itself Faith Movement has claimed responsibility, stating it was fighting for the rights of the minority but sought no conflict with the ethnic Rakhine majority.
With access denied to aid workers, journalists and independent observers, the conflict has followed a depressingly familiar pattern to decades-old wars with armed ethnic groups elsewhere in Myanmar. Human rights and Rohingya activists outside Rakhine, benefiting from the remarkable spread of mobile telephones across the country, have reported war crimes allegedly committed by government forces, including many cases of rape, as well as summary executions, torture of detainees and the torching of homes. Thousands of civilians have fled the conflict zone in the north of the state.
In a knee-jerk reaction to the reports, the government, with Aung San Suu Kyi as its de facto leader, has denied the alleged atrocities without conducting the inquiries it has pledged. Admittedly the Nobel Peace laureate has little or no constitutional authority to rein in the military, but there are also disturbing signs that she is giving too much space to more hardline elements in her administration.
A government spokesman Zaw Htay recently launched a public attack on a senior editor of the Myanmar Times, an English-language daily, for her reporting on October 27 of the alleged rape of about 30 Muslim women by security forces in the village of Shey Kya. The investigations editor has said she was then dismissed for "damaging national reconciliation". The Committee to Protect Journalists, an international non-profit organization, issued an alert, stating: "The best way to prove or disprove allegations of rights abuses is to allow independent media to probe the accusations."
International reaction to the conflict, at least in public, has been muted. The government chaperoned a group of ambassadors – southeast Asian, Chinese, US and others – on a visit to some northern Rakhine villages but Aung San Suu Kyi, who is leader of the governing party though not formally president due to a constitutional measure, has shown little sign of being able to influence events, even if she wanted.
State Department spokesman John Kirby said US ambassador Scot Marciel "took the opportunity to stress to government officials accompanying the delegation that a thorough investigation into allegations of abuse, protection of all residents, restoration of full humanitarian access are necessary."
Overall, however, the response of global governance institutions has been weak. The United Nations has shown little appetite in the past to meaningful engage over Myanmar's treatment of its Muslim minorities, according to a UN report.
Less than a month before last year's landmark elections, a hard-hitting internal report slammed the UN for its policies in Rakhine and, with some foresight, warned of a disaster in the making.
Liam Mahony, an academic and veteran fieldworker known as an expert on civilian rights and protection, was commissioned by the UN Office of the High Commissioner for Human Rights (OHCHR) to write his report in response to a growing policy dispute within the UN over its extensive Rakhine activities.
Entitled A Slippery Slope, Helping Victims or Supporting Systems of Abuse, his report rang alarm bells over the danger of what he characterized as an overly passive approach by the UN to human rights, and raised the spectre of complicity in widespread government-sponsored abuses against an entire ethnic group.
Referring to Human Rights Up Front, the UN doctrine that emerged from the failure to protect tens of thousands of civilians killed in the final stages of Sri Lanka's civil war, Mahony warned: "The UN needs to apply the Human Rights Up Front lessons much more vigorously in Myanmar, as the dynamic of passivity and complicity with state strategies of abuse which led to this lesson-learning after the UN's systemic failure in Sri Lanka is being repeated in Myanmar to an alarming level."
Embarrassed or alarmed at the prospect of fuelling internal UN divisions that could reach to the highest levels, the report was suppressed by OHCHR, although its head, Zeid Ra'ad Al Hussein, a former Jordanian diplomat, had been one of the few senior UN figures to speak out forcefully over the Rohingya issue.
The OHCHR said the report was never intended for publication. Neither was it officially circulated among heads of the other UN agencies involved in Rakhine operations. An opportunity to galvanise the international community into concerted action was missed.
Would Hillary Clinton as US president take a more forceful approach?
It was only a month ago – two days before violence flared anew in Rakhine – that outgoing President Barack Obama signed an executive order terminating the remaining US sanctions imposed on Myanmar. These included bans on imports of jade – a vastly lucrative industry mostly in the hands of the military and its affiliates – as well as measures against powerful and rich individuals close to the former regime.
In her memoir Hard Choices, Clinton devoted an entire chapter to Myanmar, portraying herself as the force behind US efforts to coax and push the generals to restoring democracy. She writes that she kept her eyes open to the risks.
These are extremely difficult times for Aung San Suu Kyi, known colloquially as The Lady, who developed close ties with both Obama and Clinton, and is on a knife-edge in her relationship with the military. Helping an old friend now while stopping the persecution of the Rohingya and preventing a possible bloodbath will require active US intervention. A new UN leadership under Antonio Guterres must also provide a fresh start.
Guy Dinmore spent 16 years at Reuters - with postings in London, Vienna, Poland, Beijing, Hong Kong and in Nicosia covering the Middle East and Africa - and 16 years at the Financial Times, joining in the Balkans, then moving to reopen the FT bureau in Tehran, before serving as diplomatic correspondent in Washington for five years, Rome correspondent for seven years, and then moving to Yangon, where he was news editor of the Myanmar Times