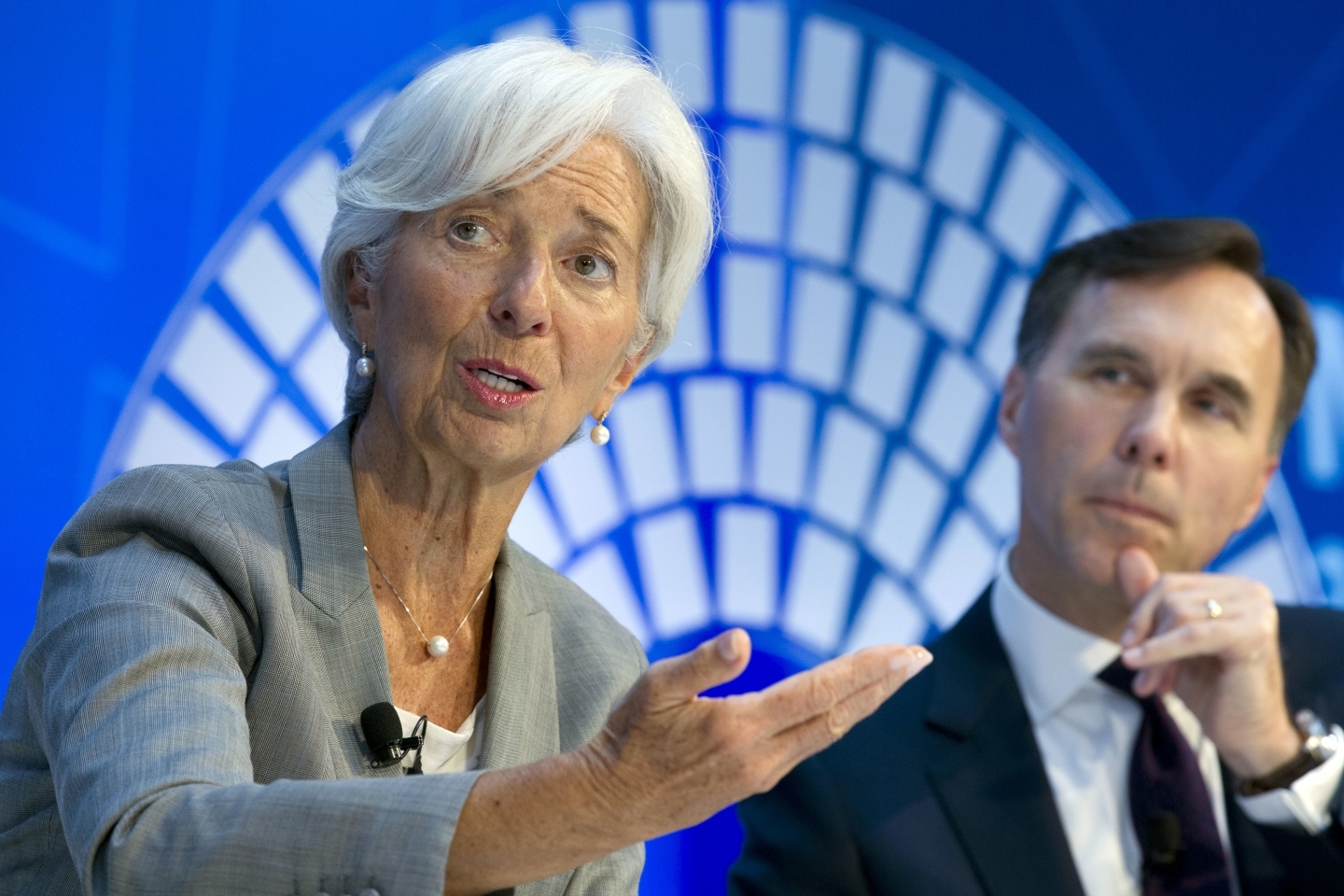 Canadian Finance Minister Bill Morneau has a good story to tell, but he can't quite bring himself to tell it.
The economy he has overseen since the end of 2015 is one of the strongest this side of Asia. On October 10, the International Monetary Fund (IMF) said Canada's GDP will expand three percent this year, which is 1.1 percentage points more than the Fund expected in April. No other country has experienced such a positive change in circumstances since the start of 2017. "The Canadian economy continues to perform very well," Brian Porter, chief executive of Bank of Nova Scotia, Canada's third-biggest lender, told an audience in Washington on October 13.
Morneau agrees. "The facts are strong," he told reporters during the annual meetings of the IMF and the World Bank.
Still, he tends not to dwell on those facts. The mood in Canada doesn't match the world-beating economic indicators. Household debt is at record levels and wage growth is barely keeping pace with inflation. "We live in a world where people are anxious," Morneau said. The central bank governor, Stephen Poloz, had another description in a separate meeting with journalists: "We're still an economy with our head in the oven and our feet in the freezer" — meaning the economy is coming around but that scars remain, from both the financial crisis in 2008 and the blow Canada suffered from the collapse of oil prices in 2014-15.
This condition isn't unique to Canada. The annual meetings of the IMF and the World Bank this month were a strange display of relief and worry. For the first time since the financial crisis, there were no obvious threats. Yet there were no declarations of victory.
"In the given situation in which we have a good economic situation, I would say complacency maybe could be the biggest temptation," said Wolfgang Schäuble, the outgoing German finance minister. Christine Lagarde, the IMF's managing director, borrowed a line from John F. Kennedy and called on governments to fix the roof while the sun is shining.
The repair work will be difficult because it is unclear whether the original blueprints still apply. Central bankers are puzzled by a decade of tepid inflation, and governments that embraced free trade in the 1980s and 1990s are struggling to explain why the financial gains from open borders haven't spread more widely. "How do we have an economy that both grows and shares the benefits of that growth?" Paul Romer, the World Bank's chief economist, asked during an interview on October 14.
Romer doesn't yet have a complete answer to his question, but he thinks it probably has something to do with adapting to the changing nature of work. The IMF also is thinking about work, as it devoted much of its public program at the annual meetings to panel discussions on the subject. Morneau said that the focus at the Group of Seven meetings in 2018, which Canada will chair, will be on helping people cope with the accelerated pace of automation. Argentina's leaders, who will host the 2018 Group of Twenty, have said they will discuss similar themes.
The confluence of interest in work is a rare moment where the economic priorities of rich and poor countries align. Much of the coverage of the angst associated with automation and globalization tends to revolve around places such as Missouri and Michigan, former industrial centres that were crushed by the advance of robots and China. But the issue also is acute in places such as Manila and Mumbai, where the wealthier families that have tended to employ tens of thousands of cooks and drivers can now summon food and chauffeurs from their smartphones.
Leaders face the challenge of turning this abstract worry into a concrete policy agenda. The first step might be changing their own notions of what constitutes a good life. "Let's stop the government from defining success as a full-time job," said Sara Horowitz, founder and chief executive of Freelancers Union, which represents 350,000 independent workers in the United States.
Even if most people still draw a salary, a critical mass now depends on contracts, piecework and odd jobs. Horowitz said more than 50 million Americans are freelancers. Research by Lawrence Katz of Harvard University and Alan Krueger of Princeton University shows the percentage of US workers engaged in "alternative work arrangements" rose to 15.8 percent in late 2015, from 10.7 percent in early 2005.
There is little reason to think the trend will slow, nor is there any reason to want it to, provided that labour law and social policies are adjusted accordingly. "Freelancers are showing us how to have a better quality of life," said Horowitz, yet they often lack benefits and are subject to "wage theft" by employers who abuse their positions to extract free labour.
Governments also must reprogram their approach to education.
Doing so will be harder than adjusting social benefits to fit a workforce that is increasingly contract-driven. As the United States shifted to a factory-based economy from agriculture, it introduced mandatory high school education. Speaking at the annual meeting of the Institute of International Finance on October 14, David Autor, an economics professor at the Massachusetts Institute of Technology, called this one of the best civic policies in his country's history.
Donald Trump's America appears entirely incapable of such fundamental change. But a similar shift in education is needed in the United States, and elsewhere.
The fear that robots are taking over is probably overdone. The McKinsey Global Institute reckons only five percent of jobs will be wiped out by automation. But most jobs will be changed by technology. That means students and mid-career workers must be given the opportunity to adapt. Several panellists at the IMF meetings said education systems are too obsessed with memorizing facts, a questionable use of anyone's time in the Google age. Instead, students should be taught scientific enquiry, which would give them the skills to ask better questions and maximize technology's potential. Gallup, a performance management consultancy, is considering hiring promising 17-year-olds directly from high school and sparing them the expense of a four-year degree. "What they need to learn, we can teach them," Jim Clifton, the company's chief executive, said.
That might not be a bad idea. But governments can do better than outsourcing education to private companies. Gallup will train technicians to maintain its systems, but we can do better. Autor reminded his audience of how television changed professional sports. The new technology allowed leagues to reach vast audiences, and their profits grew accordingly. However, it wasn't the builders of the televisions who got rich — it was the athletes.
"You want to be complemented by the technology, you don't necessarily want to be the one who makes it," Autor said. "You want a scarce skill that is complemented by artificial intelligence."
Autor's observation is important. Listen to enough of these debates about the future of work and you get the sense that policy makers think all they need to do is train a generation of coders. Fixing the roof will be more complicated than that.