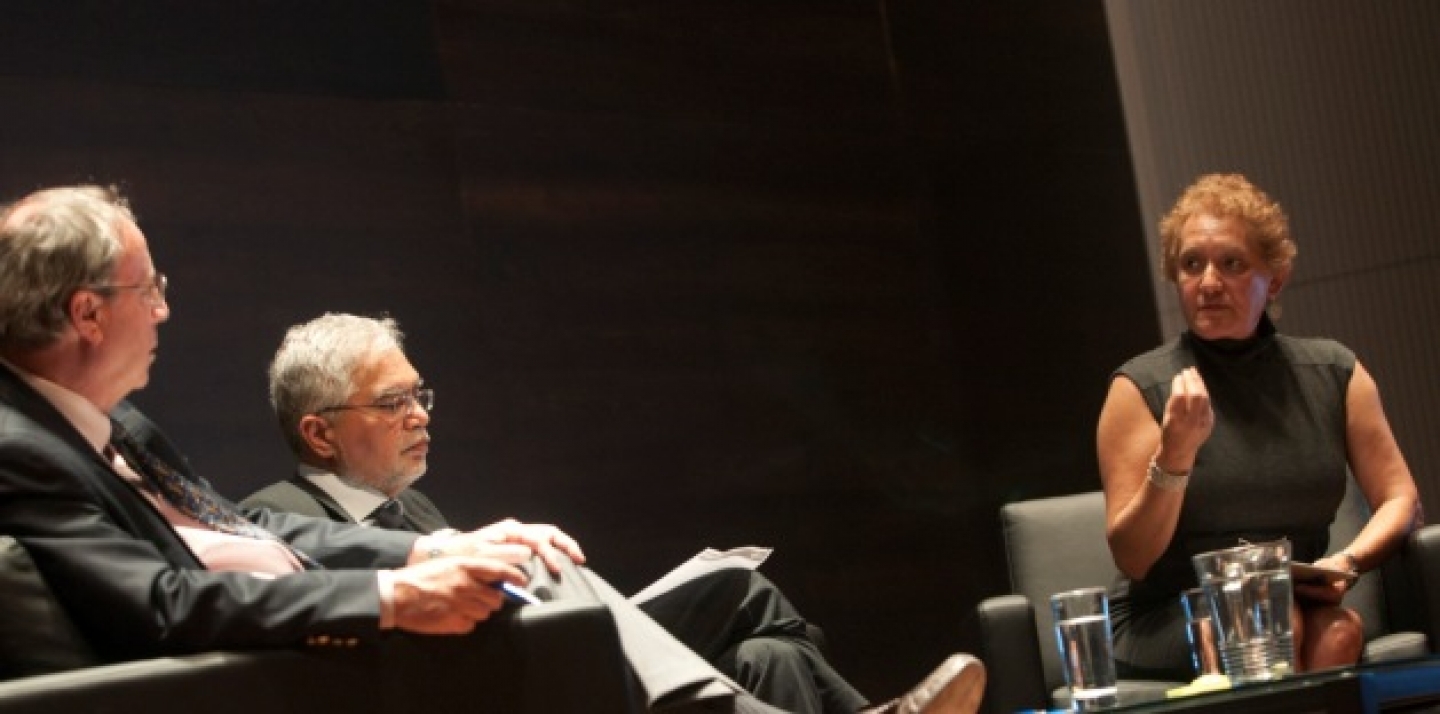 It's been nearly 13 years since world leaders gathered in New York and committed their nations to reach human development targets by the date of 2015.
With only two years left on the United Nation's time-bound Millennium Development Goals (MDGs), the question remains: what should (and what will) replace those eight targets that have been mobilizing international and nation poverty alleviation and human development efforts?
Last week, three experts presented their thoughts on this question at a CIGI Signature Lecture. The panel was in part a result of CIGI's global development project Toward a Post-2015 Development Paradigm. The project involved a three-year global consultative process on the post-2015 development framework. CIGI Senior Fellow Barry Carin, who led the project, moderated the event's discussion and was joined by project colleagues and global development experts Mukesh Kapila (University of Manchester) and Diana Alarcón (UN Department for Economic and Social Affairs).
Following Carin's overview on the MDGs and some initial suggestions on what should follow them, he invited Alarcón to update the audience on what post-2015 processes are underway at the UN. Some of the problems that framed the MDGs in 2000 have not gone away, she explained. Poverty, hunger and education are among some of the major deficits in terms of basic human development. But, she said, there is now another dimension to the debate: environmental sustainability. "For the first time globally, we're aware that our Earth is not infinite," she said.
A large part of the current discussion at the UN, Alarcón explained, is asking "how can we advance human development within the boundaries of planet Earth?" With this question in mind, she explained, there is an opportunity again to define a global development agenda that will hopefully speak to everyone and mobilize collective action to address the many challenges. More specifically, Alarcón discussed the work being done by the Open Working Group on Sustainable Development Goals (part of the Rio+20 process) and the UN Secretary General's High-Level Panel on the post-2015 development agenda. 
Kapila's message was that if the post-2015 development agenda is to mean anything, it needs to challenge the world we've inherited and consider the world we want. The post-2015 discussion is not just about goals and targets and indicators, he said. Development is no longer about the satisfaction of specific needs, it's about the way society is organized. People do not want just full stomachs or immunization; they want freedoms, dignity, equality and the ability to achieve their full potential. Kapila recommended that post-2015 goals be set at an aspirational, global level, where space is left to set levels of ambition for specific contexts that can be measured by indicators. The post-2015 discussion is not just about technical solutions to basic needs, he said. "It's a question of paradigms on how we relate to each other and the world we want to live in."
The debate on post-2015 MDGs is growing and will continue to draw greater traction as the world assesses its target-reaching performance. Indeed, recent reports from the World Health Organization and UNICEF show that 2.4 billion people will lack improved sanitation in 2015 while progress has been made in efforts to narrow health gaps between countries with the best and worst health status.
To read Barry Carin's recommendations on the post-2015 development framework, you can access the free CIGI report, The Millennium Development Goals and Post-2015: Squaring the Circle.
HAVE YOUR SAY: If you attended last night's lecture, caught the webcast or watched the archived video, we would love to hear your thoughts on the panel discussion. Start a dialogue by adding your comments below.