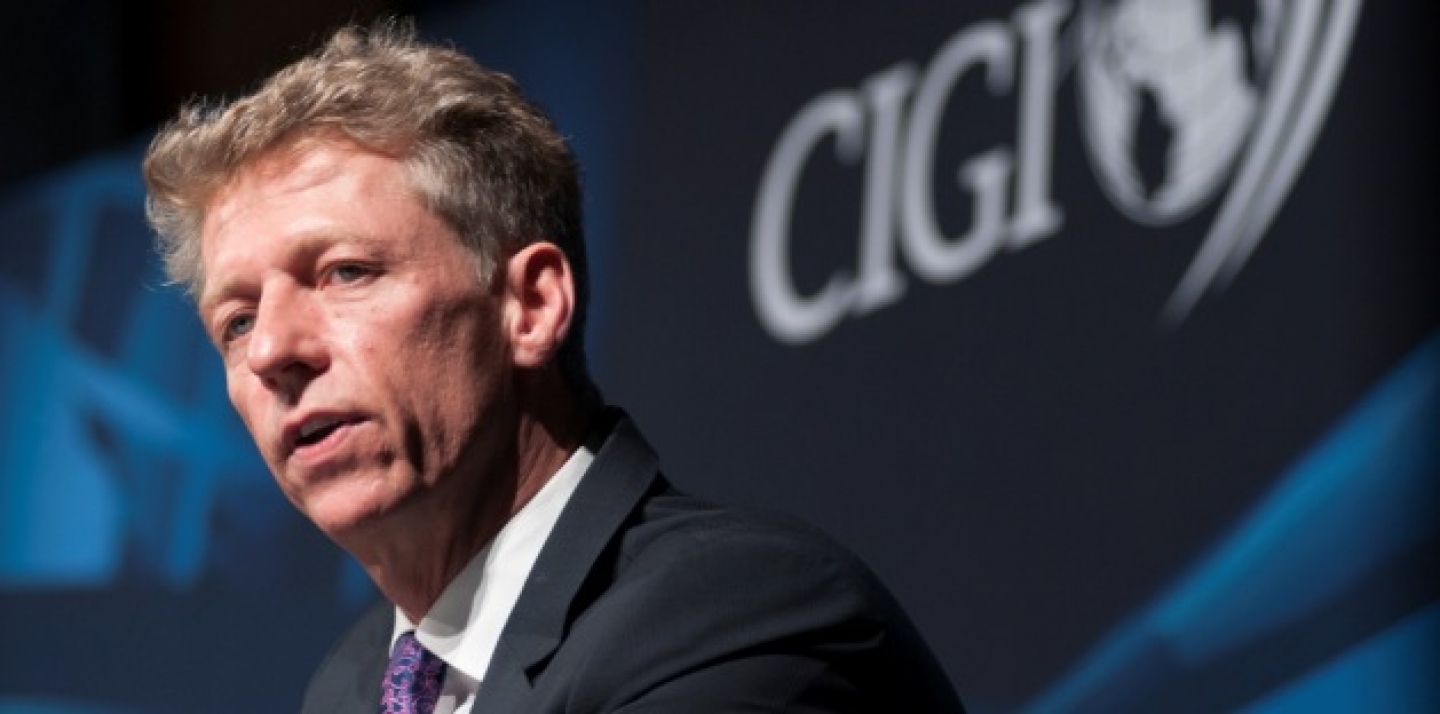 Dr. James Orbinski has been appointed Director of the Africa Initiative, effective September 2012, The Centre for International Governance Innovation (CIGI) announced today.  He also will be a senior adviser to CIGI's vice president of programs.
Dr. Orbinski is a globally recognized humanitarian practitioner and advocate, as well as a leading scholar in global health. Before the CIGI appointment, he was professor at the University of Toronto and a staff physician at St. Michael's Hospital.
The Africa Initiative is a multi-year, donor-supported program with three components: a research program, an exchange program and an online portal. Supported through a partnership between CIGI and the South African Institute of International Affairs, the Africa Initiative aims to contribute to the deepening of Africa's capacity and knowledge in five thematic areas: conflict resolution, energy, food security, health and migration, with special attention to the crosscutting issue of climate change.
"These are vitally important policy issues for Africa and our Global Community," said Dr. Orbinski. "I am delighted to be joining both CIGI and the Africa Initiative. We have a highly competent team focused on research and capacity building. This is a wonderful opportunity to further engage and shape the world so that it is more humane, fair and just."
CIGI Vice President of Programs David Dewitt said, "CIGI's Africa Initiative is an important contribution to building research and analytic capacity about significant issues of public policy in Africa.  Bringing James Orbinski to CIGI as the Director of our Africa Initiative and senior adviser on programs with a special focus on global health and climate change will immeasurably strengthen our capacity and our visibility in these crucial areas of governance research and knowledge mobilization. We are thrilled that James will be joining the CIGI community and be a faculty colleague at our partner institution, the Balsillie School of International Affairs." 
At CIGI, Dr. Orbinski will provide academic and research direction, and assist in developing a long-term strategic plan for the Africa Initiative, with responsibility for staff and over-all management of the program. As International President of Médecins Sans Frontières/Doctors Without Borders (MSF), Dr. Orbinski accepted the Nobel Peace Prize on behalf of the organization in 1999. He was honoured with the Meritorious Service Cross, Canada's highest civilian citation, for his service in Rwanda during the 1994 Civil War and genocide. Dr. Orbinski served with MSF in Somalia, Zaire, Afghanistan and Peru.
From 2001 to 2004, Dr. Orbinski co-chaired MSF's Neglected Diseases Working Group, which created and launched the Drugs for Neglected Diseases Initiative (DNDi). The DNDi is a global not-for-profit research consortia focused on developing treatments for tropical diseases. The DNDi has since developed and released six drug treatments that are now available to millions of people. In 2004, Dr. Orbinski co-founded of Dignitas International, a hybrid academic non-governmental organization that provides frontline medical care, strengthens health systems, and engages research that shapes health policy and practice at regional and international levels. Over 2012-13, it is expanding research and scaling services for a population of three million in Malawi.
The world's leading medical journal The Lancet recognized one of Dr. Orbinski's co-authored papers on HIV/AIDS treatment adherence, as among the 20 most significant medical research papers in the world for 2006. Another of his co-authored papers, appearing in The Lancet in 2002 and analyzing the lack of research for neglected diseases, is recognized as "one of the most important scholarly articles that shaped scholarship in the field of global health in the post Second World War years."
Simultaneously, Dr. Orbinski has been appointed by Wilfrid Laurier University to the position of CIGI Chair in Global Health and will be affiliated with the university's School of International Policy and Governance.  CIGI Research Chairs hold academic appointments at either the University of Waterloo or Wilfrid Laurier University, and are also members of the interdisciplinary Balsillie School of International Affairs.
Dr. Orbinski received his undergraduate degree from Trent University and his M.D. degree from McMaster University in 1990. He completed an M.A. in international relations at the University of Toronto in 1998. His award-winning and internationally acclaimed documentary film on medical humanitarianism, Triage, won the 2008 Amnesty International Gold Medal Award.  Released internationally in 2008, Orbinski's bestselling book, An Imperfect Offering: Humanitarianism in the Twenty-First Century won the 2009 Writer's Trust Shaunessy-Cohen Prize for best political writing in Canada.
For more information on Dr. James Orbinski, visit: http://www.cigionline.org/person/james-orbinski. To learn more about the Africa Initiative, visit: http://www.cigionline.org/project/africa-initiative.
MEDIA CONTACT:
Kevin Dias, Communications Specialist, CIGI
Tel: 519.885.2444, ext. 7238, Email: [email protected]
The Centre for International Governance Innovation (CIGI) is an independent, non-partisan think tank on international governance. Led by experienced practitioners and distinguished academics, CIGI supports research, forms networks, advances policy debate and generates ideas for multilateral governance improvements. Conducting an active agenda of research, events and publications, CIGI's interdisciplinary work includes collaboration with policy, business and academic communities around the world. CIGI was founded in 2001 by Jim Balsillie, then co-CEO of Research In Motion, and collaborates with and gratefully acknowledges support from a number of strategic partners, in particular the Government of Canada and the Government of Ontario. For more information, please visit www.cigionline.org.
-30-
"I am delighted to be joining both CIGI and the Africa Initiative. We have a highly competent team focused on research and capacity building. This is a wonderful opportunity to further engage and shape the world so that it is more humane, fair and just."