The end of the year is nearly upon us and while the world wonders how much US fiscal policy will tighten next year — fiscal cliff or not — prospects in the world's second largest economy, the eurozone, do not look promising. The November Consensus forecast for eurozone real GDP growth (the latest available data at the time of writing), based on a mean of 26 forecasts, is zero percent growth for 2013. A breakdown of forecasted growth for 10 eurozone members, as shown in the Table below, does nothing to inspire confidence. Italy, Spain, and Greece are expected to continue shrinking, adding to the contraction of these economies which began in 2009. Elsewhere, growth is not expected to exceed 1%, an indication of continued stagnation.
Country
2013 Real GDP growth forecasts
(year on year, %)
Germany
0.2
France
0.2
Italy
-0.7
Netherlands
0.2
Spain
-1.6
Austria
0.8
Belgium
0.4
Finland
1.0
Greece
-3.8
Ireland
1.0
Source: Consensus Forecasts, November 2012
There is another, more depressing, feature of eurozone performance. As shown in the graph below, also based on Consensus forecasts, forecasters of eurozone economic growth have steadily reduced their 2013 growth forecasts since January 2012.
Source: Consensus Forecasts (various issues)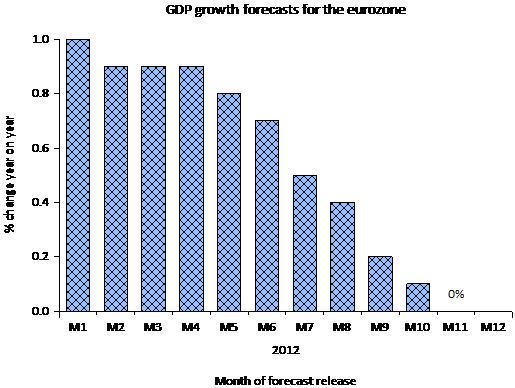 The EU commission is not much more optimistic. Its autumn outlook forecasts 2013 growth of 0.1%. Neither the fiscal compact nor the so-called banking union, half measures that reflect the tendency of EU governments to compromise over policy rather than decisively deal with the design flaws in the eurozone, as discussed in earlier posts, have created confidence that growth will return in the short-term. It is hard to take seriously comments of Olli Rehn, the EU Commissioner for Monetary and Economic Affairs, when he states: "Europe must continue to combine sound fiscal policies with structural reforms to create the conditions for sustainable growth to bring unemployment down from its current unacceptably high levels."
Let's hope that 2013 brings a serious attempt to provide sound policies since 2012 utterly failed to do so. The only bright spot was the ECB which provided the needed support for financial markets. How long the eurozone electorate will tolerate the current environment and the bleak winter to come remains to be seen.