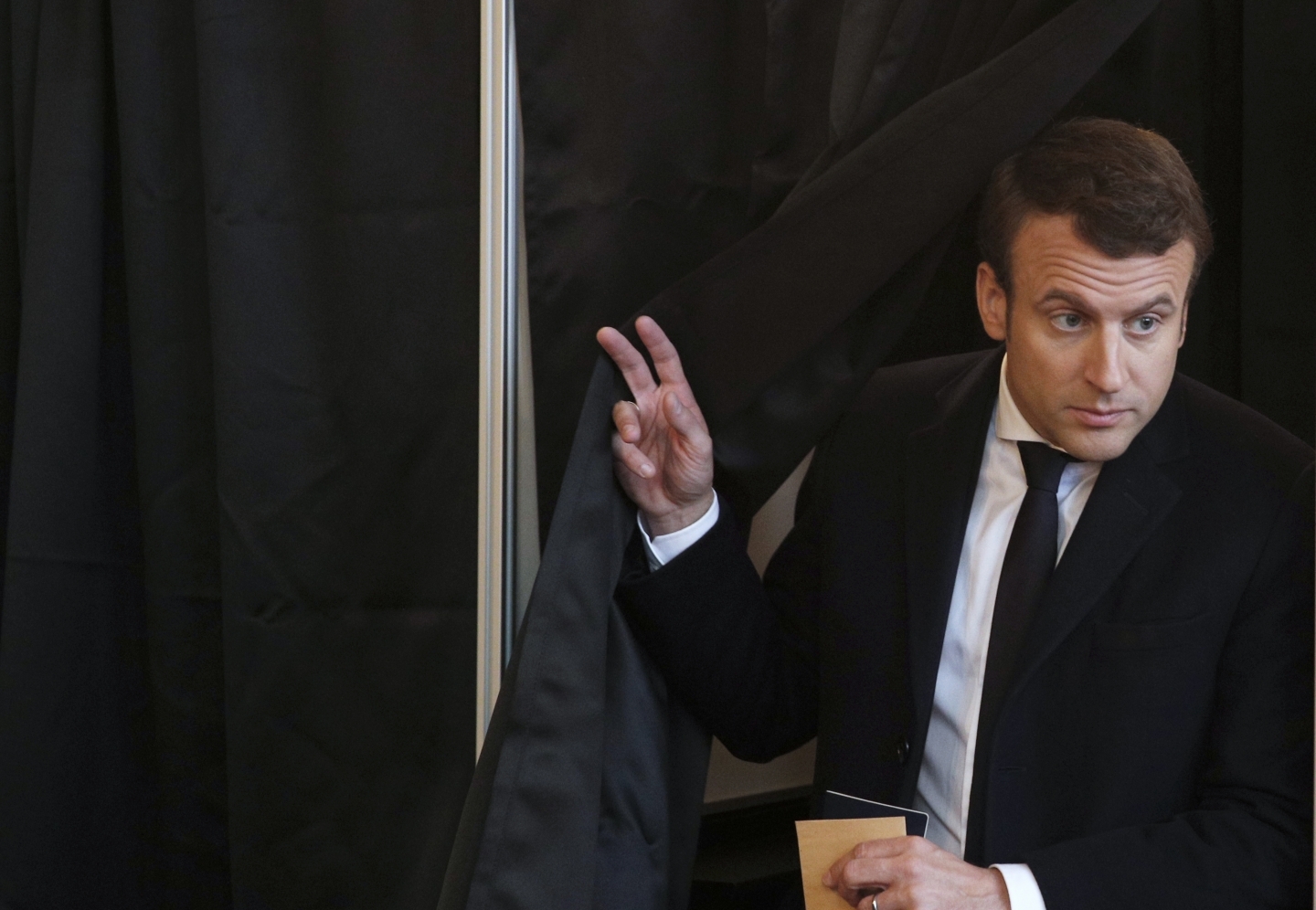 About that populist wave...
For months, the international press framed the French presidential contest as confirmation that the forces that brought Brexit and Donald Trump were ascendant.
Some of the frothier analysis was based simply on the assumption that because the United Kingdom and the United State took populists turns, the rest of the world would follow. Mike Allen, the author of a widely read morning newsletter aimed at Washington insiders, circulated an opinion that nationalist Marine Le Pen had a better than 50 percent chance of winning partly because of the "rule of threes."  
In the end, to borrow former President Barack Obama's description of the beating his Democratic party took in the 2010 mid-term elections, the nationalist forces in France were shellacked. Emmanuel Macron, who campaigned as a European, unexpectedly beat Le Pen in the first round of voting — and then smoked her in the runoff on May 7, winning 66 percent of the votes cast for one of the two candidates.
There are some lessons from the French election for the rest of the world. One is to stop exaggerating the strength of the populist backlash, a tendency that likely is contributing to the acute uncertainty that is constraining economic growth. 
Brexiteers won 52 percent of votes cast in a referendum in which 72 percent of eligible voters participated. Trump is president because about 80,000 voters in three typically Democratic Midwestern states went for him over Hillary Clinton. When Le Pen's father, Jean-Marie, participated in the second-round of presidential voting in 2002, he won only 18 percent of the vote. The younger Le Pen's result shows that she has been able to broaden the appeal of the xenophobic and nativist National Front co-founded by her father. Yet she may also have hit a ceiling: some pollsters thought she might do much better.
Macron's victory was followed by a bevy of here-comes-the-hard-part headlines. The country is divided and the 39-year-old president-elect is untested.
Almost 30 percent of eligible voters abstained; about 10 percent spoiled their ballots; and a significant portion of Macron's support in the second round were votes against Le Pen, rather than votes for him. None of this undermines his mandate, but it does suggest Macron must be wary of overreaching. Much will depend on legislative elections in June, which will determine whether French voters want to support their president by electing a majority of pro-Macron deputies in the National Assembly.
So, yes, the months and years ahead will be hard. But Macron might be up for it.
He went from long shot to president in less than a year, suggesting he has a better sense of what it takes to succeed in French politics today than does much of the political establishment and most of the commentariat. It was less than a year ago that Macron quit as economy minister to launch his En Marche! movement.
He avoided being pinned as a candidate of the left or the right. Rather than cower in the face of Le Pen's increased popularity, Macron used the flag of the European Union as a backdrop for his campaign. He recognized that French voters were deeply frustrated.
But he refused to make globalization the scapegoat. Macron saw as the issue a sclerotic political system that had lost all ability to respond to the public's evolving needs. He said En Marche! candidates for the National Assembly would apply online and that half would be women. Le Pen was portrayed as the outsider even though she is a lifelong politician and her National Front party has been around since the 1970s. It was Macron who disrupted the establishment, sending the Socialists and the Republicans into disarray.
"Globalist" leaders such as Germany's Angela Merkel and Canada's Justin Trudeau congratulated Macron on his victory. (For the record, so did Trump.) They should study how he won. He showed he was serious about blowing up a system of rigid political parties by running as essentially independent. He orchestrated a door-to-door campaign to get a better sense of what citizens really wanted. And he buttressed his authenticity by having the courage to say things that voters might not want to hear.
The champions of globalization say they have learned the lessons of Brexit and Trump. There is some evidence of that. In Canada, the anxiety of the middle class about a potential future of stagnant wages and increased competition for jobs is at the centre of Trudeau's economic policy. International Monetary Fund (IMF) Managing Director Christine Lagarde and the heads of the other big international institutions have become more forceful in making the case for freer trade.
Still, Trudeau is considering retaliating over US tariffs on Canadian lumber imports, and Lagarde avoids taking on the White House directly. Neither the Group of Twenty nor the IMF's steering committee of finance ministers and central bank governors is doing anything to prevent the Trump administration from diluting the international consensus to fight protectionism.
Populists lost in the Netherlands and Austria, yet Brexit and Trump likely will continue to drive the international political narrative. "To declare populism dying or dead in the long term is wildly premature," Eric Reguly, the Globe and Mail's European bureau chief, wrote after Macron's victory. No one is pretending that nativist forces can be ignored. But it might be time to recognize that they need not be feared. In Germany, which will go to the polls this fall, likely either Angela Merkel or Martin Schulz, the leader of the centre-left party that is currently part of Merkel's coalition government, will be named chancellor. The extreme right is not competing for power.
The big lesson from France, and from the United States and Britain, for that matter, is that voters are out of patience for politics as usual. The most angry and bigoted will get behind nationalists in the mould of Le Pen and Trump. But most are willing to give a chance to those who can make a convincing case they will do things differently. Obama made such a case, and then fell into the trap of partisan confrontation. That led to more disillusionment and, ultimately, Trump. But in many ways, that result is now helping the fight against populism. Voters are aware their votes matter, and supporters of globalization know they must do things differently.