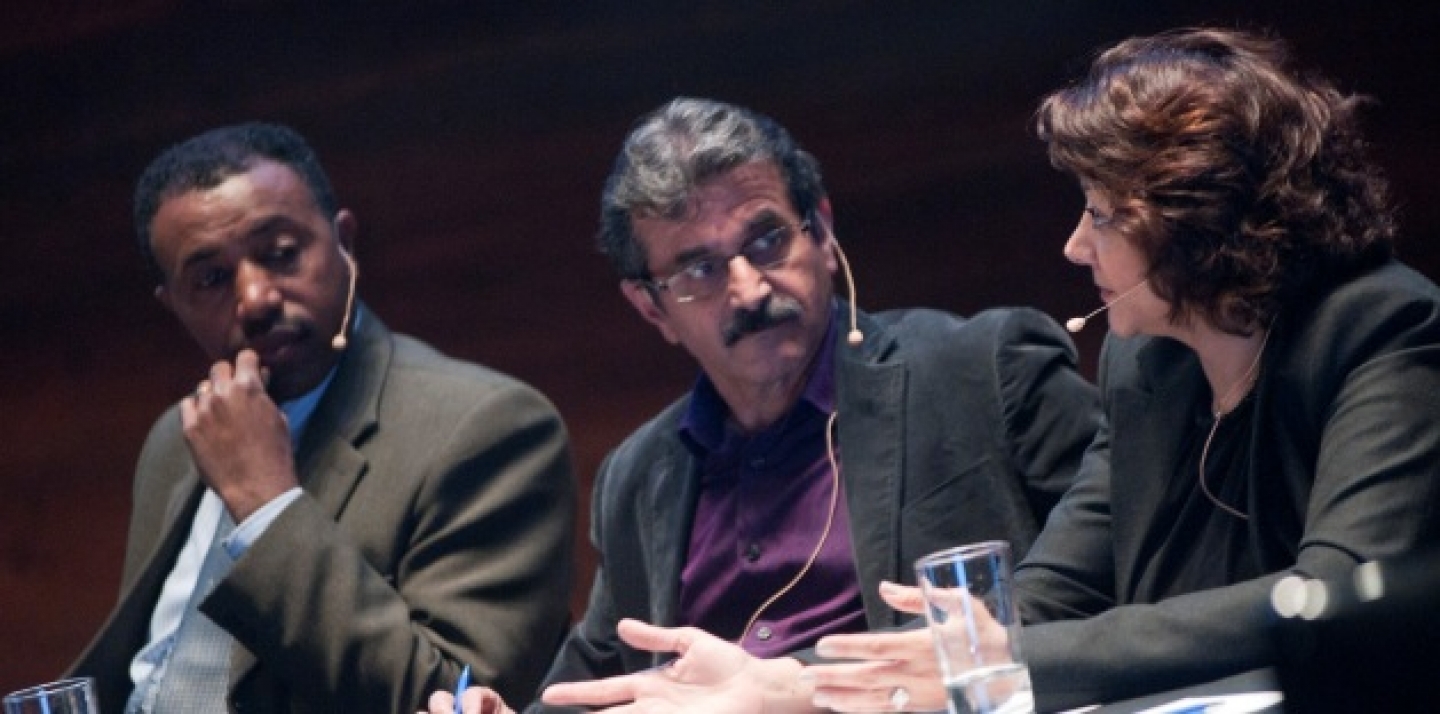 On June 18, CIGI and the Canadian International Council (CIC) Waterloo Region Branch presented their seventh annual media panel.
"Journalists in Exile: The Fight for Free Expression" was moderated by the Toronto Star's award-winning National Security Reporter Michelle Shephard.
The discussion began with a quote from UN Secretary-General Ban Ki-moon and UNESCO Director-General Irina Bokova. Shephard read, "Journalism provides a platform for informed discussion across a wide range of development issues — from environmental challenges and scientific progress to gender equality, youth engagement and peacebuilding. Only when journalists are at liberty to monitor, investigate and criticize policies and actions can good governance exist."
Shephard was joined by four panelists — journalists who share at least two things in common: first, their experiences in risking their lives in pursuit of truth; and second, having been forced to flee harm's way to find security in Canada.
Maryam Aghvami, now a researcher, writer and translator with ASL19, spoke of the difficulty in being a female journalist in Iran. Recalling her worki for Reuters in Tehran, Aghvami spoke of interrogations and the conditions that prompted her to leave for Canada in the early 2000s. Since leaving, she has observed a self-imposed exile, given that her ongoing work on Iran makes it too risky to return.
Morteza Abdolalian, now an interpreter and translator with the Ontario Ministry of the Attorney General, spoke of his experience as a student in the Philippines where he published and wrote critical pieces about politics and the regime in Iran. Following a tense return to his home country, which included jail time next to a torture room, Abdolalian decided in 1989 to come to Canada as a stateless individual.
Aaron Berhane, now publisher and editor-in-chief with Meftih Enterprise, spoke of his experience working in his home county Eritrea, where he and friends founded the state's first independent newspaper. In reporting on government corruption and encouraging political change, Berhane said  it was routine for him to be summoned to the police station to wait for hours in order to answer trivial questions on sources of information for his stories — something he equated to mental torture. Berhane explained how the turning point for Eritrea's short-lived independent media came on September 11, 2001, when the country's president exploited the world's focus on the United States. The government launched a crackdown on its own critical officials and journalists, forcing Berhane into hiding for three months and prompting him to seek asylum in Canada.
Luis Horacio Nájera, now a visiting fellow at The Citizen Lab and Canada Centre for Global Security Studies, worked as correspondent for Grupo Reforma in Ciudad Juarez. Nájera's work exposed official corruption and organized crime groups on both sides of the US-Mexico border, as well as human rights abuses by the Mexican military. He recounted how a family friend told him of a list naming eight to 12 journalists, including himself, who were being targeted by a cartel. After he and his family faced a number of threats, they sought safety in Canada, where neither a visa nor distance was a barrier.
During the event, each panelist spoke of their own journey — the ups and downs of leaving their country, how they managed to escape dire situations, how their loved ones became the victims of their actions, and how they found the perseverance to continue fighting for their beliefs.
The situation for journalists around the world remains precarious. According to Reporters Without Borders, in 2013, 71 journalists were killed (down from 88 in 2012) and 826 were arrested (down from 879). Yet, 2,160 journalists were threatened or physically attacked (up 9%) and 87 were kidnapped (up 129%) and 77 fled their country (up 5%).
If you're interested in learning more about how you can help journalists in their fight for free expression around the world, visit Canadian Journalists for Free Expression (CJFE). CJFE is a non-government organization that played a supporting role in this year's CIGI-CIC Waterloo Region Branch media panel.