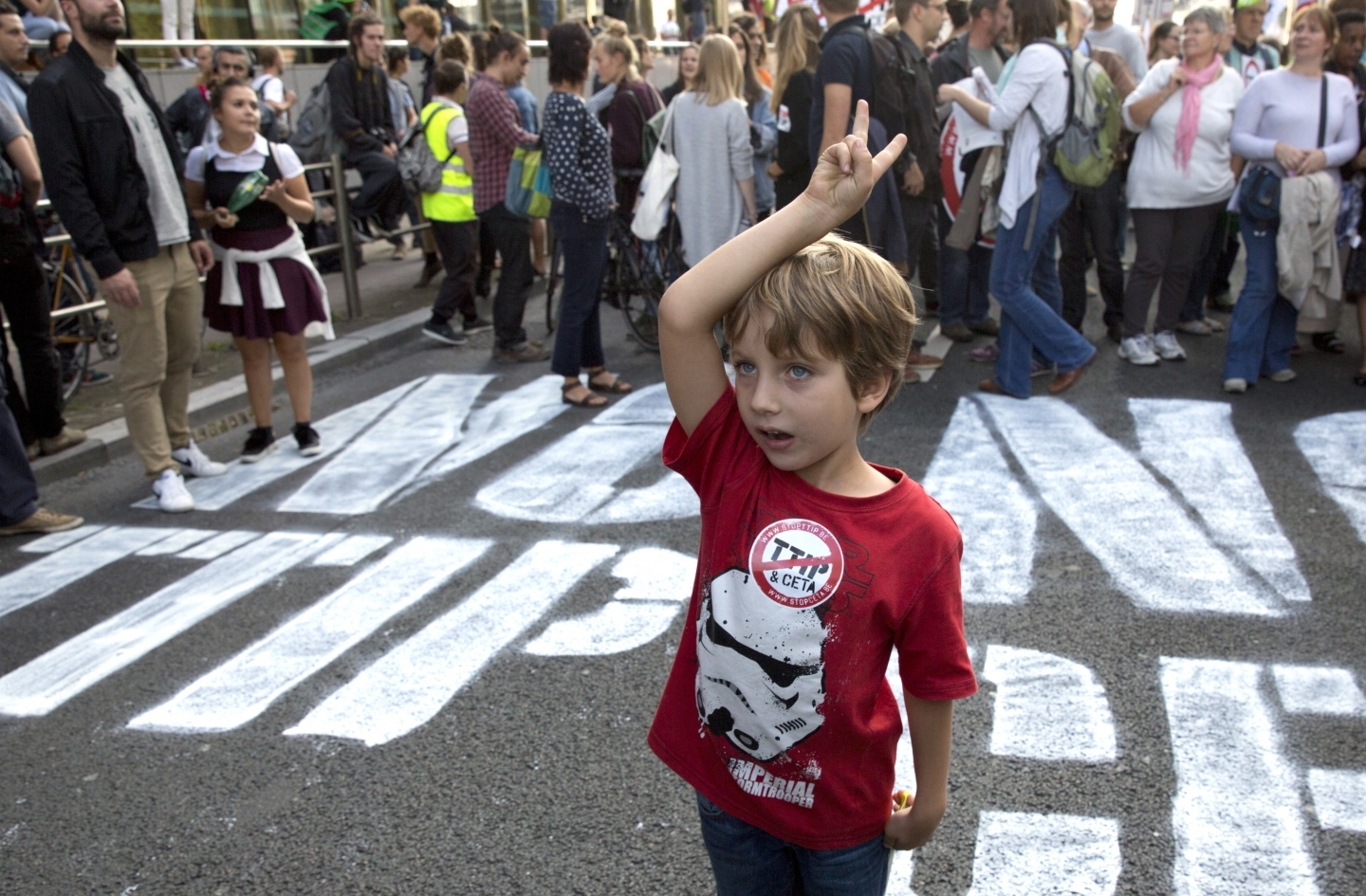 Canadian Prime Minister Justin Trudeau has introduced himself to the world as the loveable leader of everyone's favourite $1-trillion economy. Always smiling and never snide, Trudeau's positive glow reduces the shadows cast by politicians such as Donald Trump and the Brexiteers. Still, this is the son of the late Pierre Trudeau, Canada's infamously acerbic leader from 1968 to 1979 and then again from early 1980 to June 1984. The elder Trudeau hit to hurt. So does his son. Witness Justin's reaction last week to Europe's waffling over the Comprehensive Economic and Trade Agreement (CETA) between Canada and the EU:
"If, in a week or two, we see that Europe is unable to sign a progressive trade agreement with a country like Canada, well then with whom will Europe do business in the years to come?" Trudeau stated. "In this post-Brexit situation where there are a great many questions about Europe's usefulness, if Europe cannot manage to sign this agreement, then that sends a very clear message not just to Europe, but to the whole world, that Europe is choosing a path that is not productive for its citizens or the world. And that would be a shame."
Low blow. The EU's recent history involved an existential debt crisis, a destabilizing crush of refugees, and a shock separation announcement from one of its biggest members. Now, Europe's leaders are trying to secure a massive trade agreement amidst a backlash against globalization. Trudeau has little sympathy: he embraced CETA even though it mostly was negotiated by the government he defeated a year ago this month. Now it is the EU's turn to step up. The outcome of deliberations were in doubt because the parliament of the Walloon region of Belgium rejected CETA, putting pressure on the federal government to do the same. CETA must be approved by each of the EU's member states. The stakes will be high.
Trudeau's pressure tactics notwithstanding, the decision of the EU trade ministers will tell us a great deal about the prospects for trade in the years ahead. The two leading candidates to replace Barack Obama as US president say they oppose his signature trade policy, the Trans-Pacific Partnership (TPP), a free-trade agreement between 12 Pacific Rim countries that awaits ratification by the signatories. Europe's leaders have already walked away from talks with the Obama administration on a similar trade agreement. The collapse of CETA would imply that neither the US nor the EU -- pillars of the global trading system -- are capable at the moment of bringing about freer movement of goods and services.
That would be bad for the global economy. The volume of imports and exports is set to grow slower than gross domestic product for the third time in five years in 2016, according to IMF data. During the boom years of the 1990s and early 2000s, trade led economic growth. There are several explanations for the slowdown, including weaker demand and the fading of the positive effects of China's entry into the WTO. But another reason is the absence in recent years of a major free-trade agreement. That surely is what motivates Trudeau. Canada has struggled to revive its non-energy exports, and needs all the help it can get. A trade agreement between two large economies also would counter anti-globalization forces, which the IMF says pose a significant threat to growth.
Some free traders say the threat to globalization is exaggerated. Dani Rodrik, a professor of international political economy at Harvard University,  argues that democratic political systems need moments like the present to reset. "Center-right and center-left parties should not be asked to save hyper-globalization at all costs," Rodrik wrote in an op-ed for Project Syndicate that was published on Oct. 14. "Trade advocates should be understanding if they adopt unorthodox policies to buy political support."
Canadian and EU officials say they have struck an agreement that will become the gold standard for future trade pacts. They have written into the text explicit protections for the environment and labour and they overhauled the investment protection clause to strengthen the freedom of governments to regulate. "This is an agreement that I am incredibly proud of," Canadian Trade Minister Chrystia Freeland  said in a speech on June 15. "I think it is going to set a new sort of high-water mark in how we do trade internationally."
The leaders of Germany, France and most of rest of the EU agree. The Walloons and some others do not. We will know soon which group is responsible for European trade policy.