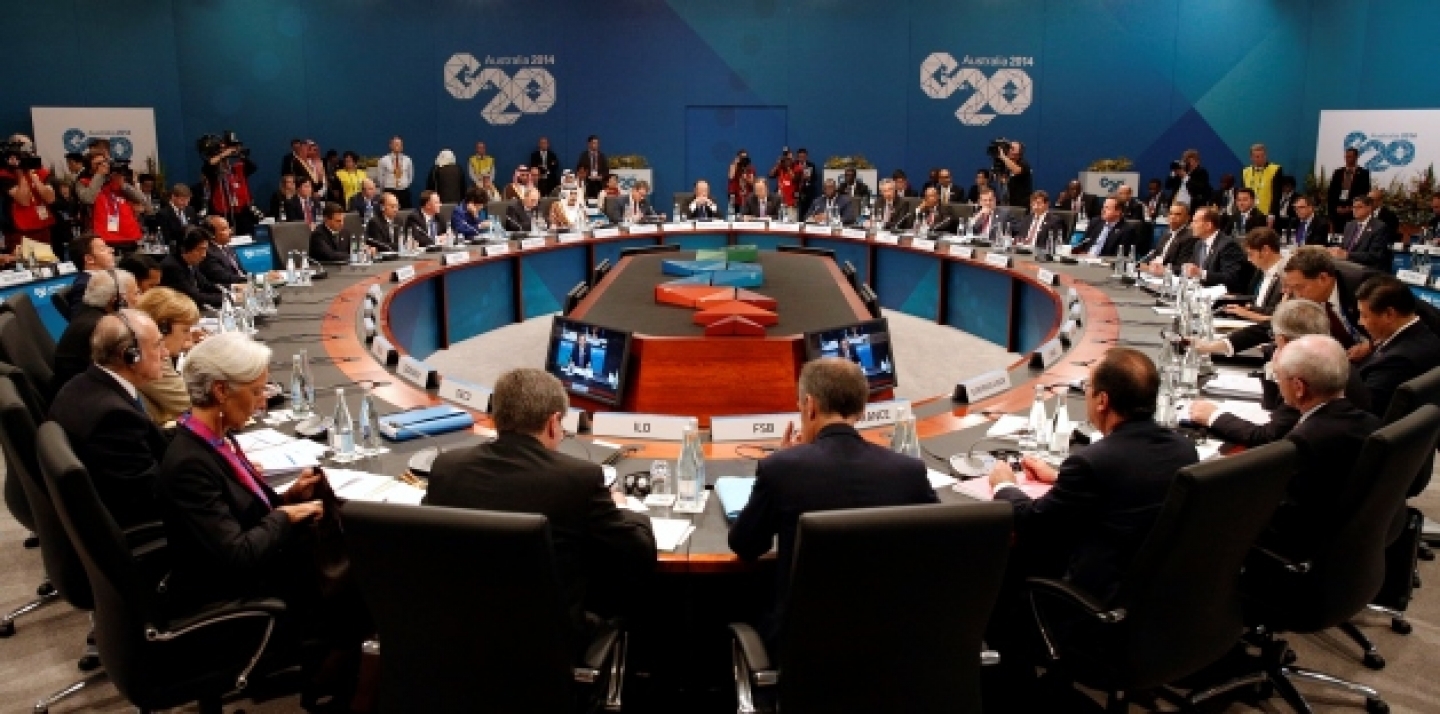 If the G20 Summit this weekend had a buzz phrase, it would be growing the world economy by an additional 2 per cent of collective GDP. 
The Australian presidency of the G20 focussed on this target as its hallmark diplomatic success. With the objective backed by two studies – from the International Monetary Fund and the Organisation for Economic Co-operation and Development – the Australians want the G20 summit to feature this goal at the expense of all other issues, like climate change, combatting Ebola, conflict in Ukraine or the war on ISIS.
But the promised 2 per cent increase in growth is likely to become an empty promise, once the G20 leaders are back at home.
To understand why, we can look at the nearly 1,000 technical and structural reforms that would produce the additional growth. These are aimed at generating employment, competition, trade and new spending on investment and infrastructure.
The clearest category of reform proposals are those based on new infrastructure. G20 nations commit to spending their own money to build roads, ports, hospitals, or helping the private sector to do so, through tax cuts or incentives like providing government land. Either way, the plan requires G20 governments to get "shovel ready" projects moving.
The question is: which government has the political or fiscal space to do this? Thinking this through, the plan begins to look like a flop.
Key global economies today are run by conservative governments who oppose adding new spending to their budgets.
In the United States, the Republican Party has firm control over both houses of Congress, and can block any Obama administration efforts to spend more money on "bridges and roads to nowhere." In Germany, Canada and the United Kingdom, conservative governments are firmly entrenched in fiscal consolidation mode. They created stimulus spending packages in the wake of the 2008 global financial crisis, but have since changed gear and do not want to be seen as big spenders before their upcoming elections.
Can we depend on the emerging market economies to carry the burden of infrastructure spending? Brazil, Argentina and Russia all have looming currency crises and have seen their growth rates tumble in the past year. They are not likely to be in the spending mood.
Many eyes may be on China which has the fiscal space to spend more money on projects, particularly in underdeveloped rural areas. This would be highly welcomed by the world community, particularly the Americans who want China to grow domestic demand as opposed to its export market. But, the Chinese have two other key concerns that trump goodwill efforts to assist the health of the global economy. One is inflation and the second is corruption.
By spending dramatically more money domestically, the Chinese will likely inflate prices and further line the pockets of Communist party cronies who profiteer from development projects. To maintain domestic political control, the Chinese have promised their people to keep inflation under check and to curb corrupt party members.
Moreover, the Chinese are anxiously watching a rising debt problem at the state level and have yet to address how the Communist party will treat this sub-national debt; will it write it off or pay it back? 
Putting all this together, don't expect the burden of major, new infrastructure spending to be borne by the Chinese, nor by smaller emerging economies, nor by western economies managed by conservative governments or legislatures.
Amid handshakes on Sunday night, if G20 leaders were to sign a final communique to increase GDP global growth by 2 per cent, the morning after would likely bring a somber moment of political reality. What happens in Brisbane will stay in Brisbane.