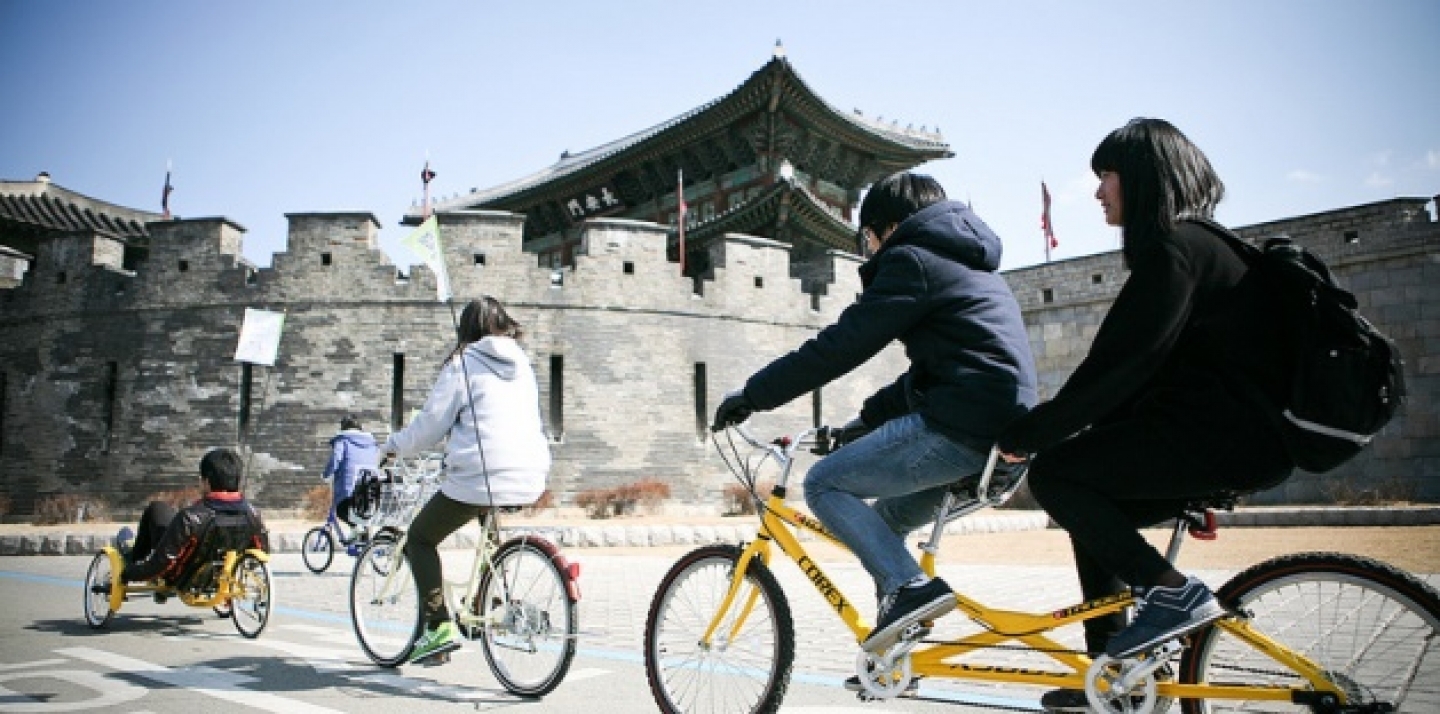 Imagine a car-free city, where pedestrian and cyclists have free rein, moving about the streets freely and safely. Suwon City in South Korea is about to discover what an ecomobile city looks and feels like. Suwon City, in partnership with ICLEI and UN Habitat has collaborated to make the EcoMobility World Festival a reality. The neighborhood of Haenggung-dong in the centre of Suwon will be made into the world's largest "green" transport showroom, giving Suwon's residents and festival attendees a peek into a car-free world.
Here is how it is going to work; Haenggung-dong's 4300 residents will trade in their fossil fuel powered vehicles for ecomobile vehicles that will be made available to residents and visitors. The neighborhood's 1500 fossil fuel vehicles will be moved into temporary parking lots from September 1 – 30th. Meanwhile manufactures of the latest ecomobile options will have the opportunity to début some of their most exciting products. Not only will residents and visitors be able to use ecomobile vehicles, the street infrastructure will be transformed from car-catering to pedestrian-friendly spaces. In doing so, people visiting and living in Suwon will be able to experience a real life car-free city.
Last year our own Region of Waterloo arranged a series of car-free Sundays. A stretch of road on the popular King Street was closed off to all cars for four Sundays throughout the summer. Residents were invited to join in on the festivities and the community was brought to life as everyone enjoyed a car-free King Street. While not as exciting as the EcoMobility World Festival, these efforts prove that people are curious to experience urban spaces that are free of fossil fuel vehicles.
Suwon City, with a population of nearly 1 million, has pledged to reduce its CO2 emissions by 40% from 2005 levels by 2030. This makes Suwon a good fit to host the first ever EcoMobility World Festival. Of course, this in not the first time that South Korea pushed the boundaries on ecomobility, Seoul was awarded the Sustainable Transport Award in 2006 for its success in replacing 6.5 kms of highway with a riverfront park. South Korea appears to be leading the way in sustainable transportation systems.
Suwon's leap into test-driving a car-free city will break the barriers of imagination to reality. Showing a glimpse of the future today will help people to believe that a car-free world is possible. Discussed in my last post, impossible ideas frequently manifest into reality by small starts in a pilot format. After all seeing is believing, and to make ecomobility a reality the first step is showing people that the impossible is possible.