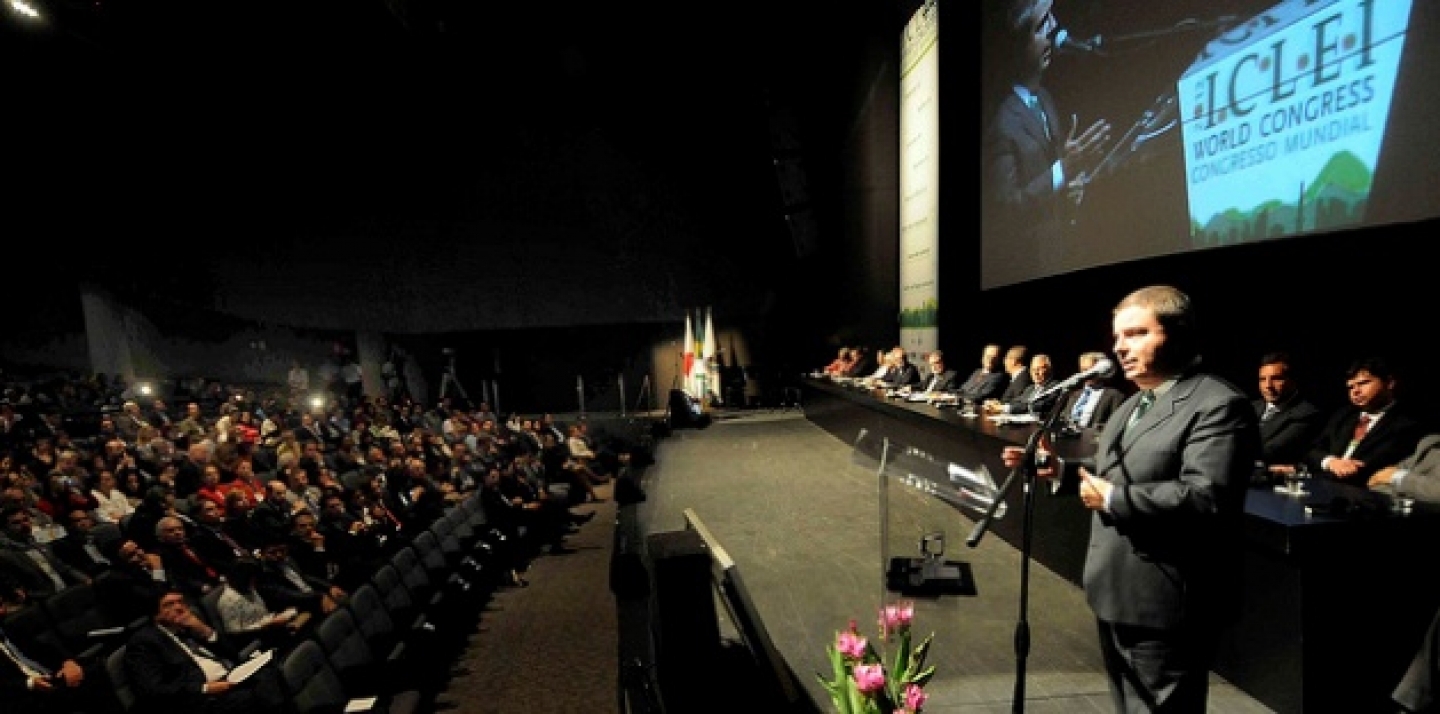 My last blog briefly mentioned an organization called ICLEI - Local Governments for Sustainability. This organization is both important to our research project and critical in the role it plays for local government working toward sustainability. ICLEI is a leading association that connects local governments around the world who are committed to sustainable development. ICLEI also acts as an intermediary between the United Nations and local governments. The history of ICLEI has four distinct phases:
Conception: Idea for ICLEI emerged during a 1989 meeting on the Ozone layer with 35 Canadian and US local government leaders and an atmospheric scientist.
Foundation: Jeb Brugmann, one of the key actors who proposed the idea for ICLEI at the 1989 meeting, consulted with local governments from 20 countries on the matter. With their support, an agreement was made with the UN Environment Program to host ICLEI's founding congress
Implementation: The 1990 founding congress included over 200 local governments from 43 countries and was held at the UN Headquarters in New York. Operations started in 1991 in Toronto, Canada, the first home to the ICLEI World Secretariat. 
Evolution: To better reflect the modern challenges faced by local governments, in 2003 ICLEI revised its mission, charter, and name. Today ICLEI is known as ICLEI – Local Governments for Sustainability. The organization has over 1200 members representing 70 different countries.
The ICLEI organization has an important role to play in giving local governments a collective voice on the global stage. It also acts as a knowledge mobilizer, creating an environment for sharing between local governments, helping them to learn from one another as they break ground on the path to sustainable development.
Still today ICLEI brings together local governments around the world who are committed to making social, ecological, and economic sustainability a reality. ICLEI has nine regional offices around the world. These offices provide support services to their members and they also host regional events. For instance, ICLEI Canada has organized an event called the Livable Cities Forum – Creating Adaptive and Resilient Communities. These regional events bring together local governments and are fantastic sharing and learning opportunities for participants.
Every three years ICLEI holds a World Congress. The most recent congress was held in Belo Horizonte, Brazil the week prior to Rio+20. Outcomes of the 2012 World Congress include the discussions about the formation of an ICLEI eco-cities network and a ICLEI program on health and happiness, cohesive message sent to the UN regarding the role of local governments in the global discourse, and extensive networking and learning. Having attended the last ICLEI World Congress I can attest to value in the sharing, learning, and connections that were made at this conference.
Holding the 2012 World Congress the week prior Rio+20 gave local governments the opportunity to connect and develop a collective voice going into the Rio+20. The message from local government to the UN can be found at this link. If it weren't for an organization like ICLEI bringing together local governments their voice would be fragmented and easy to discount. Coming together through ICLEI gives local governments for sustainability a united voice that communicates to state leaders loud and clear the global sustainability issues faced by local leaders. As the popular saying goes, strength in numbers.
We are working with ICLEI - Local Governments for Sustainability to distribute our survey to local governments around the world. Our team is very excited about partnering with ICLEI throughout the research process and results dissemination of this project.