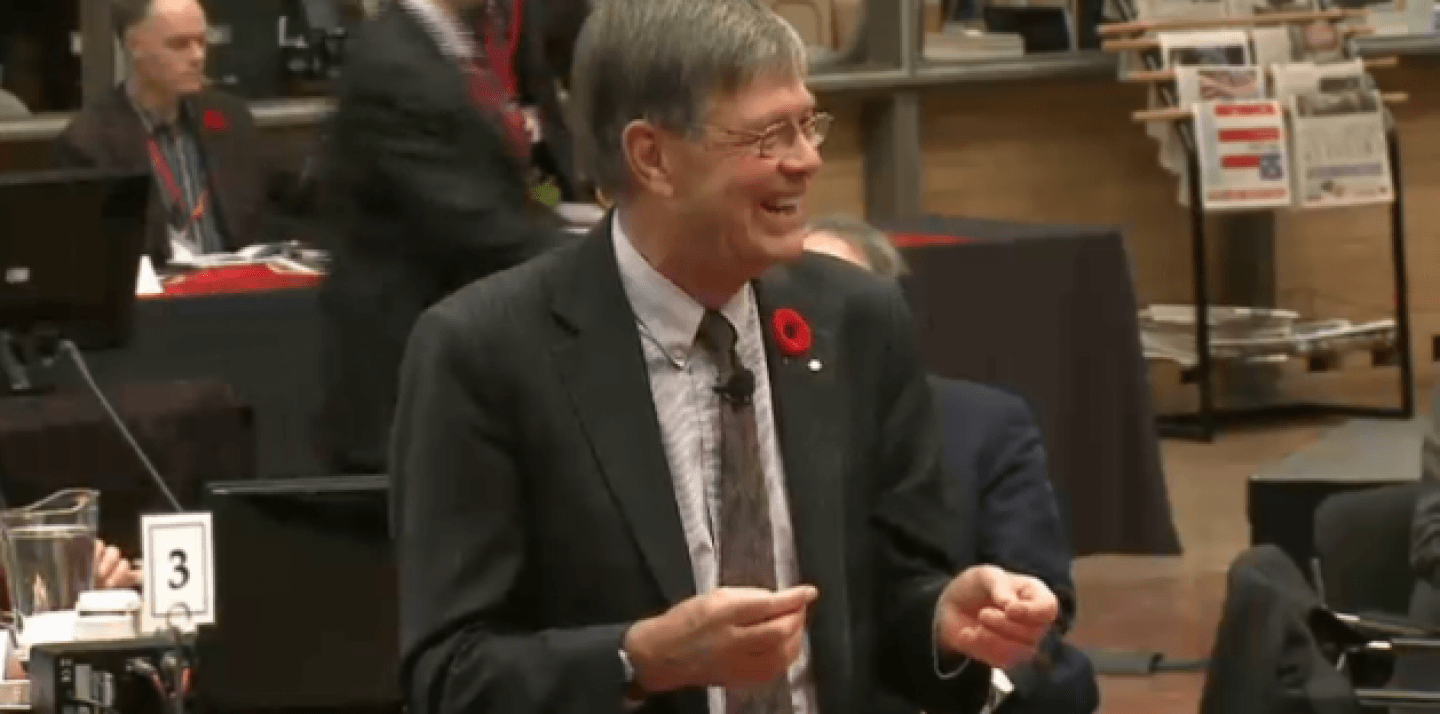 The gloomy mood that prevailed at the mid-point of CIGI's three-day conference on the global financial crisis was somewhat mitigated in the final session on Day 3, broken by – incredible as this may seem – a cheerful sing-a-long.
"If you're happy and you know it, clap your hands," trilled conference rapporteur John Helliwell, who amazingly managed to cajole some actual hand-clapping and even bashful singing  from the otherwise sober crowd of economists, financial regulators and scholars attending the conference.
It was a welcome moment of comic relief, following the previous day's weighty panel discussions on the governance legacies of the 2008–09 financial crisis. In those earlier deliberations, the current global landscape was painted in shades of grey and black, with dire warnings about the impact of failures to resolve the Euro sovereign debt crisis, the impending U.S. "fiscal cliff," and the dangers of the world sliding toward an even more dangerous "climate cliff." As if we lacked in precipices over which to plunge, others raised the spectre of a "social" cliff resulting from global poverty and other inequities.
As CIGI Distinguished Fellow Paul Heinbecker remarked at the beginning of the final day of discussions, the conference was projecting a world where, if you were feeling sick, you might be afraid that "you wouldn't die." He called on the conference to end on a note of optimism, as he led a discussion on next steps to address the legacies of the financial crisis — the positive, constructive actions that can be taken.
Enter into this mix the irrepressible Helliwell, whose job it was to summarize the conference in an oral report to its final working session and whose task it will be, in the days ahead, to synthesize the many disparate views presented into a coherent CIGI special report. As antidote to the pessimism and to counter attendees' natural reliance on economic indicators to measure current progress in global affairs, Helliwell cited the World Happiness Report released by the United Nations this past April. "It is easier to play the game if we fundamentally rethink what is important," he said.
People around the world — including world leaders, finance ministers, policy negotiators and diplomats — will be more likely to collaborate if they feel they are all part of a sensible process in which they belong, Helliwell said. He cited social studies that show human beings to be not only social animals, but "pro-social" animals who value goods even more when there is a benefit not only for themselves but the wider group.
People can "belong" at many levels, Helliwell noted — not only to their own family or ethnicity, but also their country and so, presumably, even the planet.  These can be over-lapping senses of self, not competitive or mutually exclusive identities. And fostering such ideas about multiple identities can help peoples, nations and cultures overcome their differences — whether in violent conflicts or in less physically dangerous struggles over multilateral banking arrangements — to achieve mutually beneficial outcomes.
It was an upbeat note on which to end the conference. I don't think the CIGI '12 participants went away with Pollyanna beliefs that a mere desire for harmony will easily resolve the deeply technical and stubborn problems in the domain of international financial governance, let along climate change. But rather than rely on threats or fears of economic crash or environmental doom to force collective action, perhaps we were better prepared, as innovative policy thinkers, to continue along the tough roads ahead with a jingle of optimism in our hearts.