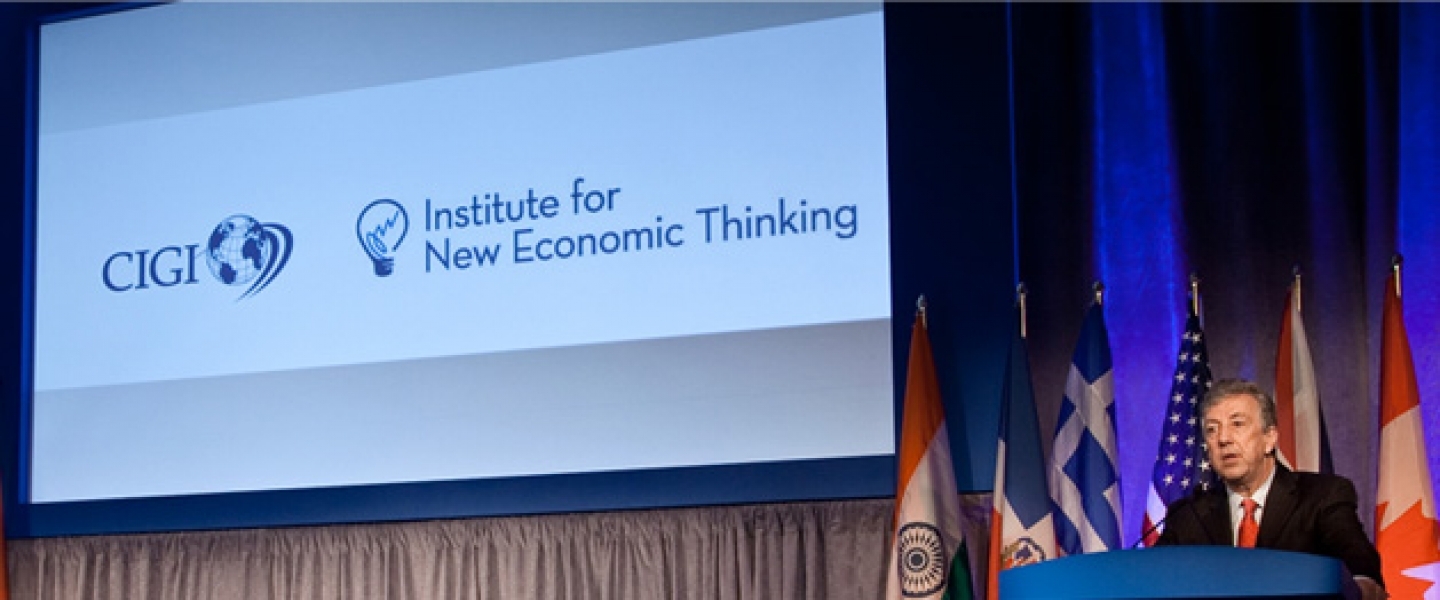 August 2, 2011 — The Centre for International Governance Innovation (CIGI) and the Institute for New Economic Thinking (INET) are accepting research proposals for their Fall 2011 Grant Program, with
grants ranging in value from $25,000 to $250,000.
CIGI and INET are calling for new research proposals in areas of vital importance to the field of economics, including economic linkages, global interdependencies, sustainable economics and economic history.
The initial proposals for grants are due by September 15, 2011, and the process will culminate in mid-December 2011 with the announcement of grant recipients.
The Fall 2011 round of research grants will focus on six areas:
Financial and real economic linkages
Global interdependencies and macroeconomic policies
Models of economic development, innovation and growth
Sustainable economics
Economic history
History of economic thought
Within these broad areas, CIGI and INET would particularly like to invite proposals that address:
Sources and remedies of financial instability
Institutional design for radical (Knightian) uncertainty
Economic strategies and performance in emerging markets
Corporate governance in an age of economic globalization
Political economy of the state and public goods provision
Private and public sector intergenerational responsibility
Political economy of income and wealth distribution
Human capability and economic development
In keeping with CIGI and INET's commitment to encouraging new and consequential economic thinking, submissions in any subject area will be actively considered. CIGI and INET also invite proposals from economic thinkers in allied fields such as political science, sociology, history, and the physical sciences, as part of a commitment to encourage thinking beyond current paradigms.
The Fall 2011 Grant Program marks the third cycle of grants, with CIGI and INET awarding more than 50 grants totalling $12 million in grants in the Fall 2010 and Spring 2011 cycles. To find out more about our previous grant awards please visit:
http://ineteconomics.org/grants/inaugural-cycle and http://ineteconomics.org/grants/spring-2011 .
Researchersinterested in learning more about the Fall 2011 Grant Program, including how to apply, are asked to email [email protected] or visit http://ineteconomics.org/grants.
CIGI MEDIA CONTACT:
Declan Kelly, Communications Specialist, CIGI
Tel: 519.885.2444, ext. 356, Email: [email protected]
INET MEDIA CONTACT:
Rick Keating, Keating & Co.
Tel: 212.925.6900 or 917.767.2400, Email: [email protected]
The Centre for International Governance Innovation (CIGI) is an independent, nonpartisan think tank on international governance. Led by experienced practitioners and distinguished academics, CIGI supports research, forms networks, advances policy debate and generates ideas for multilateral governance improvements. Conducting an active agenda of research, events and publications, CIGI's interdisciplinary work includes collaboration with policy, business and academic communities around the world. CIGI was founded in 2001 by Jim Balsillie, co-CEO of Research In Motion (RIM), and collaborates with and gratefully acknowledges support from a number of strategic partners, in particular the Government of Canada and the Government of Ontario. For more information on CIGI, please visit www.cigionline.org.
The Institute for New Economic Thinking (INET) is dedicated to empowering and supporting the next generation of economists and scholars in related fields through research funding, academic partnerships, and conferences. INET embraces the professional responsibility to think beyond current paradigms. Ultimately, INET is committed to broadening and accelerating the development of innovative thinking that can lead to insights into and solutions for the great challenges of the 21st century and return economics to its core mission of guiding and protecting society. INET was launched in October 2009 with a $50 million commitment from George Soros and is supported by individuals and organizations dedicated to the advancement of new economic thinking. 

For more information please visit http://www.ineteconomics.org/