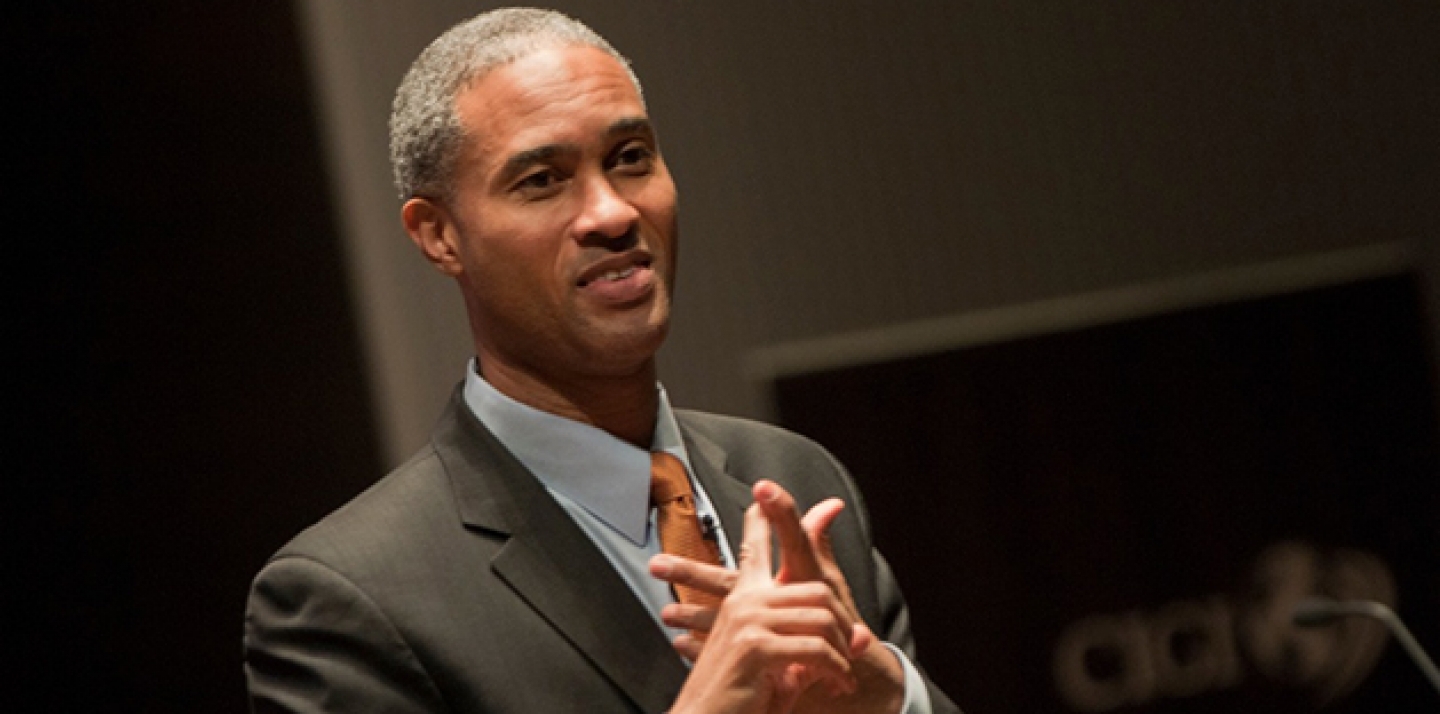 Just as parents can learn from their children, Peter Blair Henry believes the world's advanced economies should show some humility and take a few lessons from some of the third-world countries they once lectured on the fundamentals of economic growth.
Drawing from his most recent book, Turnaround: Third World Lessons for First World Growth (Basic Books, 2013), Henry said in his public lecture at CIGI that the world's "aging economies," such as Canada, the US and much of Western Europe, need to "adopt or re-learn" three main principles of growth they once espoused to the third world: discipline, clarity and trust.
On the first principle, the Dean of New York University's Stern School of Business was quick to guard against the post-financial-crisis tendency of equating discipline with fiscal austerity. Henry said that discipline in his model refers to a growth strategy that is "above private interests and the interests of anyone running for political office" and to the benefit of everyone. Henry recalled his first lesson in economics, when, as an eight-year-old sitting on his grandmother's porch in Jamaica, he saw "what happens when there is a lack of dignity."
"Growth drives employment and employment drives dignity," Henry said, as he urged policy makers to "look beyond GDP."
Henry offered examples from recent economic history and the often fraught relationship between the advanced economies and third world countries, especially where the former was recommending restrictive prescriptions to the latter. Case in point, Henry said, was former US Treasury Secretary James Baker's "Program for Sustained Growth" in 1985, which led to heated battles between advanced and third-world economies, and between ideological factions within the first and third worlds.
Henry questioned the zero-sum approach used by the US and organizations such as the International Monetary Fund, in responses to the International Debt Crisis of the 1980s.
"These questions are far too important to divide us along political lines," he said.
Moving to the principle of clarity, Henry noted that third-world countries that experienced a turnaround in recent decades, "did so once their leaders demonstrated a clear commitment to growth." Henry illustrated his point with the example of Barbados, which when faced with an IMF edict to devalue its currency during the 1982 recession, proposed a policy alternative of wage cuts balanced with future profit sharing between the private sector and its unionized workers. Henry quoted former Barbadian prime minister Erskine Sandiford, who was dumped from office for implementing the reforms and never returned to power, who said that the political price he paid was a "small price to pay to save the country."
"That's clarity," Henry said, and questioned whether many of today's leaders would display the same conviction in a similar situation. This provided a natural segue to Henry's third principle, namely that a lack of trust between the advanced economies and the emerging market economies is "the biggest hurdle" to global economic growth.
Henry said the issue of underrepresentation for emerging economies in international financial institutions such as the IMF and World Bank will lead to a further fragmentation of the global financial architecture and pointed to the recent move by BRICS nations, to establish their own development bank.
"In spite of all the economic progress that they've made, these countries still find themselves vastly underrepresented," Henry said. He added that part of the blame for this rests with his own country allowing domestic politics to stand in the way of global prosperity, whereby the US House Committee on Commerce and Trade has tied a package on IMF reforms, which would see the US decrease its veto-equivalent voting share, to the country's domestic debate on sequestration.
Henry concluded his talk by cautioning against the tendency of framing discussions of the global economy as a simple case of the rise of emerging markets against the decline of the advanced economy.
"We all need to rise together," Henry said. "That is why the trust deficit matters."
Following his lecture, Henry was joined in discussion by Domenico Lombardi, Director of CIGI's Global Economy Program. The two returned to the point of the BRICS nations pushing for their own voice and institutions, which Henry compared to a child vying for parents' attention.
"When you're not part of the conversation, then you're going to make trouble off in the corner," Henry said.
In response to Lombardi's question of what the G20 needs to do to increases its legitimacy and effectiveness, Henry said the international forum's limited representation and inability follow through on its decisions is undermining its credibility.
"You need some sort of mechanism where you're giving countries voice, but there's a decision rule so that things can move forward."
For more information on Peter Blair Henry or Turnaround, visit http://www.peterblairhenry.com/
HAVE YOUR SAY: If you attended this lecture, caught the webcast or watched the archived video, we would love to hear your thoughts on Peter Blair Henry's presentation. Start a dialogue by adding your comments below.
"We all need to rise together. That is why the trust deficit matters."