Rana Ayyub, an Indian political and investigative journalist, is used to online harassment. Over the years she has developed a thick skin. Her book, Gujarat Files: Anatomy of a Cover Up, was directly critical of Prime Minister Narendra Modi and the role he allegedly played in anti-Muslim riots while he was governor of Gujarat. She has long been unpopular with his supporters on the Hindu right. But what happened this year was different.
On April 22, a fake tweet began circulating under Ayyub's name, expressing support for child rapists. It was shared tens of thousands of times, with legislators from Modi's party, the Bharatiya Janata Party (BJP), among those sharing it. Ayyub was inundated with violent messages. From her own Twitter account, Ayyub tweeted a clarification, but it was ignored. On April 23, another false tweet appeared under Ayyub's name, saying "I hate India and Indians." Ayyub is a Muslim, a minority faith group in India, and she was overwhelmed by messages inciting religious hatred and telling her to move to Pakistan.
There was worse to come. That evening, Ayubb received word from a professional contact that a pornographic video was circulating on RSS and BJP WhatsApp groups and would soon be made public. The video — a two-and-a-half-minute clip with Ayyub's face morphed onto another woman's — was most likely produced with an app called FakeApp, which allows users to convincingly morph faces on videos. Within minutes, it was public, and Ayyub was being sent screenshots and messages across Twitter, Facebook, WhatsApp and email. Many used the same wording: "Have you seen this? Is it really you?"
"How do you react to something like that? I was nauseous, I was throwing up, I was admitted to hospital for a day," says Ayyub. "By that evening the video was on everybody's phone. My next-door neighbour had it, my dad, my brother."
For a few days, Ayyub completely shut down. "I had no cognition, I didn't take a shower, my brain didn't work," she recalls. After three days, she went to the police station with her lawyer and filed a complaint. She was not hopeful that anyone would be held to account, but wanted to do something. That was in mid-April, and by early July there was still no development.
What happened to Ayyub was not an isolated incident: journalists and activists in both India and Pakistan have found themselves on the receiving end of apparently well-organized and highly political campaigns of online harassment. Mohammed Jibran Nasir is a Pakistani human rights activist standing as an independent candidate in the forthcoming election. He has been outspoken in his support for the rights of religious minorities, taking part in both Holi and Diwali ceremonies with Pakistan's beleaguered Hindu community. Out-of-context images of Nasir taking part in these ceremonies circulated on WhatsApp last year, cited as evidence that he is an Indian agent.
As elections approach in Pakistan and India, Facebook, Twitter, Instagram and WhatsApp are having a radical impact on public discourse.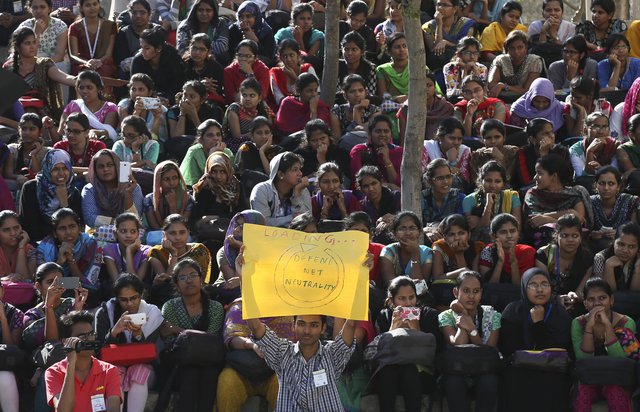 Around the world, the prevalence of social media is having a transformative and often ill-understood impact on democracy. As elections approach in South Asia — July 2018 for Pakistan, and 2019 for India — Facebook, Twitter, Instagram and WhatsApp are having a radical impact on public discourse. On the one hand, these platforms have the capacity to vastly increase political participation, particularly for marginalized groups. On the other, as Ayyub and Nasir have found out, they can be used to silence dissent, spread disinformation and even stoke communal tension.
In both India and Pakistan, internet usage has rapidly increased over the last five years or so, due to greater availability of cheap mobile internet. In India, the number of internet users has increased from 277 million in 2015 to 481 million in 2017 — more than a third of the country's total population. In Pakistan, there are around 55 million internet users, about a quarter of the country's population, compared with half that number five years ago. Facebook has partnered with telecoms providers around the world to offer a cheap, basic package, whereby users can access a version of the internet that includes only Facebook and Facebook-owned WhatsApp — giving both platforms an enormous reach.
In an era of increased censorship in Pakistan and greater online surveillance in India, many people are attracted to the encryption of WhatsApp for person-to-person interactions and sharing news. Governments are following suit — it is not unusual for political or military press officers to use the messaging app to send press releases to journalists. And, in recent state elections in Karnataka, India, the two main political parties — the BJP and the Congress Party — set up over 50,000 WhatsApp groups between them to spread their message to voters.
WhatsApp communication can take on a much darker tone as well. Disinformation spread on WhatsApp in India has been linked to at least 30 deaths this year, most provoked by misleading videos related to child kidnapping, which spawn panic and mob attacks. While Pakistan has not seen this kind of violence, hoax videos and photographs spread in much the same way, and experts have expressed concern that something similar could happen. As one election rapidly approaches in Pakistan and another looms on the horizon in India, all the main political parties are focusing on their online presence — but there is an increasing worry about the role of bot accounts in promoting propaganda and propagating abuse.
Similar shifts in society and politics are echoed around the world — but the outcome for these South Asian states is still to be determined. Social media could strengthen or weaken democracy in Pakistan and India.
Social media can be a place where grassroots campaigns can be elevated, and where marginalized people — religious minorities, women — can participate in public debate.
Syed Faizan Raza, an activist and writer based in Islamabad, Pakistan, has been involved in numerous online campaigns. Most recently, he worked with other digital activists to highlight an accusation of sexual harassment by an examiner in a college in Islamabad. More than 80 young women reported being harassed with lewd comments and inappropriate touching during exams. No action had been taken.
"Within a day we trended the hashtag and got all these celebrities involved in getting the attention it needed from the authorities," says Raza. The next day, two politicians raised the issue in Pakistan's National Assembly, the media began to cover the story and the examiner in question was suspended from his job. "That was pretty effective, from just a day of campaigning online," says Raza. "Sometimes the mainstream media —TV channels and newspapers — are very biased or don't want to cover certain stories, so we have to use social media to get people engaged. It's a way to raise our voices."
Across both India and Pakistan, social media can be a place where grassroots campaigns can be elevated, and where marginalized people — religious minorities, women — can participate in public debate.
"It can be difficult for women to come together and meet," says Qudsiya Contractor, a Mumbai-based academic and research fellow with the India China Institute at the New School, New York. "Gatherings at mosques or other places might typically be spaces occupied by men. So WhatsApp is a good arena for women to connect with each other, and debate issues." She draws attention to a campaign by a group of women from the Dawoodi Bohras, a small Muslim sect that practises female genital mutilation. In India, women from this sect have used an online petition on change.org, promoted entirely online, to raise their objections to this practice and trigger a debate within their community.
"It's a democratic act, trying to get people involved," says Contractor.
This increased online participation in activist causes can spill over into offline spaces. As Pakistan's general election approaches, there has been a clampdown on freedom of expression by the military establishment. Despite this, a protest movement called the Pashtun Tahafuz Movement (PTM) has attracted tens of thousands to its rallies. The group was founded by young people from the Pashtun ethnic group. Mainly originating in the northwest of Pakistan in the provinces bordering Afghanistan, this ethnic group has been targeted the most by Pakistan's "war on terror" policies, which involve mass-scale forced "disappearing" of people (an international crime against humanity), arrests and military action. While mainstream media has largely avoided covering the PTM in Pakistan — and has at times been directly censored — the group's leaders have got the news out by using Facebook Live to stream rallies and incidents of harassment by police. They have also collected photographs and testimonies from families of people who have disappeared, archival work that has been orchestrated online.
Over the last two years, there have been internet blackouts in the Federally Administered Tribal Areas (FATA), where many of PTM's leaders come from. "They would travel from their district in FATA to Peshawar [the nearest major city] once a week just to use the internet to post content about the PTM or videos they had made and then go back," says Shmyla Khan, a project manager at the Digital Rights Foundation in Pakistan. "It shows the importance of the internet and using that as a tool — but also the obstacles they were facing. It's a real success story."
In March 2018, a women's march was held in Pakistan. Hundreds of women turned up to protest against patriarchal norms and gender-based oppression. Held on International Women's Day, at the same time as many similar marches took place around the world, the protest in Karachi had a distinctly local flavour.
"Paratha rolls, not gender roles," read one placard. In a context where it is not a societal norm for women to gather outside the home, the march itself was a revolutionary act. "This was one example of online spaces being used to mobilize protestors and that translating into women actually showing up offline," says Khan.
The targeted harassment of individuals who express dissent demonstrates that social media can not only provide a platform for the marginalized, but also facilitate their victimization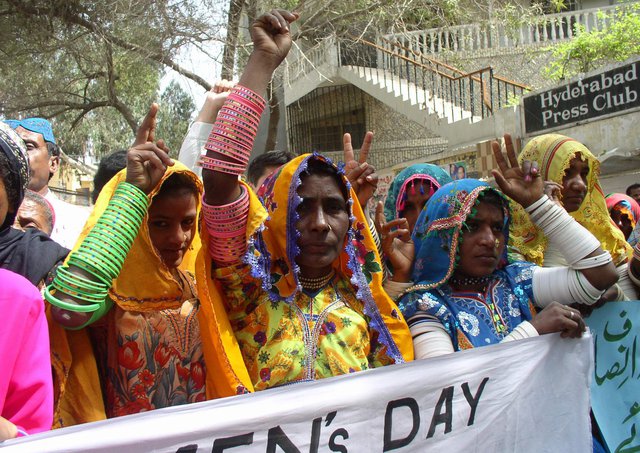 On the face of it, the outcome was uncomplicatedly positive: social media had been used to facilitate an event that might otherwise have been impossible to organize. But the aftermath of the march demonstrated that social media can also be used to suppress and intimidate. Photographs of women bearing placards and marching on the streets of Karachi were widely shared on mainstream news platforms, as well as on Facebook and Twitter. It didn't take long for some of the photos to appear on Facebook pages that opposed women's rights.
"A lot of protestors were personally targeted and faced hate and backlash online," says Khan. Her organization, the Digital Rights Foundation, works to support victims of online harassment, running a cyber harassment helpline. They were contacted by numerous women who had been targeted, and they stepped into action by asking Facebook and Twitter to remove the images. In some of the photographs being shared, individual women's faces had been circled as if to indicate that they were a target. The captions underneath directly incited violence.
Despite these details, Khan did not get a helpful response from the social media companies.
"We were told 'this doesn't count as harassment.'" According to Khan, the companies' argued that the photographs were taken at a public march, so the women had a reasonable expectation of being photographed — and the people making threats were exercising their right to free expression.
Rana Ayyub's case shows how distressing — and dangerous — the spread of disinformation can be. Soon after the false tweets emerged in April, a group of UN special rapporteurs took the unusual step of releasing a statement in response.
"We are highly concerned that the life of Rana Ayyub is at serious risk following these graphic and disturbing threats," it said. They referred to the murder of Indian journalist Gauri Lankesh in September 2017, following death threats. Shortly before her death, Lankesh had published a translation of Ayyub's book Gujarat Files.
The aforementioned videos disseminated on WhatsApp played off increasing communal tensions between Hindus and Muslims. Of course, WhatsApp can't be blamed for the tensions, but it does appear to be fanning the flames.
"Rumours have existed for centuries, and much has been written about how violence and rumours are connected," says Contractor. "Smartphones complicate this, as technology has an effect on how [rumour] spreads. But in theory, smartphones also have the scope to stop rumours faster. It goes both ways."
In response to the drastic upsurge in WhatsApp-related violence in India, officials at the company have told journalists they are concerned about misuse of the platform. WhatsApp's terms of service forbid hate speech, threats of violence and false statements. But the nature of the platform makes it very difficult to police these — it was designed for person-to-person communication and so, unlike Facebook or Twitter, messages cannot easily be monitored, because they are not public. Messages are end-to-end encrypted, so they are only visible on the phones sending or receiving them, and it is not possible to track where a forwarded fake video originated.
When it comes to targeted campaigns of harassment against individuals, women make up a majority of the victims. This fact is in keeping with trends the world over: a recent report by Amnesty International found that one in five women in the United Kingdom had suffered online abuse. In Pakistan, Khan has worked with numerous women who have suffered very similar treatment to that endured by Ayyub.
"Often, it's after a woman has criticized a particular party or political leader. Attacks on her will be retweeted by supporters, with language geared toward incitement. It will be copied and shared onto groups on Facebook, copied onto other platforms via screenshots. It seems to be pretty coordinated, and it comes from particular parties."
In Pakistan, former cricketer Imran Khan's party, the Pakistan Tehreek-e-Insaf (PTI), is notorious for orchestrating these kinds of pile-ons on Twitter. But the current party of government, the Pakistan Muslim League – Nawaz, has made a conscious effort to improve its social media presence in recent months, and now appears to be employing a similar attack approach.
Sometimes, these campaigns can be inane. I often cover Pakistani politics, and following a 2015 article on the subject, I awoke one morning to more than 200 Twitter notifications, I found that PTI supporters had taken a passing sentence from my article that referred to a rival political party that engaged in violence and used it out of context. They had found photographs of me speaking at a public event in London, and created four or five different memes featuring me on one side, and Altaf Hussain, the leader of the rival party, on the other, with Urdu slogans over the top about my apparently brave opposition to his party. Some of them featured superimposed images of bloodied hands and thanked me for raising my voice. It trended on Twitter in Pakistan under the hashtag #SamiraAgainstAltafImpunity, with the images shared and retweeted by hundreds of PTI-affiliated accounts. Ultimately, the incident did not lead to more unpleasant harassment, but it demonstrated to me personally how quickly disinformation can spread, and how coordinated it can be.
Social media has been vital to Modi's rise, and to date, he is the world's second-most popular Twitter politician, after Donald Trump.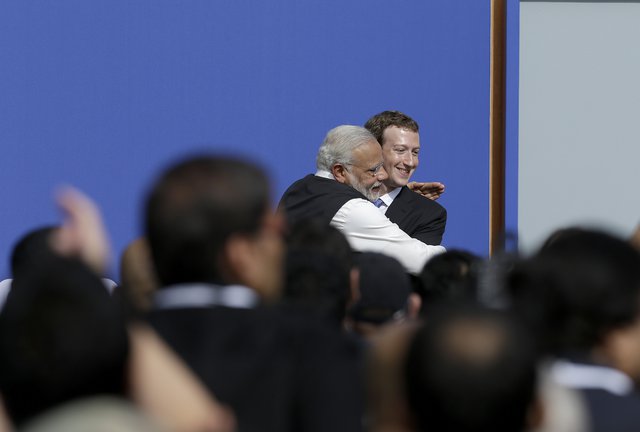 Both India and Pakistan are undergoing drastic changes beyond the rise of social media. Exhausted by growing economic inequality, people are becoming disillusioned with dynastic politics, as is evident in the rise of populist politicians who promise to end corruption — Modi in government in India, Imran Khan in opposition in Pakistan. Modi, the son of a tea-seller and one of a handful of lower-caste politicians to make it to the upper echelons of power, is seen in some ways as the embodiment of the new India. Social media has been vital to his rise, and to date, he is the world's second-most popular Twitter politician, after Donald Trump (Modi has 43.3 million followers, Trump 53.2 million). Khan, despite his fame and riches, does not hail from a political dynasty and has pledged to clean up politics. This is a popular message. And easy-to-access smartphones and social media are allowing previously excluded people to participate in the public debate, and forcing elites to take notice.
Over the last few years in Pakistan, numerous videos showing voters confronting politicians have gone viral.
"It's the first time in the history of Pakistan that the culture of interaction between dynastic politicians and the general public has changed," says Khalid Jarral, a doctoral researcher at the University of Nottingham's Asia Research Institute. "In the past, politicians would be accompanied by an army of armed guards who were seen pushing the people away from those politicians and [creating] an atmosphere of fear, demanding respect. Now we see that the same politicians have become more polite and mixed with their potential voters, eating with poor people, hugging them and taking selfies. Voters are challenging politicians and questioning their past performance and credibility as future representatives."
As always, though, the overall picture is complicated. The targeted harassment of individuals who express dissent demonstrates that social media can not only provide a platform for the marginalized, but also facilitate their victimization. The potential costs of this rapid spread of disinformation are clear, most painfully demonstrated in the scores of deaths in India.
Even as more people are given a voice in the political debate on both sides of the border, the level of coordinated harassment and disinformation carries the obvious risk of reducing freedom of expression. "They made me an example," says Ayyub. "It's like sending a message to all critics: 'We won't accept it. This is what we're going to do to you.'"