Ramtha, Jordan, is a small, impoverished town on the border shared with Syria. For generations, citizens have crossed back and forth over the border daily. After the war began in 2011, many who crossed the border into Jordan stayed there. (The border was closed soon afterwards).
Since the conflict in Syria broke out, Ramtha's population has doubled. Aida Abadi, 43, is among those who fled their homes in Syria to seek safety here. Her husband was killed in the war, leaving her solely responsible for three children. "When I came to Jordan, I didn't want to do anything except for go back home," she says. "I realized I couldn't sit in my house forever, because there were bills to pay and my children needed clothes."
"I realized I couldn't sit in my house forever, because there were bills to pay and my children needed clothes."
She attended a three-month business skills class run by the International Rescue Committee, an American non-governmental organization (NGO), learning knitting and sewing. "It was the best time of my life," she says. "I made friends, and I realized that even though I had never worked, maybe I could do something to provide for my children." Abadi applied for a grant to buy a sewing machine, and now has a small income. It isn't enough to comfortably cover the family's costs, but it is something to augment the food vouchers they receive from the World Food Programme.
Abadi is one of many Syrian refugee women who, suddenly finding themselves without a male guardian, are entering the workforce and disrupting traditional gender dynamics. Studies show that at least one-third of Syrian refugee households in Jordan and Lebanon are headed by women, because men are more likely to enlist or be drafted, or to be detained. Given the dizzying scale of displacement, this means a significant number of women are heading households. There are officially 600,000 Syrian refugees in Jordan and one million in Lebanon, but many more are unregistered, and the real numbers are thought to be significantly higher.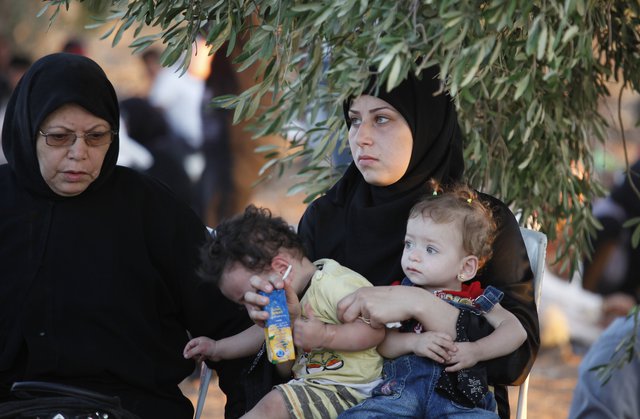 The large number of female-headed households in the Syrian refugee population reflects the global migration crisis. Women and girls make up half of the 19.5 million refugees around the world. Displaced women face a whole host of gender-specific challenges. According to the United Nations, one in five refugee or displaced women have experienced sexual violence; these women have increased chances of early marriage and suffer a higher rate of maternal death than the general population. The data suggests that when it comes to protracted, long-term displacement, women outnumber men, and their economic prospects worsen over time. Hailing from societies in which men are the primary breadwinners, many women refugees are working for the first time, all the while maintaining responsibility for their children.
The women — and their families — fleeing Syria exist in a kind of limbo with uncertain immigration and economic status. Despite these obstacles, they are also forging a new way of living. Could the disruption of war and displacement change the position of Syrian women for good?
"In a patriarchal environment, it is often easier for women to have a male 'guardian,' be it the father, brother or husband," says Lana Khattab, a gender specialist who now works at the Danish Refugee Council's Durable Solutions Platform. "A Syrian refugee woman heading the household alone has challenges such as ensuring that there are enough resources for the family to live on; being forced to work, often in informal and precarious contexts while being underpaid and exposed to potential exploitation and abuse; being forced to take children out of school because of inability to cover school or transportation fees; having difficulties paying rent; facing limited mobility; and, not least, their family members being at risk of trauma and deteriorating health."
Abadi's story isn't unique. A 2018 report by UN Women, based on interviews with more than 1,000 Syrian women in Iraq, Lebanon and Jordan, found that most "have played bigger roles at home and in the community since the onset of the war. The hardships of displacement have shaken traditional patriarchal conceptions of women's roles and responsibility; the need for women to work and provide for their families emerged as a primary concern and challenge for female refugees across all countries."
Syrian women are entering the workforce in unprecedented numbers, but opportunities are limited, with already high unemployment rates in host countries exacerbated by the massive influx of refugees. While some refugee women can make an income from small-scale entrepreneurship, the market is crowded, and the money available for this type of work is limited. According to a 2017 study by CARE International, four out of five Syrian households in Jordan live under the poverty line. Those headed by women are even more likely to be poor.
Across the region, there is a flurry of NGO activity around empowering women and helping them into the labour market, with skills workshops and courses in entrepreneurship available to refugees. Often, these focus on home-based work that conforms to traditional gender roles — cooking, tailoring, hairstyling and beauty services. The rationale is that training women to work in these fields will allow them to avoid sexual harassment, because in a gender segregated society, they would almost exclusively be working with other women, both as colleagues and, when it comes to hair and beauty, as clients. Such work also theoretically allows women to combine a sustainable livelihood with childcare responsibilities, because it can be carried out on a freelance basis from the home. In a 2014 survey by the United Nations High Commissioner for Refugees, 60 percent of Syrian women in Jordan, Lebanon and Turkey said that they feared violence or harassment.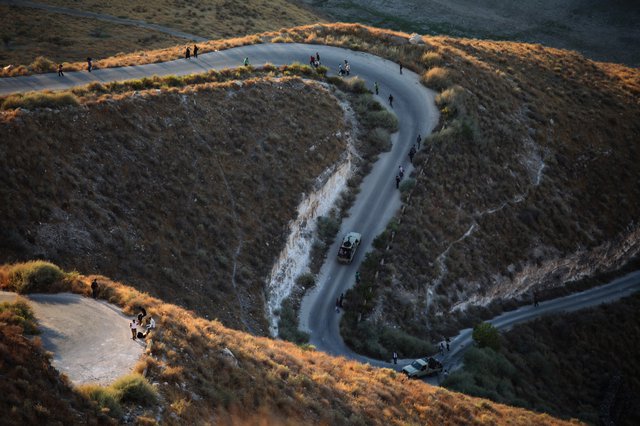 "We are seeing more Syrian women who are taking the lead, initiating opportunities of dignifying and sustainable livelihoods for themselves and their families," says Sawsan Mohammed, lead on gender at the Jordan branch of CARE International. "Some are realizing that this is turning into an opportunity. They say there is no return back to the previous life, when they were passive, when they did not contribute to the decision-making process within their families."
Mohammed notes that so much NGO activity is targeted at women — from leadership programs to business skills training — that it runs the risk of creating resentment among Syrian men. "This is an opportunity, but it has to be dealt with very carefully," she says. "Male refugees need some time to digest the need to reconsider their traditional gender roles here in Jordan, so that efforts don't backfire onto women."
Throughout history, war has been a turning point for female emancipation. World War II is generally considered a pivotal moment in the position of women in Britain, for instance: by the middle of 1943, 90 percent of single women and 80 percent of married women worked in factories, on the land or in the armed forces. Although many returned to the home when the war ended, historians see the war as a turning point. A similar trend is evident within Syria. In 2010, before the uprisings began, only 22 percent of Syrian women participated in the workforce, and those who did work earned significantly less than men. But since 2011, within the country women are leading the informal humanitarian sector, training as paramedics and entering industries formerly closed off to them, such as agriculture. Those who were already working as teachers or doctors are taking on more senior roles.
"I believe that once women and girls are empowered socially and economically, once they are aware of their rights and the need of social and gender justice, there is no way that they would return back to their previous life."
It's unclear how long women entering the workforce and taking on new leadership roles will last, given pervasive patriarchal gender norms. Mohammed is optimistic: "I believe that once women and girls are empowered socially and economically, once they are aware of their rights and the need of social and gender justice, there is no way that they would return back to their previous life."
Some Syrian feminists are actively working to ensure that this is the case. Women Now for Development is a grassroots organization, founded by Syrian writer Samar Yazbek in 2012. It has two centres in Lebanon and four within Syria. Like most refugee women's centres, the office in Lebanon's Bekaa Valley runs skills classes focused on English language and technology, and offers psychological support. The difference at Women Now is its explicitly political agenda. The Syrian women who run the organization want to bridge the gap between the extremely disadvantaged women living as refugees who use its services, and the privileged women engaged in Syrian politics. Their ultimate aim is for women's concerns and voices to be represented at peace talks and to have a meaningful seat at the table in postwar Syria. "There is a big gap between the women in Geneva [at peace talks] and the women here at this centre," says Ola El-Jindi, a program manager with the NGO. "But our first goal is not only participating in international peace talks. It is to make women empowered enough to participate in general."
No one can say with any certainty whether the shifts in gender roles happening among displaced populations will translate into lasting change in postwar Syria, but many are hoping it will.
"This is the chance the war gave us — to empower women," says El-Jindi. "If we didn't use it well, it would be another disaster of war. We must use this opportunity to do better things."