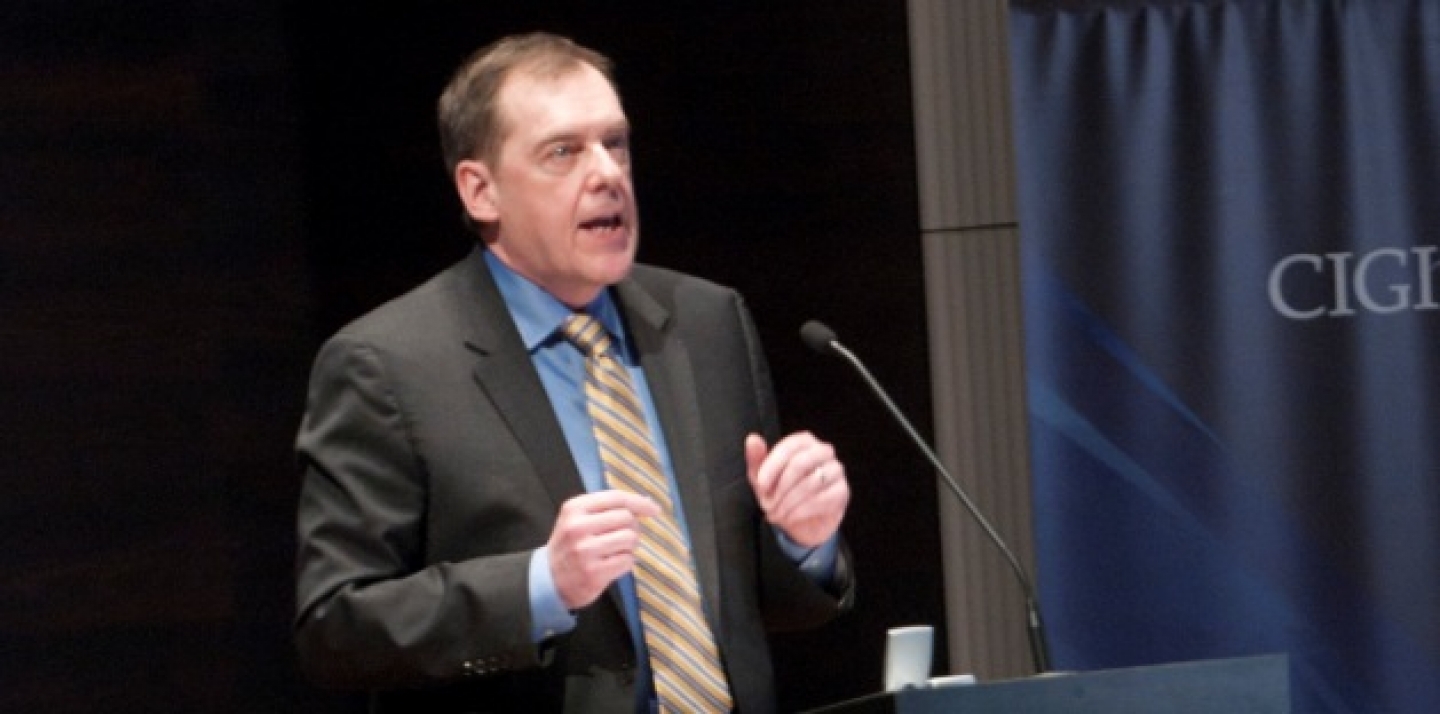 At our most recent Signature Lecture, CIGI Senior Fellow John Ibbitson spoke on the past, present and future of Canadian foreign policy. More specifically, he discussed how Canada's current Conservative government has transformed the country's foreign policy.
To understand the foundation of Prime Minister Stephen Harper's foreign policy over the past eight years, Ibbitson explained, you must understand the unique electoral coalition that sustains it. There has never been anything like it before in Canadian politics, he said.
Ibbitson, an award-winning writer and political journalist in Canada who is currently on leave from The Globe and Mail, spoke on what he calls "the big break." With the election of the first Harper government in 2006, came the biggest shift in Canadian foreign policy since the Second World War. This government's external affairs are in many respects, Ibbitson explained, the polar opposite of everything that came before it.
Elite leadership from the St. Lawrence watershed — principally from Toronto, Ottawa and Montreal — has been passed on from confederation and run Canada on all great issues of the day, until very recently. Two major demographic shifts that those of the Laurentian worldview could neither predict nor control have had a major impact on the development of federal policy. First, Western Canada's population and wealth grew faster than anticipated. And second, the major boom in immigration, almost all from Asia and the pacific, to the "905" have begun voting Conservative.
It is hugely important to always bear in mind who is in and who is outside of the Conservative coalition: rural Ontario, suburban immigrant Ontario, suburban non-immigration Ontario, rural and prairie voters, rural and suburban British Columbia voters — this is the Conservative coalition and the foreign policy of the Conservative government reflects its values, Ibbitson explained.
Ibbitson answered questions from the audience on themes including tension between Canadian diplomats and bureaucrats within the foreign affairs department and the politicians within the Harper government, as well as questions on how the Conservative government might be damaging foreign relations by catering to its coalition. He also answered a question on whether or not recent trends in Canadian foreign policy would be inevitable given international events. Yes, forces such as emerging markets, the reorientation of the global economy after the financial crisis and the rise of China are driving shifts in the domestic agenda, Ibbitson said. The only difference is that while the Liberals would have done it, the Conservatives are doing it with enthusiasm.
To watch Ibbiston's lecture, visit: http://www.cigionline.org/videos/harper-doctrine-conservative-foreign-policy-revolution. You can follow him on Twitter at @JohnIbbitson and read his blog at: http://www.cigionline.org/blogs/john-ibbitson.
 HAVE YOUR SAY: If you attended this lecture, caught the webcast or watched the archived video, we would love to hear your thoughts on the presentation. Start a dialogue by adding your comments below.