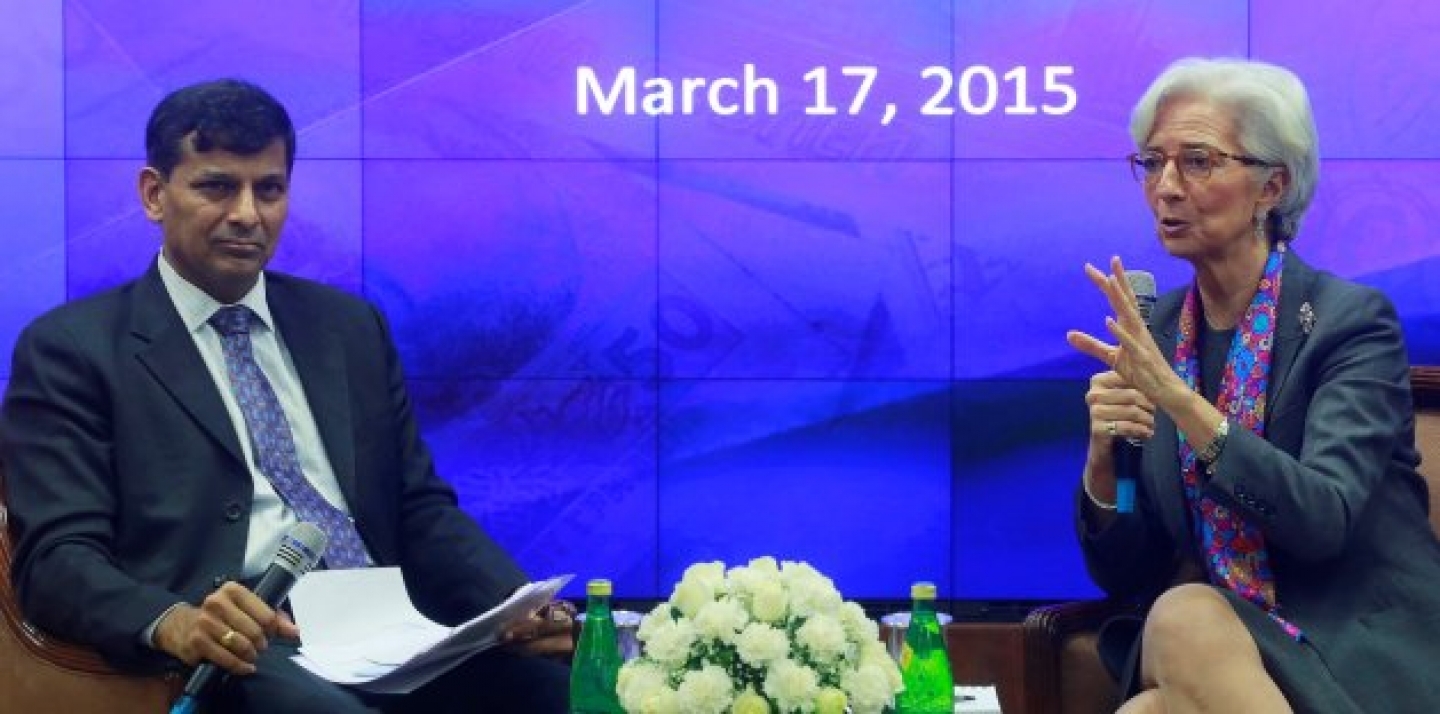 A short item on something that's been debated for too long a time.
"Debate" probably is the wrong verb. This is a post about the fair representation for emerging-market countries at international institutions and there really isn't much debate around the idea that current arrangements are unjust. Yet here we are, in the year 2015, and Belgium still has more votes at the IMF than Brazil. Why is obvious change so difficult to achieve? (Don't answer that. It's a rhetorical question.)
Change could yet come. I was told at the annual meetings of the International Monetary Fund and World Bank in Lima that the Obama administration was telling people that the US would ratify changes in governance of the fund -- agreed by most everyone else several years ago -- before the G20 summit in Turkey next month. Any pledge by the White House on this matter should be met skeptically. It is unclear if anything has changed in Washington. Leadership in Congress is in flux, with John Boehner's resignation as House speaker. He will be replaced by Paul Ryan. "The House is broken," Ryan said after his election this week, according to Politico. "We're not solving problems, we're adding to them. And I'm not interested in laying blame. We're not settling scores, we're wiping the slate clean."
Ryan, the Republican Party's 2012 vice-presidential candidate and the former chairman of the House budget committee, struck a deal with his Democratic counterpart in the Senate in 2013 that brought fiscal peace for two years. There will be spending bills to which the IMF measure could be attached. Perhaps Ryan's ascent shows politics in Washington have softened? He won 236 of 245 Republican votes. Ryan's party is with him, for now.
Leaders in countries such as China and India are tired of having their places in global institutions dictated by the whims of American politics. And European politics, for that matter. Christine Lagarde, the former French finance minister, let it be known in Lima that she would like to serve another term as the IMF's managing director. Her wish likely will be granted, thus extending Europe's hold on the fund's top job. It's little wonder Beijing has moved on, putting its emphasis on creating the Asian Infrastructure Investment Bank. China and the other BRICS countries also appear serious about making the New Development Bank a going concern.
There is no doubt that the existing world order has been unkind to the countries that would like to help create a new one. Yet emerging markets could do better at leveraging the system as it exists now. If they really want to break Europe's grip on the job of IMF managing director, they need only coalesce around a single candidate. Few think they will do this. Too many regional jealousies, one is told. China would never allow an Indian to be the first non-European head of the IMF, and vice versa. Same for Argentina, Brazil and Mexico. The US has its veto and the Europeans have unity through the European Union. Emerging markets have neither. That's why the status quo prevails.
Yet it need not. There are subtler ways for non-Americans and non-Europeans to wield influence. Gateway House hosted a Think20 event in Mumbai earlier this month that featured Reserve Bank of India governor Raghuram Rajan as the star attraction. Rajan knows some things about how the world works. He was a chief economist at the the IMF and he was the top economic adviser of the previous Indian prime minister before he was appointed to his current job. Rajan's advisory job put him at the centre of G20 policy making as one of the Indian representatives on a subcommittee that India co-chaired with Canada.
Rajan said the committee did good work. But it was Ottawa that set the tone. "Canada would send seven strong economists to this group," Rajan said, overwhelming the handful of Indian representatives.
India's central bank governor said it's fine to complain about the unfairness of the IMF voting structure. But emerging markets should realize also that in some cases they are shut out because they don't put enough good people at the table, Rajan said. Canadians tended to dictate the work of the Canada-India subcommittee simply because there were so many of them. While emerging markets are waiting for the US Congress to approve IMF quota reform, they should be training and hiring more world-class economists, Rajan advised. "It makes a big difference who holds the pen," he said.
While emerging markets are waiting for the US Congress to approve IMF quota reform, they should be training and hiring more world-class economists, Rajan advised. "It makes a big difference who holds the pen," he said.