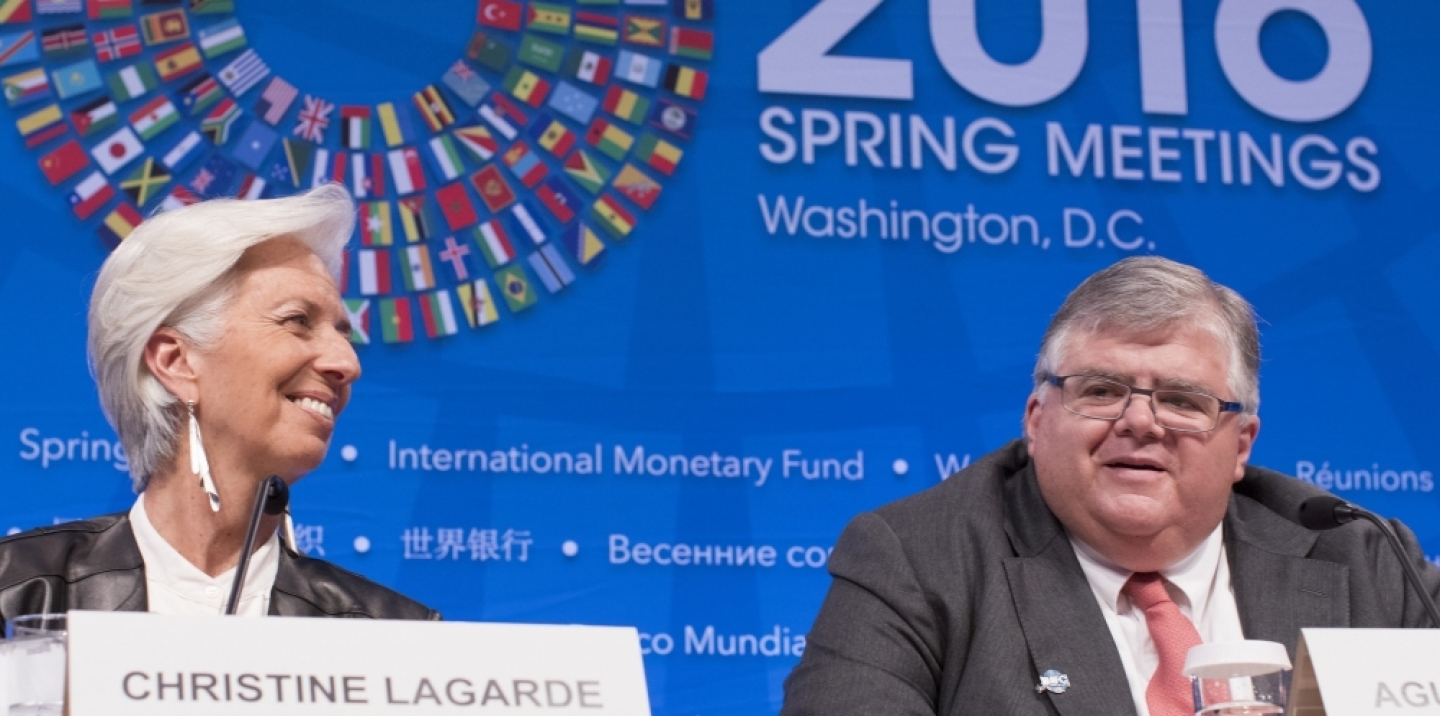 Never let anyone tell you all the talking that goes on at the IMF's various gatherings is a complete waste of time. Over a few days of back-to-back meetings in Washington last week, the world's finance ministers and central bankers decided things weren't quite as bad as they thought when arrived.
"You know, in a way, the IMFC [International Monetary and Financial Committee], and the meetings that precede the IMFC, is a bit of a therapy, collective therapy to move from the negative situation that we are facing and the challenges on the horizon, to a positive approach in order to identify the solutions that will respond to the challenges," Lagarde said on April 16 at a press conference. "I think that has worked."
Canada's lead participants, Finance Minister Bill Morneau and Bank of Canada Governor Stephen Poloz, made similar comments a day earlier. Poloz had just released a new economic outlook that cut the central bank's forecast for global economic growth to 3 percent from 3.3 percent a few months earlier. "I feel a little more encouraged than when I arrived," Poloz said at a briefing with reporters on April 15 after he and Morneau met with their G20 counterparts.
These were a difficult set of meetings to judge. Journalists spent the weekend lamenting the absence of a story. That's a positive indicator – the reporters who cover the G20 and the IMF and the World Bank are happiest when there is a crisis somewhere. The IMF's new World Economic Outlook and its unusually long list of things that could go wrong had set a negative tone at the start of the week. But that's part of the job of the IMF's chief economist.
"Almost by nature, the fund has to be very prudent in terms of its point of view," said Agustin Carstens, the head of the Mexican central bank and chairman of the IMFC. "As a matter of fact, from our last meeting to this meeting, those downside risks have increased. This is important because it signals to the countries precisely the degree of urgency to implement policy measures that were discussed and advocated for, that they really need to get going with those policies."
You can see what Carstens was doing there. A sense of imminent doom helps fight complacency. When the G20 met earlier this year, global financial markets were in turmoil. Ahead of the meetings, they were stable. That mostly explains the subtle shift in mood. But there still is much work to do if leading governments are serious about saving their economies from the threat of stagnation. Carstens wanted to make sure everyone understood that it will take more than one successful therapy session to fix all that troubles the global economy.
A more aggressive policy response is needed. For years, politicians have been letting their central banks take all the risks. Monetary policy still can help, but it's power is diminished. Private debt levels have risen to the point that the impulse to save will offset any impulse to spend that would come from yet lower interest rates. The IMF seems to have at least orchestrated a shift in the consensus on the need for more fiscal stimulus and productivity-enhancing reforms.
Most traces of the austerity agenda have been wiped from the communiqués of the G20 and the IMFC. Morneau, who plans deficits to cut taxes and spend heavily on infrastructure, said Canada's example had an impact on the debate. 
Overall, the general mood at the IMF Spring Meetings was set by other developments too. The freefall of commodity prices appeared to be over. China was doing a better job of explaining itself and new data showed economic growth is within Beijing's target range of 6.5 percent to 7 percent. And the U.S. Federal Reserve had made clear that now it planned to raise interest rates far more slowly than it thought it might at the end of last year. 
A sense of imminent doom helps fight complacency. When the G20 met earlier this year, global financial markets were in turmoil. Ahead of the meetings, they were stable. That mostly explains the subtle shift in mood. But there still is much work to do if l