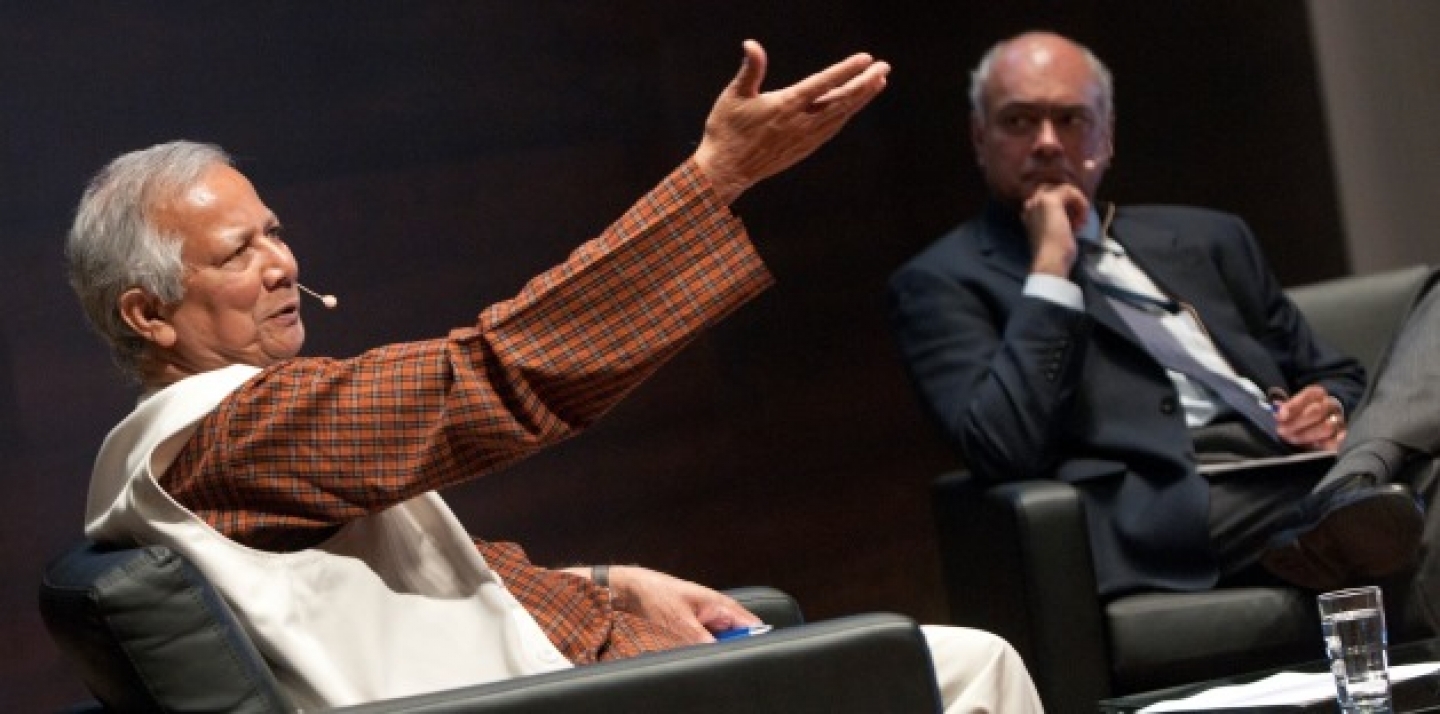 "Inspirational" was the word fluttering through the crowd following the lecture by Nobel Peace Laureate Professor Muhammad Yunus – and appropriately so. Yunus's account of his exposure to Bangladeshi poverty and his desire to financially empower the poor people of Bangladesh left nearly everyone in the auditorium on their feet in applause. However, as he chronicled the creation of the Grameen Bank and described the societal issues that continue to drive him, Yunus seemed much less concerned with impressing listeners, than he did with moving them to creative and selfless action.
Yunus's own journey began in 1976. Seeing the desperation of a poor woman indebted to a loan shark, Yunus gave the woman the equivalent of $27, enough to buy her financial freedom. However, this one act was not enough to satisfy Yunus desire to help. He began lending money to more people who were unable to apply for conventional bank loans. Eventually, his passion for lending to the poor grew into the Grameen Bank, an institution now serving 8.5 million borrowers and facilitating $1.5 billion in lending in Bangladesh alone.
The Grameen Bank builds its clientele by seeking out the poorest, most downtrodden people and instilling in them the confidence to accept a loan and start their own business. Rather than questioning their business skills, Yunus believes the poorest among us are the most motivated entrepreneurial candidates. Their instinct to survive is the best tool an entrepreneur can have: it drives them to create new and innovative opportunities. "The fact that [these people] are alive, and they are alive in such a hostile environment, tells a bigger story," said Yunus. "They have a tremendous ability to overcome and fight." The financial success they experience subsequently motivates others to become borrowers, perpetuating a sustainable system of entrepreneurs able to financially support themselves and their families.
Starting out, Yunus explained that he didn't have a grand vision for a billion dollar bank; he simply took it one step at a time, identifying problems and creating solutions. Key to his creative process were two simple codes: serve all people – both the poor and rich – and abandon personal profit. He suggested that these guidelines enable people to see the world differently and allow them to unleash creative solutions for major world issues, ultimately, enhancing society for all – especially the poor.
 "We make our fate," said Yunus. "Don't submit to what is presented to us, we make our world." His worldview and the vision of the Grameen Bank are hung on this ideology. By identifying problems and channelling one's creativity and selflessness to find solutions for all people, Yunus argues, "We can have the world we want to have; we can use our creative power to make the world we like."
Seeing the poor struggling to making a sustainable living in Bangladesh drove Yunus to take action. How will your inspiration breed innovative and selfless solutions?