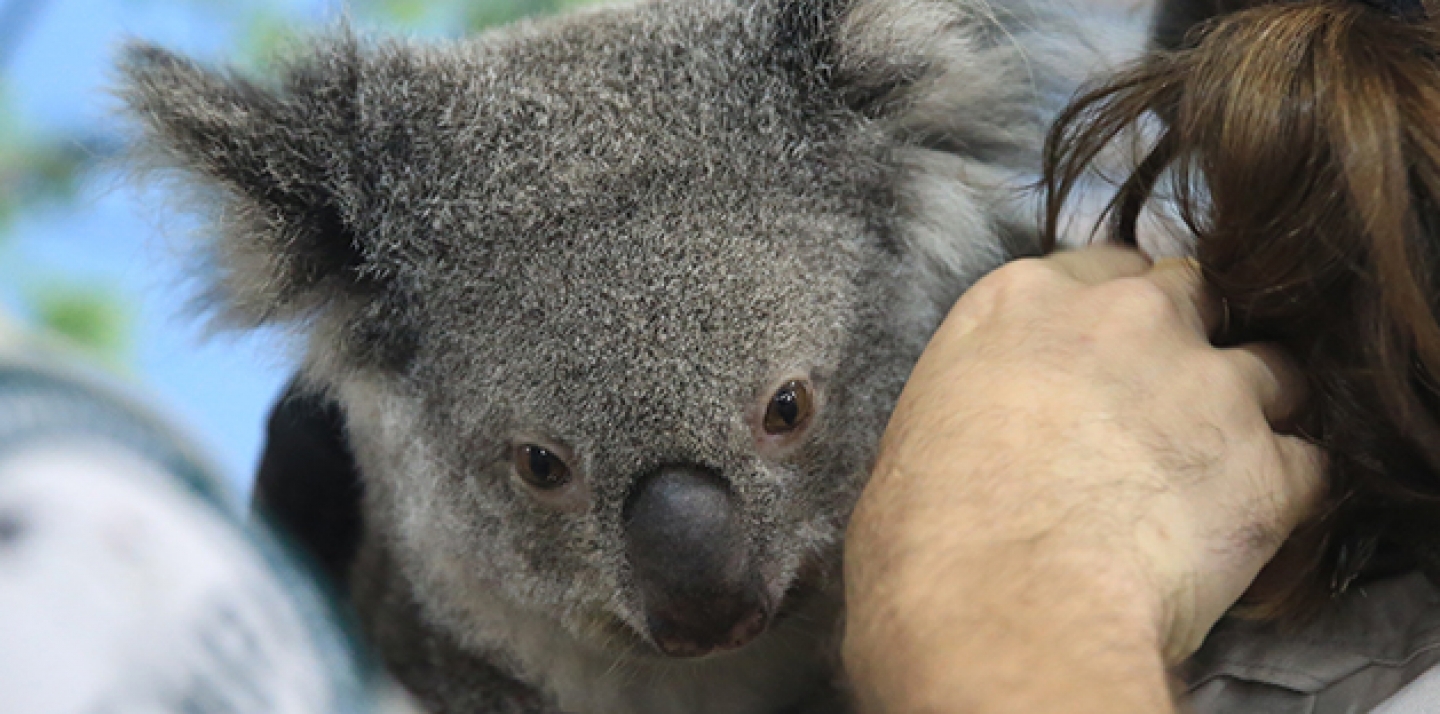 So far, among six media centres I've seen at successive G20 summits, this is the only one that featured a koala bear.
Let's look back, for a moment. The media centre at Toronto's Exhibition Place in June 2010 was most famous for its "fake lake," giving international journalists a mock Canadian backdrop furnished with Muskoka chairs and supplied with craft Ontario beers.
The media centre at Seoul, Korea, in November 2010 was notable for its white-linen dining hall with rows of neatly bowing waiters in formal, black dinner jackets. And no alcohol, to the distress of the press corps.
Cannes, France, in November 2011 put 1,400 visiting journalists in a windowless basement decorated  with lime green shag carpet and lime green walls. Because it rained through most of the summit, the airless, close quarters began to smell of wet dog.
Los Cabos in 2012 was more idyllic, the media centre located in a sunny, beachside resort hotel visited daily by a squad of "Corona girls" to market that brand of beer, poolside.
At St. Petersburg in 2013, Russian organizers put the international media in a tent city, accessible only by ferry boat across Neva Bay, and separated by barbed wire from the former Tsarist palace where the G20 leaders met.
Here in Brisbane in November 2014, the G20 media centre is in a hangar-sized, downtown convention centre, with hundreds of desks in endless rows, awaiting the waves of reporters who will arrive in the next 24 hours, some of them on the same planes as their national leaders.
It's spacious, clean and functional – as good as any I've seen – with the usual side displays of national culture and tourism for the media hordes.
The City of Brisbane's Lord Mayor, Graham Quirk, is here to boost his sub-tropical city of 2.2 million to the media. The province of Queensland is similarly promoting tourism and investment opportunities. One can pick up glossy brochures about protection of the Great Barrier Reef, forestry in Tasmania, investment opportunities in New South Wales.
Most of the journalists here aren't interested in any of that. Many are experience-hardened political, business and economic reporters, focused entirely on what the G20 leaders are up to. They want to know whether Barrack Obama will lock horns with Vladimir Putin over Russian incursions in Ukraine. Canadian journalists may be interested to see whether Stephen Harper will fall into line with the US and China on their aggressive, new climate-change targets.  All the media are looking for signs of macro-economic coordination to counter worrisome weakness in the global economy – and what that means for jobs and prosperity back at home.
No one's here to write about didgeridoos or kangaroos.
In democratic and free countries, journalists assigned to follow their national leaders around the world are often the toughest and sharpest of their breed (the situation is a bit different for lapdog media in non-free or less free countries). They've worked their way up the newsroom greasy poles, for the privilege of staffing political bureaus in national capitals for major media companies, earning their stripes by demonstrating their ability to wade through the hype and spin of political handlers, getting the grittier stories demanded by discerning readers. They don't lob soft questions or let their political prey easily off the hook. When they can, they go for the jugular.
Not many of these reporters resemble Elsa, the sleepy koala that was trucked in to the G20 media centre from a Brisbane-area wildlife preserve, for the amusement of the press.
With unbearably cute furry ears, gentle eyes and little round bodies, koalas spend their days lazing about in trees, moving slowly to conserve energy – because they get so little nutrition from their narrow diet of eucalyptus leaves. They're  chubby, laid-back  herbivores.
Her handlers promised to bring Elsa back tomorrow, for another visit.
But for the next few days, this building is the domain of leaner, serious carnivores.