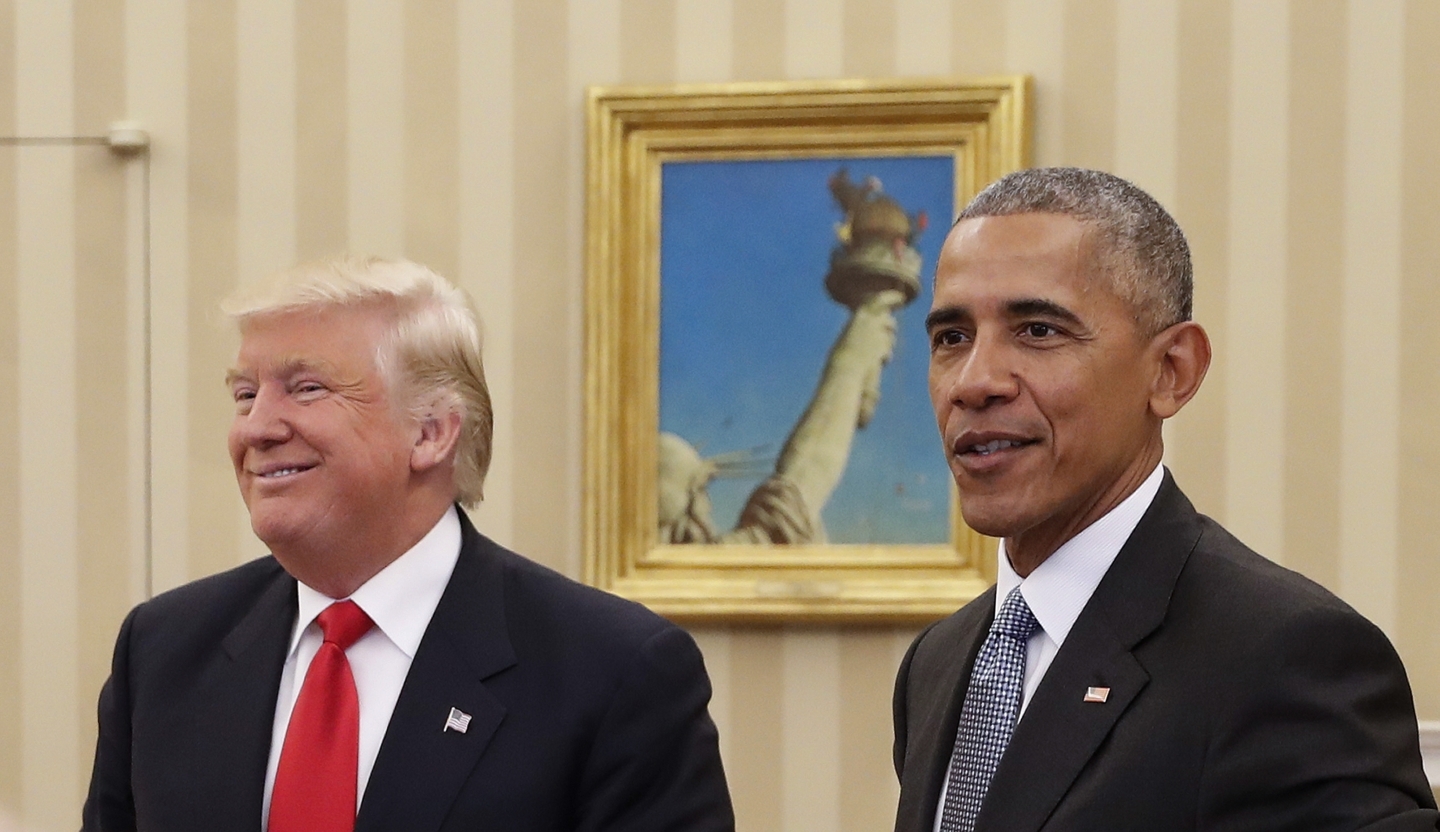 You will have heard and read that it is time to move on.
US president-elect Donald Trump spent months verbally abusing women, immigrants, journalists, "globalists," and many of his fellow Republicans. He now says that it is time for everyone to come together. Republicans preserved their majorities in the House of Representatives and the Senate, heralding legislative harmony for the first time since President Barack Obama led a Democratic landslide in 2008. Stock markets rose.
Obama, who said repeatedly that Trump was "unfit" for the White House, has promised to graciously hand over the keys. Former secretary of state Hillary Clinton, the failed Democratic nominee, asked her supporters to be open-minded about a man who days earlier was basking in chants of "Lock her up!" Canadian Prime Minister Justin Trudeau, a feminist, said he is off to a "strong beginning" with Trump, a misogynist.
So, sunny days ahead for the world's greatest democracy? I doubt it.  
Recent American elections follow a similar pattern. Divisive campaigns beget a boomlet of stories about American emigration to Canada, but also moments of calm, when the nation's leaders promise to heal wounds and to work together. Quite often, one of the two parties has been roughed up by the voters, sapping it of its obstructionist resolve. Blood feuds are set aside to pass a few pieces of bipartisan legislation. Optimistic pundits start writing about how Democratic and Republican leaders finally have figured out that future electoral success lies in disciplining the zealots on their parties' fringes.
But the serenity never lasts. There is little reason to think this time will be any different.
The stock-market rally is easy to explain. Thinly traded futures tanked as it became clear Trump would win. That is because almost no one thought such a thing was possible. But when markets actually opened on Nov. 9, equities surged because Trump likely will be good for the economy in the short term. He may eventually undo the North American Free Trade Agreement and he may start a trade war with China. But before he does any of that, he and the Republican leadership in Congress will use their majority to cut taxes. ("We are going to lower taxes, as you know," Trump said in Washington Nov. 10 after a meeting with House Speaker Paul Ryan, according to Reuters.) Trump also wants to spend hundreds of billions of dollars on infrastructure, an idea that will trouble Republicans who worry about the debt, but for which the future president likely could pull Democratic support. (Clinton also promised infrastructure spending.) It is even possible that Trump and Ryan could convince their Democratic rivals to get behind a broader overhaul of the tax code, as long as the reforms included the end to some of the more egregious benefits exploited by big corporations and hedge-fund managers. Bottom line: the US economy is going to get a shot of fiscal stimulus in 2017.  
That likely will be where bipartisanship ends. After tax cuts and infrastructure, the most prominent items on the Trump agenda are deporting millions of undocumented immigrants, repealing Obama's signature healthcare overhaul, and gutting the Dodd-Frank financial regulations. Those are the foundation stones of Obama's legacy. There will be no room for compromise there.
It would be a mistake to underestimate the Democratic Party. It is wounded. Its leaders thought they were going to retain the presidency and reclaim the Senate. But there is little reason to expect the Democratic minority to rollover. Think back to 2012. After Obama dispatched Mitt Romney, Republicans did some soul searching. They said they erred in letting the Tea Party wing of the party drive the agenda. They said they would work with the other side to show Republicans were more than a party of `No.' But that spirit of bipartisanship faded quickly, and once Republicans triumphed in midterm elections in 2014, it disappeared completely.
Similarly, if there exists an impulse to cooperate with Trump within the Democratic ranks, it won't last long. The party's weakness lies in the electoral college and the distribution of congressional districts. In terms of popular support, it is at least as strong as the Republican Party: Clinton won 60.1 million votes to Trump's 59.8 million. In the two days that followed Trump's victory, thousands of people in a dozen cities took to the streets in protest. The spontaneous display of defiance won't go unnoticed by Democratic leaders. "We will fight back against attacks on Latinos, African Americans, women, Muslims, immigrants, disabled Americans - on anyone," Elizabeth Warren, the Democratic senator from Massachusetts, said on Nov. 10. "Whether Donald Trump sits in a glass tower or sits in the White House, we will not give an inch on this, not now, not ever."
Warren is one of the most popular Democratic figures in the country. And unlike Clinton and Obama, she will still be involved in public life the day after Trump's inauguration on Jan. 20, 2017. American politics as we've come to do it will resume soon thereafter.