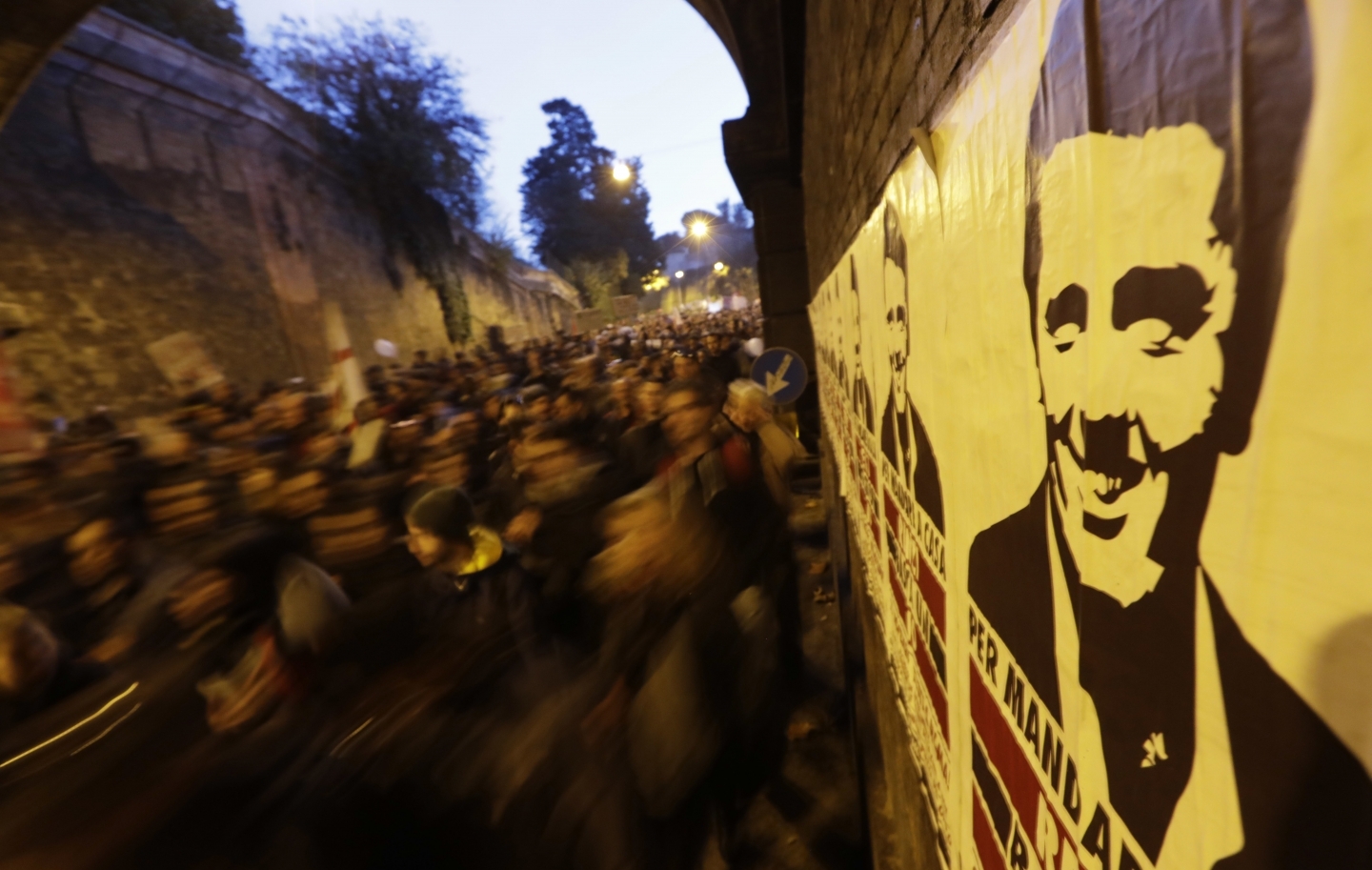 Since the Berlin Wall came down in 1989, Italy has arguably gone through two defining moments that shaped its future. This weekend's referendum on constitutional reform is a strong contender to become a third such critical juncture, although a rejection of Prime Minister Matteo Renzi's flagship proposals might not be the total disaster that some fear.
Silvio Berlusconi's 1994 election victory, his first of three, closed the increasingly corrupt era of post-war domination by the Christian Democrats, and opened the way to more "normal" alternation of coalition governments – some more effective than others – between centre-right and centre-left.
That chapter came to a brutal end in November 2011 – the second defining moment – when crowds jeered and sang Handel's Hallelujah chorus when Berlusconi was unceremoniously forced out of office by a combination of Italian politicking, pressure from Europe and market forces. The imposition of Mario Monti – an ex-EU commissioner and unelected technocrat – as prime minister brought Brussels-endorsed austerity, sank the economy, aroused anti-EU anger and fuelled the dramatic rise of the populist Five Star Movement that is now hammering at Renzi's door.
After the shock Brexit vote and Donald Trump's unexpected victory, it is tempting to paint the possible defeat of Renzi's December 4 referendum as a third triumph of populist forces against the establishment – and just a warm-up for maybe an even more shattering outcome when France elects its new president next May. But as is so often the case with Italy, it is never so simple.
The outcome of the referendum – and a range of opinion polls gave the "no" camp a sizeable lead before a pre-vote blackout – might not have had such far-reaching consequences if Renzi had not staked his political future on its success, promising to resign and even quit politics should he lose. The vote risks being a referendum on 2-1/2 years in office for a leader who, like Monti, was not directly elected by the people.
After a series of political earthquakes that have shaken the West and rattled international governance institutions, it is an inauspicious moment to put it all on the line.
Italy's economy, third largest in the eurozone, is still deep in a rut. Growth has returned, but at less than one percent this year it lags most of Europe, while youth unemployment is moving back up towards 40 percent. Weighed down by its giant debt burden – now 132 percent of GDP having been at 116 percent when Monti took over – Italy may not regain its 2008 pre-crisis GDP levels for another decade.
Of immediate concern for markets is the possible impact of a "no" vote on Italy's most precarious banks, loaded close to breaking point with non-performing loans while also holding large amounts of Italian government debt. Monte dei Paschi di Siena, which prides itself on being the world's oldest bank, is due to try and make a 5 billion euro cash call in early December. Those prospects are looking grim and may force the government to step in to avert a collapse. Some market pundits are even predicting that shockwaves from a Renzi defeat could plunge the euro to parity with the dollar.
To save the day, Renzi has hired Jim Messina, who ran Barack Obama's re-election campaign in 2012 but was on the losing side in David Cameron's referendum on British membership of the EU this year. Hopes appear to rest on persuading large numbers of undecided voters to turn up for Renzi on the day, with polling stations due to stay open until 11:00 p.m. The machinery of Renzi's centre-left Democratic Party (PD), inherited from the now defunct Communist party, should be able to deliver votes.
But Messina faces in Italy an even more dizzying "no" coalition than the one that defeated him in Britain's referendum on Brexit.
A fair number of voters who say they are against the proposed constitutional changes are essentially centre-left supporters who, like Renzi, want reforms, but maintain the scheme on the ballot is simply wrong.
Paradoxically, Renzi, who was a 39-year-old rank outsider when he became prime minister through a "coup" within his party, is being cast by opponents as the defender of the establishment even though he promised to destroy the existing political order on rising to power. He is the one pushing for ground-breaking changes while those arrayed against him will be voting to preserve a dysfunctional status quo.
As Renzi put it himself in one of his many frenetic campaign rallies, the referendum is a battle between "nostalgia and the future, between those who want to change nothing and those who are looking ahead."
The anti-establishment Five Star Movement, which came within a whisker of winning the 2013 general elections, is joined in the "no" camp by the anti-immigration and equally populist but right-wing Northern League. But the rejectionists also include Berlusconi, Monti, rebels within Renzi's PD and recently The Economist, which as many Italians were quick to point out, is mostly owned by the powerful Agnelli dynasty. They all make for strange bedfellows.
The proposed reforms would drive a stake through the heart of Italy's post-war constitution that was designed to prevent the rise of another Mussolini.
The referendum seeks to change 36 out of the constitution's 139 articles. In essence it would radically end the system of "perfect bicameralism" which gives the senate and "camera", or lower house, equal powers, meaning legislation has to be approved to the letter by both chambers. An emasculation and reduction in size of the senate would, in theory, make for stronger government and faster passage of legislation. The proposed reforms would also give the prime minister far greater say in parliament's election of the head of state who, while largely ceremonial, holds considerable powers in deciding when parliament should be dissolved, elections held and who gets the mandate to form a government.
Finally, the proposed reforms would reduce the powers of Italy's 20 regional governments, handing over authority to the central government on such issues as energy, infrastructure and foreign trade.
The risk is that by stripping away checks and balances on executive power, Renzi could be opening the door at the next elections to the Five Star Movement, which has already won local polls in Rome and Turin.
Led by Beppe Grillo, a comedian and long-time campaigner against the financial scandals of the business elite, the Five Star Movement – as well as the Northern League – would hold a referendum on ditching the euro.
With anti-EU sentiment rising, stoked by Europe's failure to stand by Rome in dealing with a migrant crisis that was treated as an Italian problem, the country's historic relationship with the EU can no longer be taken for granted.
This vote could yet go down the line. Italian commentators have been busy running through the various scenarios should the "no" camp prevail. Renzi does not have to resign as he had said he would, but his credibility would be sorely damaged, and he is as impetuous as he is ambitious, having repeatedly declared he is not going to stay prime minister for the sake of it. The next move would then depend on Sergio Mattarella, the head of state. He could ask Renzi to stay on and seek a vote of confidence in parliament, or he might give the mandate to another senior figure in his party – various names have been floated – to try and form a new government.
In theory the president could dissolve parliament on Renzi's resignation and call snap elections, which are not due to be held until early 2018. But this highlights the complexity of the mess that is largely of Renzi's making. His left-right coalition has already passed a new electoral law, but it only applied to the lower house. In effect Italy does not have a functioning electoral law. This means that the president could decide to give a narrow mandate to a new centre-left government to fix the voting system before moving to elections – predicted by many analysts for early 2017.
The prospect of a Five Star Movement takeover at the next elections would, however, loom large in the political calculus around any new electoral laws.
Should voters reject the proposed reforms, then maintaining the existing parliamentary make-up could thwart outright victory by populists at the next elections. But Italy will have missed a chance, possibly for a long time, to fix a sclerotic system designed for the immediate post-Fascist era.
European Commission President Jean-Claude Juncker told La Stampa the reforms were the right step and he hoped Renzi would win. He also admitted in effect that support expressed by Brussels in the current poisonous climate could be the kiss of death. Should the electorate reject Renzi's radical reform plan this weekend then Italy faces a long period of political uncertainty, and emboldened populists.
Guy Dinmore was the Rome correspondent for the Financial Times from 2007 – 2014