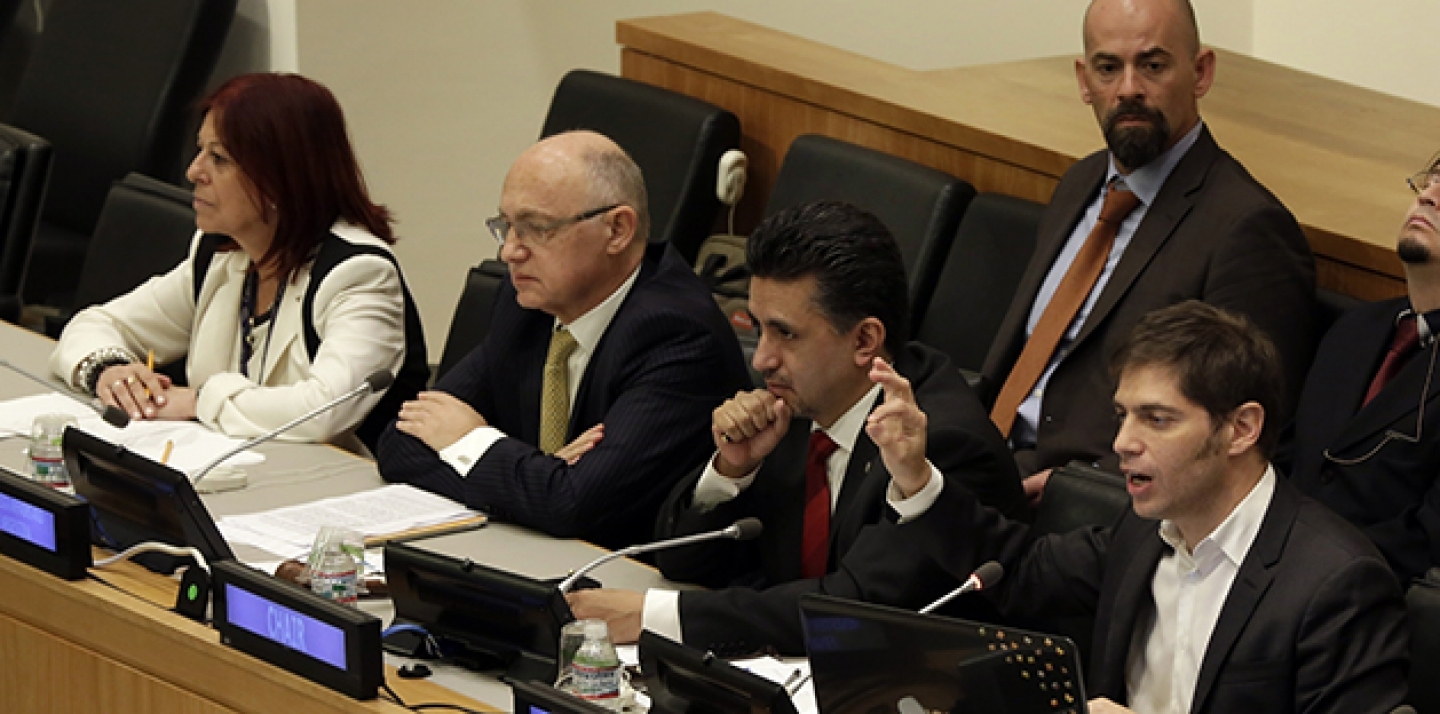 Announced only a few days in advance, the second working session of the UN General Assembly Ad Hoc Committee on Sovereign Debt Restructuring Processes took place on April 28-30, 2015, at UN Headquarters in New York.  CIGI's ILRP participated once again as part of the delegation of the International Insolvency Institute (III). With no documents or news updates posted in advance by the UN Conference on Trade and Development (UNCTAD) Secretariat supporting the initiative, there was a degree of scepticism about the prospect that the meeting would advance efforts to establish a multilateral legal framework for sovereign debt restructuring.
Arriving in Committee Room 2 of UN Headquarters for this second meeting, the more than half empty chamber and the continuing absence of representatives from the more economically developed states augured poorly for hopes of achieving a global consensus on how best to move forward.  The interventions by those who were present (largely G-77 countries, with China, South Africa and Latin American countries being the most active) focused almost universally on criticisms of the hold-out tactics employed by hedge funds (commonly referred to as 'vulture' funds in the distressed sovereign debt context), the impossibility of achieving sustainable development goals when debtor states are subjected to harsh repayment terms, and the importance of protecting the sovereign immunity of states. Senior representatives of El Salvador, Bolivia, Argentina (including Minister of the Economy and Public Finance, Axel Kicillof), Uruguay, Guatemala and Panama all conveyed similar messages, preaching largely to the converted, given the apparently deliberate absence of representatives from the more economically developed states and the principal international financial institutions, the IMF and the World Bank.
Offering some counterbalance, delegates from Brazil, Russia and Singapore urged caution and moderation, pointing out the importance of engaging with other global and regional institutions charged with managing aspects of the sovereign debt problem (e.g., the IMF, World Bank, Paris Club, London Club, and Financial Stability Board).  It was also noted that the Working Group V of the UN Commission on International Trade Law (UNCITRAL) has and continues to be engaged with crafting international instruments in relation to many aspects of insolvency law albeit in the corporate versus sovereign debt context (with its most recent mandate being to develop model legislative provisions on the recognition and enforcement of insolvency-related judgements). And some countries emphasized the importance of states managing their debt burdens responsibly and honouring their debt contracts.  Brazil's representative also called for a comprehensive background paper explaining the extent of the problem. 
Late on the first day, the Secretariat circulated a document entitled Towards a Multilateral Debt Workout Process: Principles, Elements and Institutional Options.  The paper identifies six guiding principles based in general principles of law, customary practice and aspirational soft law, observable in domestic legal practice and confirmed or potentially applicable at the international level, to provide an interpretative framework. These principles are sovereignty, legitimacy, impartiality, transparency, good faith and sustainability. While the general principles seem unassailable, their particular application and admixture in the reform recipe may prove more contentious.
According to the options paper, sovereignty refers to the right of governments to set policies and regulate their own affairs, including the right to incur debt when this is considered beneficial to stimulate the economy or relieve some other domestic crisis, and the right to be supported by the community of states in paying back debt on terms that do not undermine national welfare. Sovereignty thus implies a degree of state consent in the mechanism used for a debt work out.
Legitimacy, the paper continues, implies that the decision-making process and its results must seem broadly justifiable to all stakeholders, in terms of their understanding of the appropriate balancing of interests at stake.  This principle seeks to acknowledge that there are competing and contradictory interests that may not be easily balanced.  For example, sovereign states participating in the commercial bond market are expected to honour their contracts but may need exceptional relief in times of financial distress because of the impact of extreme austerity on their populations and economies. Some creditors want to be able to make and enforce a compromise of their claims through collective action while others prefer to hold out, block the compromise and sue for full satisfaction of their claims.
The options paper explains that impartiality refers to the absence of bias in administration and decision-making relating to sovereign debt work outs. Rule of law is an underpinning for impartiality, in that it requires that decisions be made by impartial adjudicators according to law.  Impartiality thus supports the legitimacy of processes and their results. 
Transparency is said to have two relevant dimensions, first with respect to debtor and creditor positions, projections and indicators for proposed restructurings while respecting confidentiality of negotiations, and second with respect to institutional transparency, avoiding backroom deals and preserving taxpayers' interests.
Good faith is described as a universal principle of both domestic law of contract and public international law, expressed in the concept of pacta sunt servanda. It is considered relevant to all elements of the sovereign debt workout, such that "legal and economic outcomes of sovereign debt workouts meet legitimate expectations".  The behaviour of the so-called vulture funds is considered as contrary to good faith; as is unequal treatment of different creditor stakeholder groups, voting irregularity or other abuse of restructuring processes.
Sovereign debt was described in the options paper as being sustainable if it could be serviced without impairing seriously the social and economic development of society. Debt restructuring must not entail intolerable suffering of the public, but both debtors and creditors bear responsibility to ensure that debt workouts do not damage the goal of international financial stability, cause violations of economic and social rights, or prevent attainment of development goals. The objective of the debt workout process should be to prevent a financial meltdown, achieve an equitable restructuring, and position the debtor state to avoid future financial crises and grow sustainably.
In a follow-up post I will expand further on the broad options presented in the paper, namely: a market based approach, a domestic approach, a semi-formal international approach, and a formal international approach. 
Debt restructuring must not entail intolerable suffering of the public...