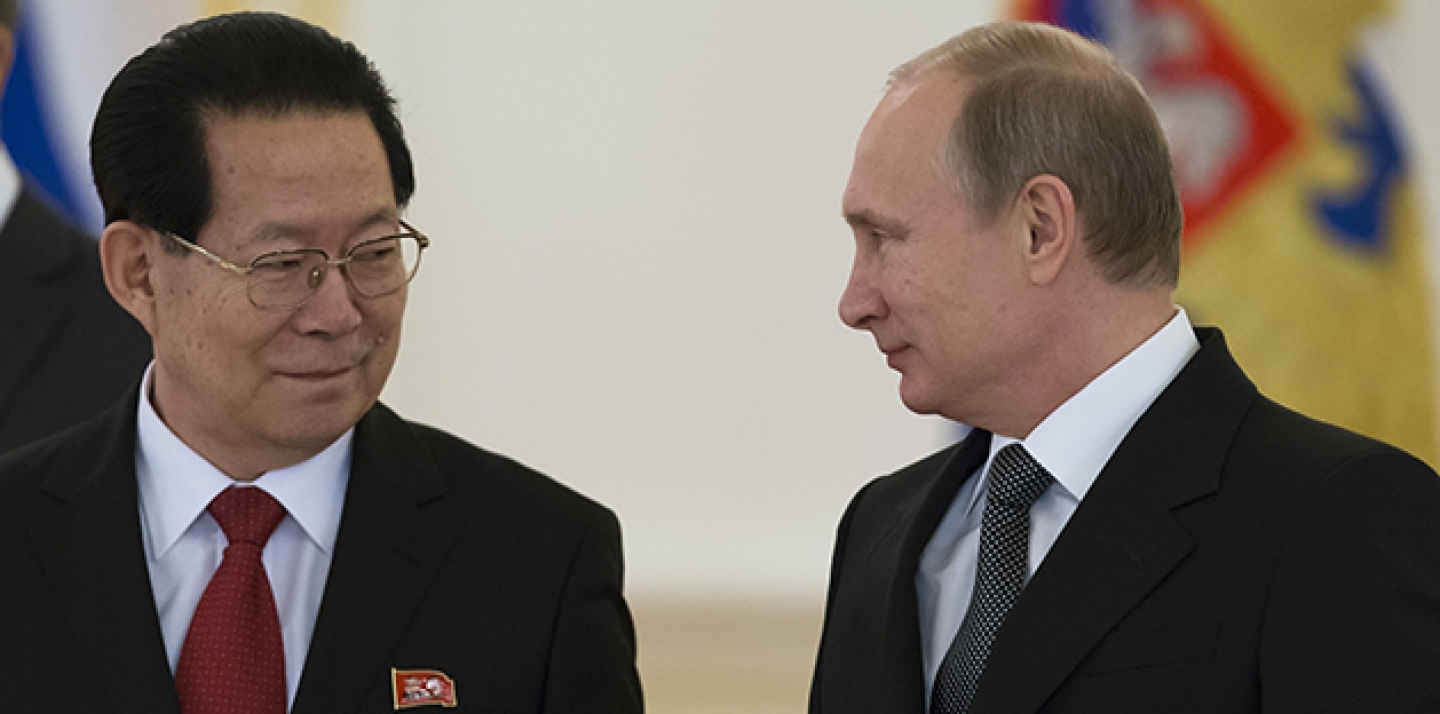 During the first part of its 66-year existence, North Korea was content with limiting its engagement with the world to its two principal communist benefactors, China and the Soviet Union, as well as smaller countries that shared its brand of anti-"Western imperialism." While the isolation of its population can hardly be overstated, the country itself was never as self-sufficient as its leaders liked to claim, despite trumpeting their adherence to Juche, the official state ideology that calls for independence and self-reliance. More recently, its most sustained diplomatic and economic engagement has for the most part remained limited to China, which is by far its most important trade partner, as well as a number of countries frequently shunned by the West — Syria, Iran, Myanmar, to name a few.
In the last few months, North Korea has gone on what has been labeled a diplomatic "charm offensive" in the wider international community, with the ostensible goal of alleviating its isolation and shedding its image as a pariah state on the human rights front. Although it is neither particularly charming nor an all-out offensive, there is no doubt that this push constitutes a diplomatic initiative the likes of which has not been seen in decades from the country.
This international outreach campaign has involved sending high-level diplomats on missions to Europe and the United Nations and signing cooperation agreements with several countries. In early September, Kang Sok-ju, currently the international affairs secretary of the ruling party and a former vice prime minister, travelled to several European countries before stopping in Beijing on his way back to Pyongyang. Later that month, North Korean Foreign Minister Ri Su-yong attended the United Nations General Assembly, where he delivered a speech and met with Secretary-General Ban Ki-moon on the sidelines. This was the first time a Foreign Minister from the country had attended the forum in 15 years.
The Kim Jong-un regime has also endeavoured to reduce its dependency on China, with which relations have been strained since it conducted three nuclear tests against its ally's pointed admonishments. The most important result of this initiative has been deepened engagement with Russia. Several high-level meetings have taken place in 2014, with clear results for both sides. In April of this year, Russia and North Korea signed a deal that wrote off 90% of Pyongyang's debt toward Moscow. They have also concluded several agreements and laid the foundation for further bilateral cooperation.
Concurrently, in May of this year, Pyongyang reached a deal with long-time foe Japan, promising to re-investigate North Korea's abductions of Japanese citizens, in return for the lifting of some Japanese sanctions. Although Pyongyang has yet to release its promised report on the abductions, there has been a string of meetings between the two governments, which could lead to further fence mending.
This flurry of diplomatic activity has not been the only aspect of Pyongyang's "charm offensive"; North Korea's proactive approach on the human rights front has also attracted considerable attention. Although Pyongyang has always denied accusations of human rights abuses, it has recently gone to greater lengths to defend its record in the face of increased attention from the international community, even announcing in September that it was ready to cooperate with the United Nations on human rights.
It all started in February 2014 when the Commission of Inquiry (COI) on Human Rights in the Democratic People's Republic of Korea, established by the UN, published a damning report that recommended a referral to the International Criminal Court (ICC) for possible crimes against humanity. Pyongyang has since published its own (glowing) human rights report, taken the unusual step of sending a delegation to a human rights-related event in New York, and allowed officials to give media interviews to defend the country's record.
Taken together, these diplomatic actions indicate a proactive and softer approach by Pyongyang, which stands in contrast to the bellicose and hard-line foreign policy exhibited during the first two years of Kim Jong-Un's reign. Based on its apparent objectives, has the North Korean government's outreach succeeded? While Pyongyang's initiative has obtained some measure of success in deepening its foreign ties, notably with Russia, on the whole it appears to have yielded few tangible results. On the diplomatic front, it has proven difficult for Pyongyang to alleviate its isolation, as was shown during Kang Sok-ju's tour of Europe, where he failed to meet with major political figures as intended.
With regard to human rights, the unprecedented amount of attention on North Korea's appalling abuses makes it nearly impossible to successfully lobby non-allies to vote in its favour at the United Nations. The difficulty of winning countries to its side was highlighted on November 18th when a UN committee voted for a resolution calling the Security Council to refer the North Korean leaders to the ICC. Only 19 countries voted against the resolution, while 111 voted in favour and 55 abstained. However, an ICC prosecution remains highly unlikely, as either Russia or China will use its veto power to block a referral to the court. 
Despite the very low probability of being brought before international justice in the foreseeable future, the North Korean regime has combatted the accusations of human rights violations with unusual ferocity ever since the release of COI report in February.  What can explain Pyongyang's forceful defence of its human rights record, and more generally its sudden diplomatic outreach? One of the factors likely playing a role is the breakdown of the information barrier that used to keep North Korean citizens cut off from the rest of the world. While North Korea's media environment still is one of the worst in the world, it is no longer the information black hole that it is often portrayed to be. Despite the severe sanctions imposed upon those accused of possessing foreign media, studies and defector surveys have shown that a substantial and increasing portion of North Koreans have access to foreign films, music and literature. Well aware of this development, the authorities occasionally attempt to crack down on foreign media but are fighting an uphill battle, with citizens increasingly adept at circumventing restrictions. Consequently, it is likelier than ever that North Koreans from all walks of life will hear, either directly or by word of mouth, about the international push for human rights accountability in their country. Worried about a significant erosion of its legitimacy in an environment where information flows more freely, Pyongyang has deemed it essential to attempt to prevent the loud calls for the indictment of its leaders, however improbable that prospect remains. Concurrently, the badly strained relationship with Beijing, which Pyongyang does not trust, has forced the Kim Jong-un regime to embark on an international outreach campaign to develop trade and diplomatic relations with a number of countries, including non-allies. The North Korean regime hopes that expanding and deepening ties with these countries with translate in tacit support for its position.
Whatever efforts the Kim Jong-un regime expands to diversify its diplomatic relations and improve its international image, it will find that its human rights record, nuclear program and ballistic missile developments constitute major obstacles. Few countries are willing to risk opprobrium by dealing extensively with a human rights violator marred by international sanctions imposed because of its nuclear and missile programs, which continue unabated to this day. Pyongyang can circumvent sanctions, as it has done in the past, by trading with countries that are themselves the subject of sanctions or that, like China, have an interest in keeping North Korea stable. But while it is likely to muddle along for some time to come, no "charm offensive" or diplomatic outreach will help it break out of its isolation and gain support for its positions. 
Next: Jonathan Berkshire Miller on incremental moves in the trilateral relationship between Japan, South Korea and China