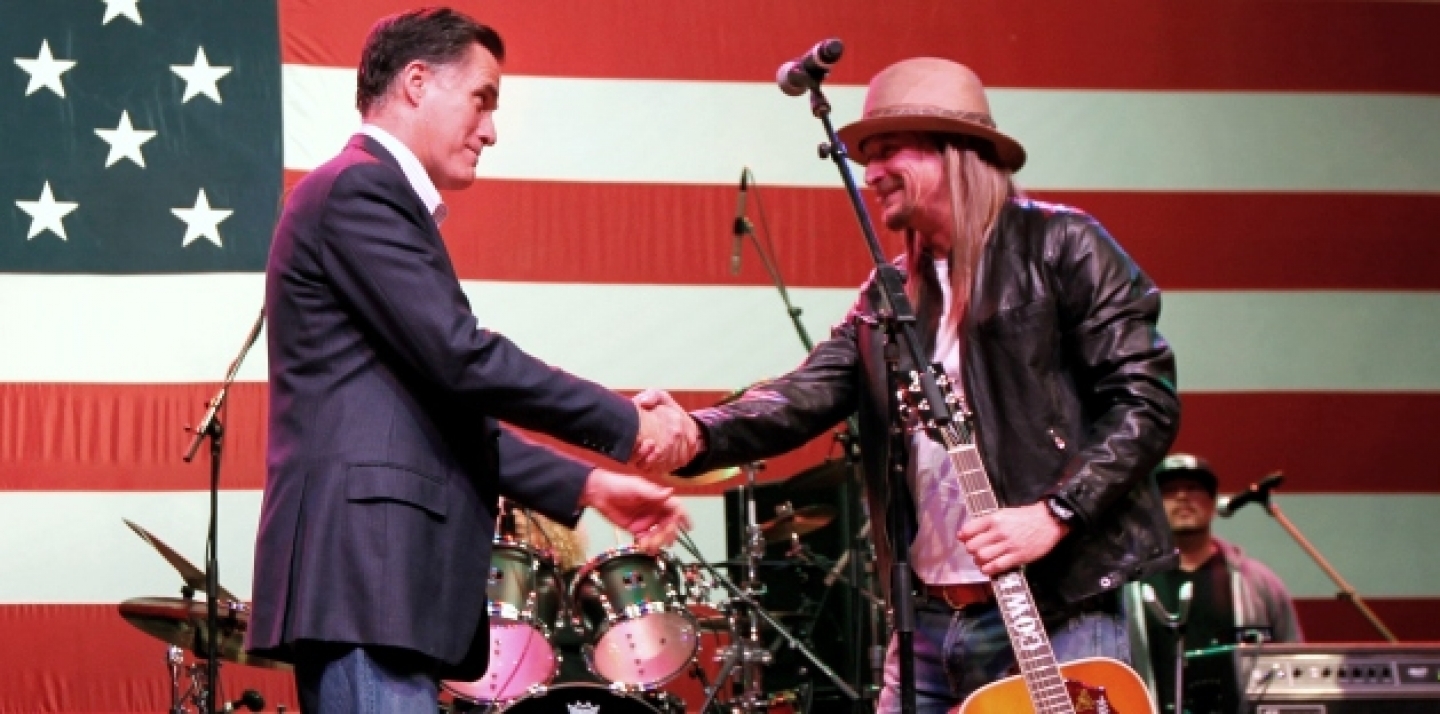 Nate Silver enhanced his already impressive reputation by his prediction in his FiveThirtyEight forecast that President Barack Obama had a 90.9 % chance of winning last week's US election (NY Times, Nov. 10). In quantitative terms, such expectations depended on support from a wide, if loose, coalition from younger voters, women, Latinos, and African Americans as well as liberal activists and supporters of the trade union movement.
However, when looked at in qualitative terms by scrutiny of the celebrity scorecard, we didn't need complicated algorithms to make a prediction. All we needed to do was make a rough calculation about which entertainers supported Obama versus those that supported Mitt Romney. On this basis the result was pre-ordained.
Yes, it is true, that Romney tried to play the celebrity game. Kid Rock featured in a good number of events, singing "Born Free" before the ex-Massachusetts governor took the podium to speak. Indeed Kid Rock's Detroit connection — along with that of Ted Nugent — was played up by the Romney campaign as a means to offset the Obama campaign's potent use of the auto bailout issue as a means of winning blue collar support in key swing states. Comedian and talk show personality Dennis Miller's endorsement was also splashed around in the Romney website and Miller travelled — and communicated by Twitter — with the Republican presidential candidate through frequent campaign stops.
And even while memory is fading about the event, there was also the offer with respect to a contest last May the prize of which was a dinner with Romney and Donald Trump — an event that intrudes into the world of celebrity because it was explicitly designed to counter the mega-fundraiser for Obama at the California home of George Clooney that raised almost $15 million.  
The reference to Clooney indicates how well the Obama campaign held on to celebrities in a demographic (white, middle age or above, and wealthy) that if in other lines of business would be likely to vote and support Republican causes. Among the additional top tier Obama backers who fall into category are stalwarts such as Burt Bacharach and Neil Diamond who made calls from a phone bank in Culver City to get the vote out in swing states. Bruce Springsteen took advocacy for Obama to another level, travelling with the President in air Force One in the last stages of the campaign at rallies in key spots such as Madison, Wisconsin and Des Moines, Iowa —and in a rare but significant moment of bi-partisanship taking time out from these activities to speak from the plane to GOP Gov. Chris Christie, his fellow "Jersey Boy" about the clean-up from Hurricane Sandy (LA Times, Nov. 5).
As noted in the excellent article by Ted Johnson in his Variety Wilshire & Washington column, such an asymmetrical situation in celebrity endorsers put the Romney campaign in a difficult predicament. It could try to de-legitimize — as the pro-Romney SuperPAC American Crossroads did early on by targeting Obama as the "cool" but out of touch president or it could try to build its own celebrity arsenal — a key reason for giving Clint Eastwood such a pivotal role at the Republican convention.
Still what really distinguished the Obama campaign in 2012 was that it had an array of celebrities in every category of targeted voters as a even a short list will indicate.
For young and especially professional women the campaign – through MoveOn.org – had celebrities such as Scarlett Johansson, Eva Longoria and Kerry Washington express concern about what will happen to women's health if a Romney administration was elected. "If you think that this election won't affect you and your life, think again," Johansson argued (Huffington Post, Nov. 15).
For African Americans specifically and music lovers more generally, the Obama administration not only mobilized Stevie Wonder (who played at a number of rallies) but younger performers including Jay-Z (who introduced Obama at a final rally in Columbus, Ohio) and Will.i.am who put out a new video, "#GreatTimes," designed to mobilize voters and re-capturing the energy from the 2008 campaign version "Yes, We Can."
Latino celebrities flocked to Obama, as witnessed by their heavy presence at the Democratic National Convention. Eva Longoria stands out as she served as one of the Obama campaign's co-chairs, but she was joined by Taboo of the Black Eye Peas and Jessica Alba. Marc Anthony sang the National Anthem at the DNC.
If Obama had in many ways a predictable (very) long list of endorsers, it also enjoyed the edge over the Republicans in the range of communication tone and methods that support was given. Lady Gaga compared Obama's performance in the third presidential debate to the comeback of "Rocky" Balboa. Will Ferrell endorsed Obama with a video that pledged to cook dinner, move furniture or eat anything if that is what it took to get viewers to the polls. In probably the most popular (if not highly satirical) video, director and writer Joss Whedon puts the proverbial dagger into Romney by saying that the Republican candidate would be the best candidate to "finally put this country back on the path to a zombie apocalypse."
Against such an onslaught of celebrity power Romney had no counter-punch. Although Nate Silver remains a more sophisticated and accurate guide to what happened last Tuesday night, the celebrity factor cannot be ignored in the (no) contest — and it certainly is far more fun to trace.