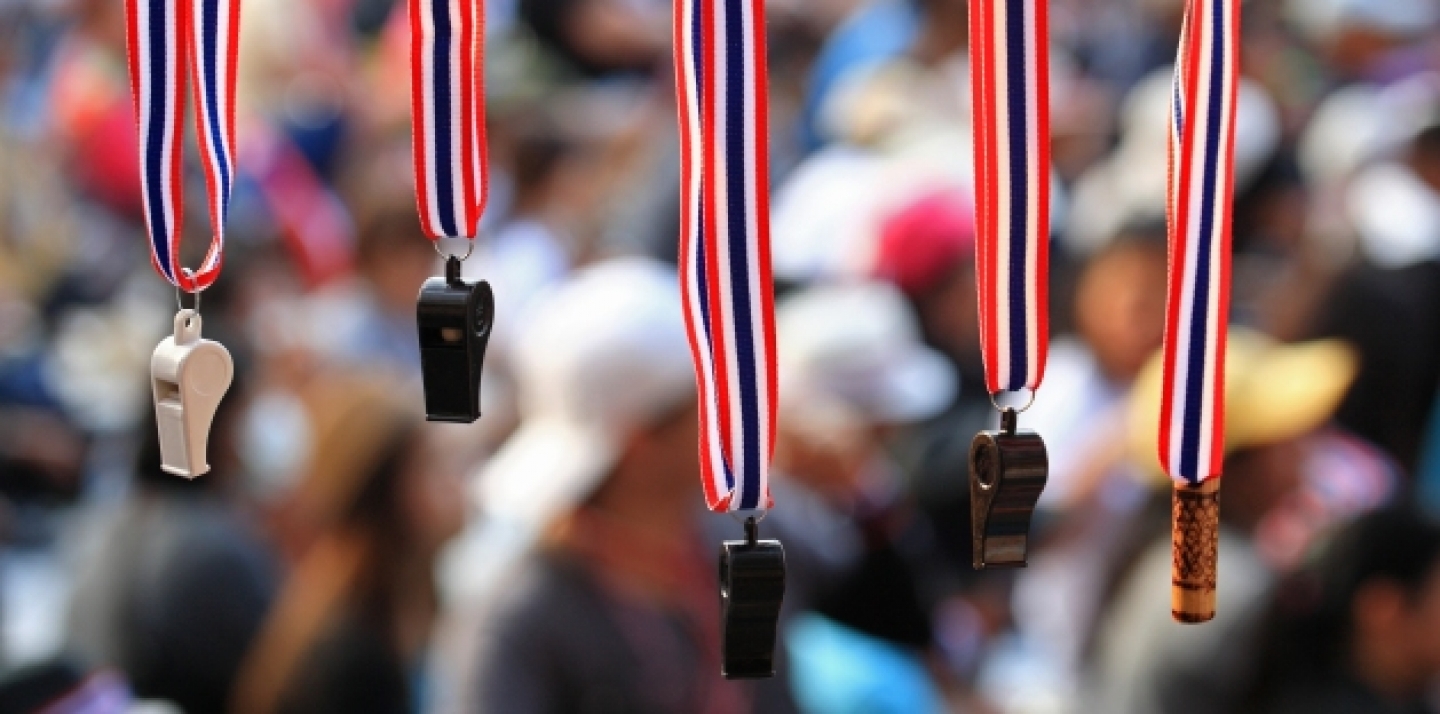 There has always been match-fixing and corruption in sport — it is not new, explained Declan Hill. But what we are seeing, he warned, is a new form and level of corruption never witnessed before.
An investigative journalist, academic, author and documentary film maker, Hill presented Sports in Danger: How a Tide of Corruption and Match-Fixing Threatens Canadian and International Sports, as part of CIGI's Signature Lecture Series. Using an academic and innovative research approach in his career's work, Hill explores why athletes with enormous prestige and potential risk their career — and how such match-fixing has spread throughout the world.
Hill's backdrop to the problem of match-fixing stressed the problem's immense concentration in Asia. Legal betting — from Europe to North America — accounts for 25 to 30 percent of gambling. The rest of sports-betting is in the Asian market, which is valued between 93 billion to one trillion dollars. The problem of match-fixing and gambling permeates nearly every sport and country in Asia (though there are some honourable exceptions, Hill said) from sumo wrestling and table tennis to boat racing, e-gaming and even under-16 youth soccer matches.
Hill explained that the problem, with soccer for example, is so severe it is causing national audiences to tune out. In China, the sport is a national embarrassment — players, coaches, refs, and even boot -cleaners are implicated, with fans saying they won't be made fools of. This partly accounts for Asian audiences' interest in foreign teams playing in top flight leagues such as the English Premiership or NBA, Hill said. His anecdotal evidence — from an AFP journalist's courage to leak news of blatant corruption in the South East Asia Games to the surprising decision of Indonesia's soccer association to keep someone behind bars for corruption as its president — highlighted the severity of the problem.
Hill pointed out that judicial evidence — thousands of pages of the firmest proof you can have in a Western society — is showing that match-fixing is happening outside of Asia. "Fixers" now travel the world to link with criminals in "marriages of convenience." These international networks of corruption have found their way into Guatemala, Honduras, El Salvador, Peur, Egypt, Zimbabwe, Germany, the Netherlands, the Czech Republic and even Canada (regarding the Canadian Soccer League, on which Hill cited the work of Ben Rycroft).
Regarding the future of sports in Canada, Hill said he was not suggesting that Canadian hockey has a match-fixing problem. But he asked, what do Canadians think is preventing match-fixing from entering our national game? Is there a police force, like in Australia, dedicated to the problem? Is there federal legislation? Is there a sports leader discussing this issue, such as Thomas Bach? Is there a commission committed to the problem?
For those who see true value and merit in sport (as a vehicle to enhance community and personal growth), Hill's lecture raised interesting points of concern as well as suggestions to combat match-fixing. Watch Hill's lecture, in its unedited entirety, at new.livestream.com/cigionline/sports-in-danger.  To learn more about Hill, visit his website at declanhill.com and follow him on Twitter @declan_hill.